Investing in natural gas at today's low prices is a no-brainer because the fuel, now in a glut because of surging supply from new fracking technology, will eventually flip to a shortage, bringing large gains for properly positioned portfolios. - Jeremy Grantham, GMO
In April of 2012, Jeff Gundlach revealed his favorite new investment idea, natural gas, which he said, "...it's like investing in gold in 1997". His timing was uncanny, given that his call was just a couple months off the bottom at around $2 per mmbtu. Unfortunately, the real spotlight was focused on his short Apple (NASDAQ:AAPL) call at $550+, which worked out quite well. While most investors have shunned anything natural gas related like the plague, now seems to be an opportune to time to start "properly positioning portfolios" in the space.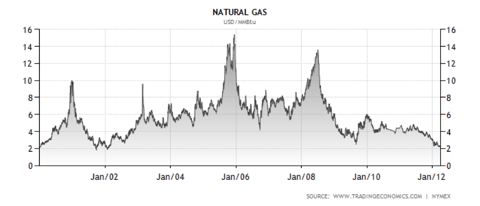 Click to enlarge
Natural Gas Drilling Rig declines: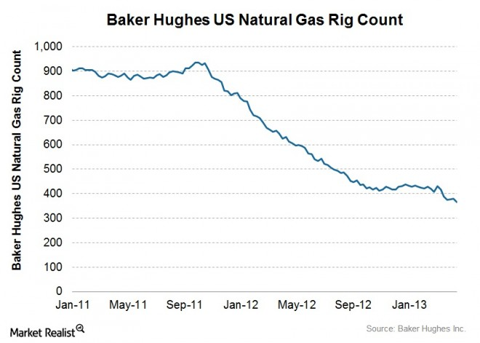 Click to enlarge
Import trends for LNG, Canadian & Mexican natural gas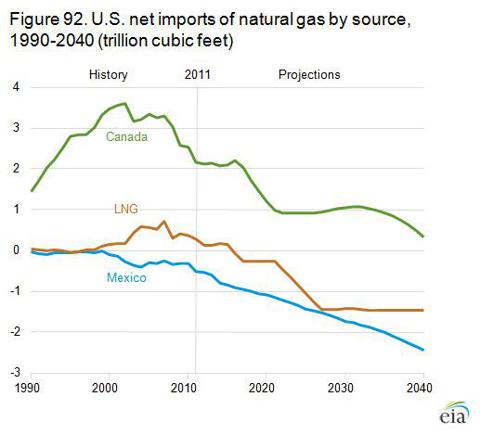 Click to enlarge
Potential demand drivers gas to liquid:
Sasol (NYSE:SSL) plans on building a $14 billion dollar Gas to liquids [GTL] plant in Louisiana, it is currently under engineering and design review, a final decision is expected in 2014. Sasol already has experience in GTL plants and currently operates a 34,000 barrel-a-day facility in Qatar, and is also considering a 48,000 barrel-a-day GTL plant in Alberta, Canada. The planned plant in Louisiana would produce just under 100,000 barrels-a-day and consume roughly 1 Bcf/d of natural gas.
LNG Exports: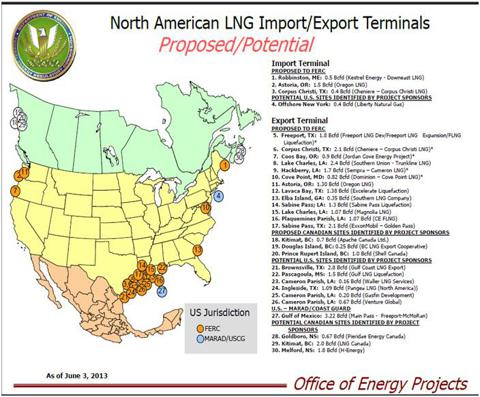 Click to enlarge
- Data provided by Office of Energy Projects.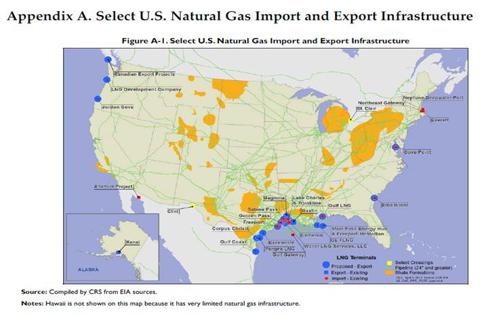 Click to enlarge
- Compiled by CRS from EIA sources
As shown in the above two maps, there is a significant infrastructure presence in southeastern Texas and southwest Louisiana. The only two fully approved LNG export terminals are located in this region, the Sabine Pass and Freeport LNG export terminal. There are currently 18 pending applications to export LNG to non-free trade agreement countries. While no specific time table has been given for approvals, Senator Lisa Murkowski, R-Alaska was
questioned whether a continual 60-day process is possible, Smith signaled that would be the timeline going forward.
On top of that, with the recent appointment of new Department of Energy secretary, Ernest Moniz in May of this year, it appears approvals may now get cleared in a timely manner. After being sworn in on the May 23rd, there has already been an approval. On August 7th, the DOE and Obama Administration approved a third LNG export terminal, Lake Charles. The Lake Charles LNG export terminal was approved for 2.0 Bcf/d exports over 20 years to non-Free Trade agreement countries. Total approved LNG export terminals in development has net potential daily exportation of 5.6 Bcf/d or 2.044 Tcf/y. There are still 18 other projects awaiting approval, given the two month estimated process, it may be three years before all the LNG export terminals are fully considered.
Mexican Natural Gas Exports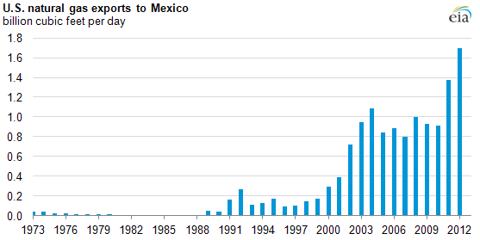 Click to enlarge
Click to enlarge
Consumption in Mexico is rising faster than production, which is leading to significant year-over-year increases in net imports from the United States. Consumption per the EIA is rising roughly 4% versus an inadequate production increase of only 1.2%. The majority of the demand from Mexico came from their industrial sector, according to PEMEX.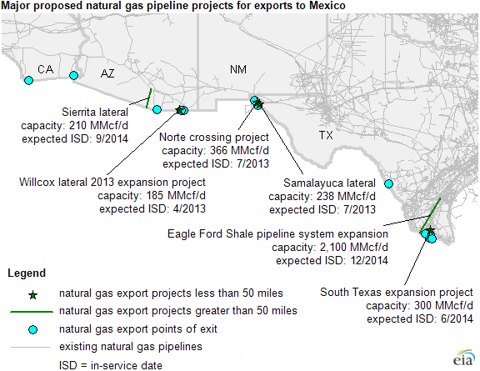 Click to enlarge
While we estimate the current run rate of natural gas exports to Mexico is around 2 Bcf/d that should increase due to the proposed new export pipelines. By the end of 2014, total export capacity to Mexico could total roughly 3.5 Bcf/d. Mexican industries that currently don't have access to cheaper natural gas are burning fuel oil in place of natural gas, which is more than three times the price of imported gas from the U.S. A Wall Street Journal article stated that PEMEX and CFE are currently importing LNG by ship from Nigeria and other nations at roughly four to five times the price. Kinder Morgan (NYSE:KMP) is currently working on multiple projects focused on exports to Mexico within the next 12-18 months.
Industrial Demand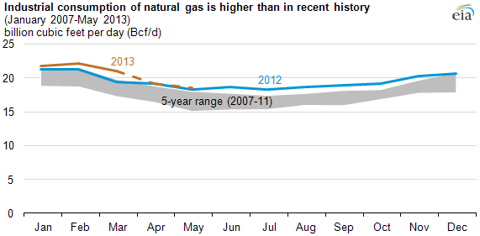 Click to enlarge
Natural gas use for industrial purposes was more than 3%, or 0.6 billion cubic feet per day, greater during the first five months of 2013 compared to the same period in 2012. Higher industrial gas usage reflects recent economic gains and sustained, historically low natural gas prices that have provided operators of natural gas-intensive industrial facilities in the United States a cost advantage relative to competing facilities that rely on higher-cost energy sources.
Power Plant Coal to Gas Switching
Electricity generation using natural gas is higher in the AEO2013 Reference case than was projected in the AEO2012 Reference case because of lower projected natural gas prices. New natural gas-fired plants also are much cheaper to build than new renewable or nuclear plants. In 2016, the year that MATS is assumed to be implemented and coal-fired generation hits its lowest point, natural gas-fired generation in AEO2013 is 10 percent higher than in AEO2012 (and in 2035 it is still 9 percent higher).
MATS stands for Mercury Air Toxic Standards, and is a set to go into effect for power generation in 2016. Both CSAPR (Cross-State Air Pollution Rule) and MATS will continue to promote natural gas and renewables over coal in electricity generation. An example of the transformation occurring is Southern Company (NYSE:SO) which had roughly 10-12% of generation coming from natural gas in 2007. Southern Company now has an approximate natural gas power generation of 47% of total power generation, as they attempt to comply with new regulations.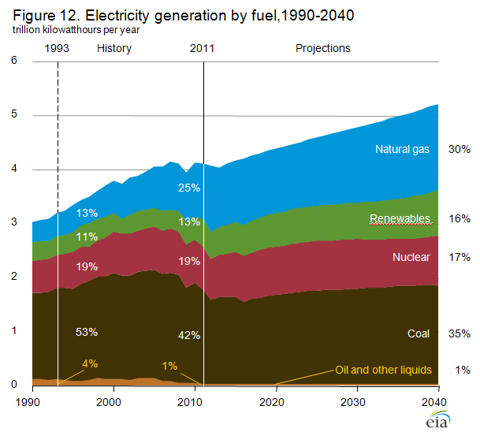 Click to enlarge
Production declines
Natural gas production in the United States in 2012 was approximately 24,063 Bcf, which was up around 5% versus total gas production in 2011. Forecasted production in 2013 is for an increase of only 1.1%, with the back half of 2013 predicted to decline per Biliana Pehlivanova, an analyst with Barclays. Supply concerns, in our opinion, is the number one factor keeping natural gas prices from moving higher. If this becomes an inflection point in the trend of natural gas production, we feel that natural gas prices may have may have the opportunity to eclipse the key $5 per mmbtu level in 2014.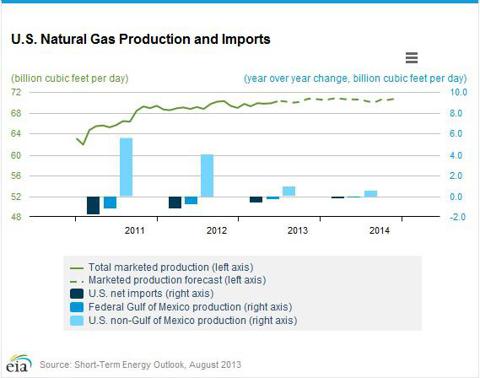 Click to enlarge
EIA's production estimates for 2013 are for 69.9 Bcf/d, increasing by less than 1% to 70.5 Bcf/d in 2014. The rate of production growth in natural gas continues to decline from 5% growth from 2011-2012, 1.1% 2012-2013, and forecasted sub 1% 2013-14. If we continue to extrapolate natural gas production growth at a around a 1% run rate we see a large imbalance between supply and demand starting at the end of 2015.
Conclusion
Viewing the natural gas market over a long-term 10-year period, there is an interesting bifurcation taking place between supply and demand. While the U.S. is currently well-balanced in natural gas storage, with inventories around the five year average, we believe in the next couple year's demand will significantly outpace production growth.
As shown above, the potential demand alone from our neighbor, Mexico, could increase to 3.4 Bcf/d of additional demand by the end of 2014. Just the exports to Mexico alone would eclipse all the production growth in the entire United States. Not to mention the LNG exports starting in the back half of 2015, total export potential for the three approved terminals amounts to a total of 5.6 Bcf/d. This also does not take into account increased industrial demand running about 0.6 Bcf/d higher than 2012. Assuming a 1% increase in production growth per year would put total U.S. production in 2015 around 71.21 Bcf/d. This represents an increase of 1.31 Bcf/d of production growth from 2013 estimates, while demand increases for that same period could total 6.2Bcf/d for a total shortfall just under 5Bcf/d
*Demand Assumptions- 3.4 Bcf/d (Mexican exports), 1.8 Bcf/d (increased industrial demand), 1.0 Bcf/d (Sabine pass starts LNG exports) while keep other factors constant.
It is apparent the supply and demand gap gets even wider past 2016, as more LNG terminals start to ramp up exports. This forecast also does not take into consideration the likelihood of significantly more LNG approvals by the DOE in the next 12 months.
How to invest before the bull market?
While natural gas prices continue to hover just above 10 year lows, we view this as an opportunity to add to well financed natural gas focused producers. Our favorite producers are Encana (NYSE:ECA), and Exco Resources (NYSE:XCO). We would avoid investing in United States Natural Gas ETF (NYSEARCA:UNG) due to the significant contango and the associated roll costs with an ETF structure. Investors could hedge their energy investments by shorting United States Natural Gas, and holding long positions in the producers. Other natural gas focused companies we like on a pullback include Ultra Petroleum (UPL), Bill Barrett (NYSE:BBG), Chesapeake (NYSE:CHK), and Southwest Energy (NYSE:SWN).
Disclaimer: This report is intended for informational purposes only and you, the reader, should not make any financial, investment, or trading decisions based upon the author's commentary. Although the information set forth above has been obtained or derived from sources believed to be reliable, the author does not make any representation or warranty, express or implied, as to the information's accuracy or completeness, nor does the author recommend that the above information serve as the basis of any investment decision. Before investing in a security, readers should carefully consider their financial positions and risk tolerances to determine if such a stock selection is appropriate.
At any time, the author of this report may trade in or out of any securities that are mentioned in the report as long or short positions in his own personal portfolio or in client portfolios that he manages without disclosing this information. At the time this report was published, the author had a long position in XCO and ECA, either in his personal account or in accounts that he managed for others.
THIS REPORT IS NOT A RECOMMENDATION TO BUY OR SELL ANY SECURITIES MENTIONED. THE AUTHOR ACCEPTS NO LIABILITY FOR HOW READERS MAY CHOOSE TO UTILIZE THE INFORMATION PRESENTED ABOVE.
Disclosure: I am long ECA, XCO. I wrote this article myself, and it expresses my own opinions. I am not receiving compensation for it (other than from Seeking Alpha). I have no business relationship with any company whose stock is mentioned in this article.