The S&P 500 has been on a stunning run higher, and since November 2012, has absorbed any selling pressure with ease. For much of this time, I have leaned bullish, although at times I have reduced exposure and advised caution. This is a time to play defense, and in this article will provide my reasons.
Of course, the trend in the market remains up, and I would not be shorting with anything besides speculative funds. Even die hard bulls would agree that making money in the markets has become more challenging than the steady trending market of April-May or late June-July. From June 24, the S&P 500 has climbed from 1560 all the way to a high of 1709 on August 2.
However, I would argue that since mid July the environment has changed. Although, the general market has continued to inch up, participation has thinned and many sectors have begun to sell off, especially interest rate sensitive sectors such as real estate (NYSEARCA:IYR) and homebuilders (NYSEARCA:XHB).
The S&P 500 (NYSEARCA:SPY) is less than 1% from its all-time high. Despite this strength, under the surface there are some warning signs pointing to distribution. And I think the risk/reward is no longer attractive for bulls. If selling pressure does materialize, the market could have a steep tumble.
While the market has not decisively broken out of its recent range, there are some signs of distribution.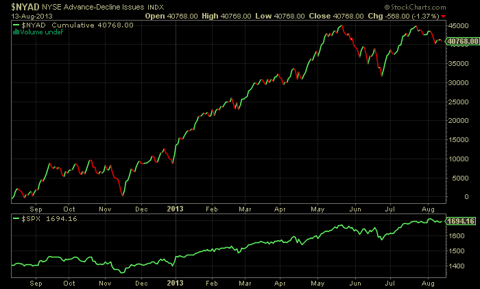 This is a chart of the NYSE Advance-Decline cumulative line and we see it is not confirming the new highs in the market. For this entire rally, this chart has been leading price higher. And now it is not making a new high, while the indices have made higher prices. I think this is something that bulls should take as a sign of caution, fewer stocks in the market are participating on the move up. If selling pressure does materialize, the market is vulnerable to a steeper sell-off.
Now, this chart alone is not a reason to get short or bearish. And one potential criticism of it that I acknowledge is due to the "taper" talk there has been persistent weakness in interest rate securities. These are overwhelmingly represented in the New York Stock Exchange. Still, I think the signal from this chart should be noted.
Below is a chart of the Nasdaq Advance-Decline cumulative line, which has performed much better as it is less weighed down by interest rates sensitive stocks.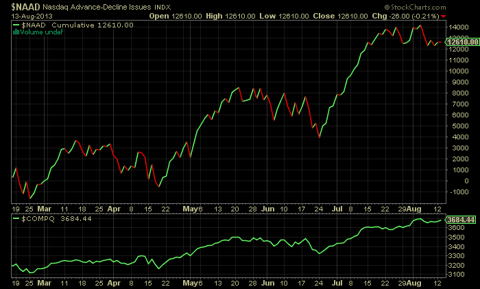 This breadth chart has confirmed the new highs in the Nasdaq (NASDAQ:QQQ), however during the last couple of weeks of rangebound trading, breadth has been noticeably weak. Both charts above are confirming a change in market climate. And market participants should adjust expectations accordingly. In current market conditions, greed will not be rewarded and could potentially be disastrous.
Another caution signal comes from sentiment charts. Anyone who has read a few of my articles knows one of my pet peeves is traders using sentiment to forecast market direction. This is an incorrect use of sentiment and often serves as a method of confirmation bias for people fighting a trend.
Instead, I think sentiment tells us the potential of the next move, when participants are unanimously bearish, buying can result in huge moves higher and vice versa when they are bullish. In my opinion, that is the only valid application of a sentiment chart. Sentiment is a coincident indicator just like attendance or jersey sales for a baseball team, but no one would use attendance as some sort of metric to predict the fortunes of a baseball team.
Anyway, sentiment, as shown below, is incredibly bullish, and this is another warning sign that if there is some sort of selling it could be quite steep.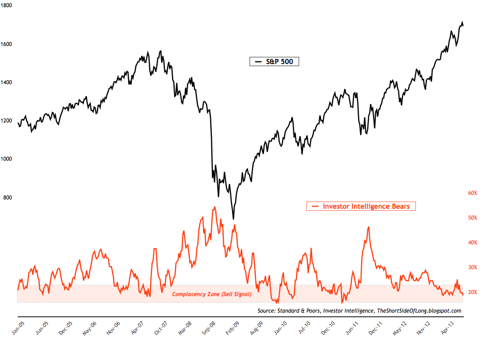 Conclusion
I want to make clear that my article is not forecasting some huge fall or even a change in trend nor is it saying these outcomes are not possible. My analysis is not capable of devising future moves in price, but I think it is very good at identifying risks and opportunities in the general market climate and then constructing a strategy to take advantage of the opportunities while being protected from the risks.
I think the above evidence indicates that the market climate has shifted, and currently it is wise to rein back the bullishness, take some profits, and wait patiently for better opportunities. I do think opportunities are developing in commodity and cyclical stocks, as economic data and money flows support improving prospects for these segments, however I will wait until general market conditions are supportive.
For shorter-term traders, I would advise to be more conservative in terms of risk and profit targets as well as position sizing. Since I am more comfortable with trending markets, I will look to be more aggressive when favorable conditions materialize. I believe that this is a time to exercise discipline and restraint, and those who do not adapt to this new environment will feel the pain.
Disclosure: I have no positions in any stocks mentioned, and no plans to initiate any positions within the next 72 hours. I wrote this article myself, and it expresses my own opinions. I am not receiving compensation for it (other than from Seeking Alpha). I have no business relationship with any company whose stock is mentioned in this article.