Consolidated Edison Inc (NYSE:ED) is a holding company, which owns Consolidated Edison Company of New York, and Orange & Rockland Utilities. On August 1, 2013, the company reported second-quarter earnings of $0.55 per share, which was in-line with the consensus of analysts' estimates. There is nothing sexy about any utility company other than its high-dividend yield. The stock is up 5.71% in 2013 and is losing to the S&P 500, which has gained 18.78% in the same timeframe, and with that in mind I'd like to take a moment to evaluate the stock on a fundamental, financial and technical basis to see if it's worth picking up some more of Consolidated Edison right now for the utility sector of my dividend portfolio.
Fundamentals
Consolidated Edison currently trades at a trailing 12-month P/E ratio of 16.45, which is fairly priced, but I mainly like to purchase a stock based on where the company is going in the future as opposed to what it has done in the past. On that note, the 1-year forward-looking P/E ratio of 15.32 is currently fairly priced as well for the future in terms of the right here, right now. Next year's estimated earnings are $3.83/share. The one-year PEG ratio (7.51), which measures the ratio of the price you're currently paying for the trailing 12-month earnings on the stock while dividing it by the earnings growth of the company for a specified amount of time (I like looking at a 1-year horizon), tells me that Consolidated Edison is expensively priced based on a 1-year EPS growth rate of 2.19%, but these growth rates are very typical for a mature utility company such as Consolidated Edison.
Financials
On a financial basis the things I look for are the dividend payouts, return on assets, equity and investment. Consolidated Edison boasts a dividend of 4.19% with a payout ratio of 67.5% of earnings while sporting return on assets, equity and investment values of 2.6%, 8.9% and 7.5%, respectively, which are all OK values, but nothing to write home about. Because I believe the market may get a bit choppy here and would like a safety play I believe the 4.19% yield of this company is good enough for me to take shelter in for the time being. With that said though, we must define the risk. If Treasury yields start to rise, people will be dumping the stock in favor of the safer play of Treasuries. The company has been increasing its dividends for the past 39 years with an annual dividend growth rate of 0.8%.
Technicals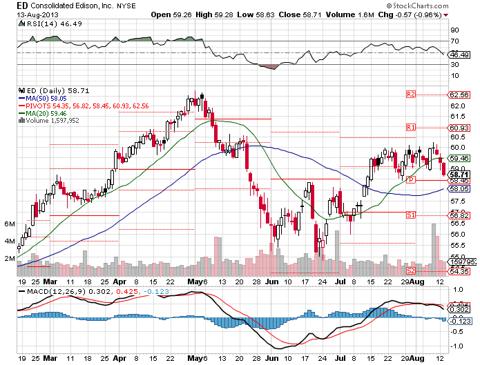 Looking first at the relative strength index chart [RSI] at the top, I see the stock muddling around in middle territory with a value of 46.49 but with downward trajectory, which is a bearish pattern. To confirm that, I will look at the moving average convergence-divergence [MACD] chart next and see that the black line is below the red line with the divergence bars increasing in height to the downside, indicating the stock has downward momentum. As for the stock price itself ($58.71), I'm looking at the 20-day simple moving average (currently $59.46) to act as resistance and $58.45 to act as support for a risk/reward ratio, which plays out to be -0.44% to 1.22%.
Recent News
On August 1, the company reported second-quarter earnings, which were in-line with analysts' estimates, but missed on revenue by $30 million.
The revenue miss was due to the electric side of the business not providing enough revenue along with higher operating expenses.
The company went ex-dividend on August 12, with a $0.615 per share dividend, which will be payable on September 15, 2013.
The natural gas unit of the company is extending services to new areas of Manhattan and the Bronx in its ongoing effort of to expand the usage of natural gas.
Conclusion
Though utility companies such as Consolidated Edison are looked at specifically as a high-dividend yielding stock the dividend growth rates of these utilities are more than likely going to be capped in the near future. This will be due greatly to the fact that dividends require earnings growth, and earnings growth will be very difficult to attain in the near future because of tight regulations these companies face, but what you might get is that these companies may become accidental high yielders due to the Treasuries effect I wrote about in the Financial section of this write-up.
Consolidated Edison is fairly valued based on future earnings but expensive on future growth prospects (one-year outlook). Financially, the dividend payout ratio is safe and I don't doubt management will continue to increase the dividend going forward albeit it at a very low rate. The technical situation of how the stock is currently trading is what is telling me that it can trade a bit lower for now as the stock has downward trajectory on the RSI and MACD charts. I'm going to buy a small batch in the stock for now in hopes that I can get a larger stake at a later date with a higher yield at a lower price because I believe interest rates are going to pick up again.

Disclosure: I am long ED. I wrote this article myself, and it expresses my own opinions. I am not receiving compensation for it (other than from Seeking Alpha). I have no business relationship with any company whose stock is mentioned in this article.
Disclaimer: These are only my personal opinions and you should do your own homework. Only you are responsible for what you trade and happy investing!