The latest and largest equity dilution — approximately $5.6B; 30% s/o — by Nomura (NYSE:NMR) has sent its shares down 16% to ¥573 in Tokyo ($6.35 at ¥90.3/$1) following an earlier rout in NY. I think the stock has further to fall, given that it was saved by its daily loss-limit ('limit-down') in Tokyo with volume of only 8.9 million shares. Volume thus far in September has ranged from a low of 17M shares traded to start the month, to a high of 65M last Friday.
At this point, the $5.6B it plans to raise over the next month would have been more than enough to have just acquired Lehman USA last year! Now the company and its shareholders face the challenge and risk of having to use the capital to expand existing U.S. operations and somehow grow some new business. Doing these things (profitably) has never been easy for Nomura, though it's always been a dream of sorts.
Meantime, the stock is massively diluted, and unattractive at current levels due to the uncertainty of how effectively it will deploy the capital — it's about 40% above its March low. While I agree with Goldman's take that the capital raising is offensive, rather than defensive, in nature, I think it's a little much. The Japanese business press does too, apparently, dubbing Nomura and the broader market's sell-off the "Nomura shock."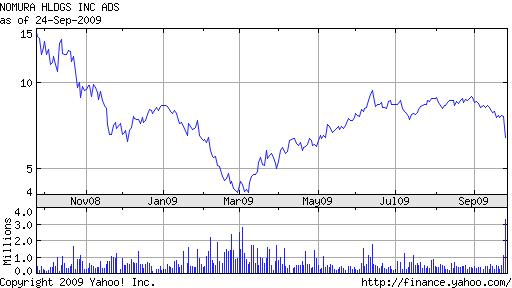 Disclosure: No position in any companies mentioned.