Few corporations have managed to consistently increase revenues during the recession of the past eight quarters, given the extent of the systemic shock that the global economy was subject to. This article takes a closer look at one corporation that managed to do so, Hansen Natural (HANS), the maker of the popular Monster energy drinks, and looks at three factors that make the company (and its shares) very attractive to potential shareholders.
1. Revenue growth during the recession
This article focuses primarily on revenue growth as opposed to income growth alone, for the latter could have come from a variety of sources: Layoffs, production cutbacks, one-time gains, or more recently, government doles. The metric that is somewhat less amenable to accounting wizardry is incremental sales, more so when subject to certain constraints such as these:
The company must have sold incrementally more products in 2009 over 2008, and more in 2008 than in 2007. This is a critical test of the product's demand during the recession
Those companies cannot have compromised their pricing power to make this list. In other words, any increase in revenues should not have resulted from an increase in promotional expenses or discounts.
Now the above rules are rather stringent, but that was by design. The objective was to whittle down the list to as small as possible. Well, mission accomplished. Entire sectors were eliminated - financial services, energy, the auto industry, and housing. Even near-monopolies have had a hiccup or two, including Microsoft (NASDAQ:MSFT), Cisco (NASDAQ:CSCO), Intel (NASDAQ:INTC), Coca Cola (NYSE:KO), Toyota Motor Corp (NYSE:TM), PepsiCo (NYSE:PEP), etc. As a rough guess, the above two rules might perhaps have eliminated about 90% of the companies in the S&P 500 or the Russell 2000 indexes from consideration.
But for a very select few such as the following five, for instance: Wal-Mart (NYSE:WMT), McDonalds (NYSE:MCD), P&G (NYSE:PG) (and others in consumer staples and confectioneries), Google (NASDAQ:GOOG), and Apple (NASDAQ:AAPL). And HANS makes this select list comfortably, as seen in the graph below.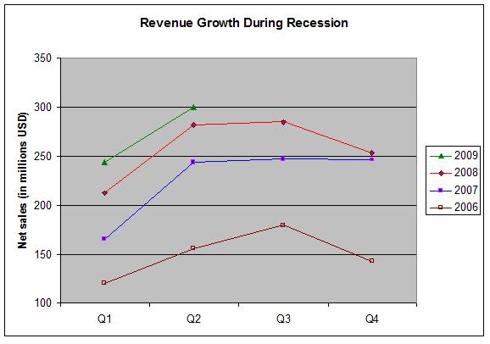 This recession-era growth is noteworthy given the fact that 88% of its gross sales come from the US market, where almost every other beverage maker has seen volume declines, including Coke, Pepsi, and HANS' primary competitor, Red Bull. Moreover, the company did not have to resort to aggressive discounting during the recession to push its products - Since 2006, promotional expenses have stayed between 12-13% as a proportion of gross sales.
Finally, international growth is expected to start making a sizable contribution to the bottom line starting 2010. Already, the Monster energy drink is the clear number two brand in Canada, France, Sweden and Holland, essentially overtaking long-established brands in those markets in under a year, at a rate that is taking many observers by surprise. The current stock price seems to assume little or no overseas contribution to the bottomline in the near-term, and this might well prove to be a significant oversight.
2. Operational Efficiency
One of the reasons that Hansen Natural vastly outshines its peers in the beverage industry is the high profits that it can churn out relative to capital employed. To highlight its operating efficiency, specifically two other metrics are examined here - net profit margin and net profit per employee, in comparison to the beverage industry giants. For comparison's sake, a few highly profitable tech companies of Silicon Valley have been added to the mix as well, including Apple, Google and an assortment of software companies that are leaders in their respective verticals.
Not only does Hansen hang in there with that tough crowd as far as profit margin is concerned, it comfortably outshines the others in the profits it is able to churn out per employee, trailing only Google in that regard. Moreover, that number for Hansen would have been considerably higher had only full-time employees been taken into account, who comprise less than half of its work force.
Company

Revenues1

Net Income1

Employee count2

Profit margin

Profit per employee

Google, Inc

$16.91

$6,000

19,786

35.5%

$303,245

Hansen Natural

$1.13

$212

1,270

18.8%

$166,929

Apple, Inc

$37.06

$5,380

35,000

14.5%

$153,714

Adobe Systems (NASDAQ:

ADBE

)

$3.00

$793

7,335

26.4%

$108,112

Coca Cola

$30.77

$7,100

92,400

23.1%

$76,840

$1.91

$378

5,778

19.8%

$65,421

PepsiCo

$43.25

$5,760

198,000

13.3%

$29,091

DrPepper/Snapple (NYSE:

DPS

)

$5.56

$492

20,000

8.8%

$24,600

SalesForce.com (NYSE:

CRM

)

$1.25

$76

3,566

6.1%

$21,312
From 2009 Q1/Q2 earnings reports and 2009 Q3/Q4 consensus estimates. In addition, GAAP estimates were used for Apple and Google, which may be lower than non-GAAP earnings by about 10-15%

Employee numbers obtained from 2008 annual reports or recent SEC filings, and includes both full-time and part-time employees
Such efficiency is a direct offshoot of its business model, in which it prefers to outsource both the manufacturing process as well as distribution to third parties, preferring instead to focus on drinks development and marketing strategy. The result is an extremely lean organization that employs only 250 employees in operating roles, which is markedly low for a company that managed over a billion dollars in revenues in 2008.
3. Valuation
At a closing price of $35.31 on Sep 24, 2009, HANS is trading at an December 2009 P/E of 15.9, and at about 14.4 if cash and equivalents are excluded. Given the health of its balance sheet (over $310 million in cash and no debt), operational efficiencies that are seldom seen in the beverage business, a slew of new products introduced in July 2009, and the strength of the Coca Cola distribution network in many overseas markets that gives Hansen's drinks premium shelf space, this valuation is significantly on the lower side. In the near-term, HANS should be able to grow the bottom line in excess of 18-20%, based on international growth opportunities, product expansion and potential acquisitions with its growing cash hoard.
Disclaimer: The author owns shares of HANS, which is the only stock in his portfolio at this time.