Dodgy existing homes sales data easily trumped better than expected news on the jobs front yesterday in investors' eyes as the S&P 500 shed close to 1%. But what really stole the show was the oil market. US WTI Crude Oil fell from over 68.50 to below 66, with the market focusing on an ugly picture for inventories following Wednesday's DOE report which had crude oil inventories rising 2.855 million instead of declining 1.4 million as the market expected. Recall WTI had opened at 71.50 on hump day, so this is a sizeable correction. Indeed, oil futures have opened soft again today and the black stuff looks set for its biggest weekly decline in two months (off 9%). Note the Baltic Dry Freight index is continuing southbound.
After the bell yesterday, Blackberry maker Research in Motion (RIMM) (off 11% pre market) released some disappointing numbers and were cut from Goldman Sachs' conviction buy list. This may bode ill for the tech sector today. In other tech space news that may pressure the NASDAQ, Palm's (PALM) high-stakes Pre smart phone may be about to suffer a setback, as Verizon (NYSE:VZ) decided not to support the phone in January as expected. The Pre has been exclusively offered on the Sprint (NYSE:S) network. And Hewlett-Packard (NYSE:HPQ) issued a sales forecast for fiscal 2010 that looks a little shy of what some analysts' estimates. AMR (AMR) may be a bright spot this afternoon after the parent of American Airline (and four other smaller carriers) was upgraded to a buy at UBS. The other chitchat around the market is about geo-political risk based on a Washington Post Story "Iran reveals existence of second uranium enrichment plant".
A weak headline and ex-transport durable goods number at 13.30 has seen the Dow futures slip into the red and the 15.00 data was mixed with a bullish 73.5 print on the University of Michigan Confidence report but bearish New Homes Sales data which undershot expectations, with a worrying 9.5% fall in the median price (a record).
Today's Market Moving Stories
A draft communiqué obtained by Reuters shows that the G20 intends to keep emergency economic supports in place until a durable recovery is secured, and to work together when the time comes to remove them. The group also agreed to take steps to rein in 'financial industry excesses'.
Another day, another poor session for the British Pound, which has come under further pressure, particularly from the Japanese Yen. There have been no new developments during the session to provide the trigger for further GBP selling and it seems now that the path of least resistance is for further GBP weakness across the board. The JPY is being supported by month end HIA flows which I have alluded to before.
Ma Xin, an official in China's NDRC think-tank, states that this government wants the G20 summit to begin studying how to wind down the "extraordinary" government spending initiatives. However, he acknowledges that "we think it's too early to exit yet, because Europe, the United States and Japan are still in negative growth." In a statement after a summit dinner, the White House said "today, leaders endorsed the G-20 as the premier forum for their international economic cooperation… This decision brings to the table the countries needed to build a stronger, more balanced global economy, reform the financial system, and lift the lives of the poorest."
US Treasury Secretary Timothy Geithner said "a strong dollar is very important in the United States... We have a special responsibility here in the United States to make sure we are doing the things in this country to preserve confidence in the US financial system, confidence that is very important to sustain the USD's role as the principle reserve currency in the international financial system. And we expect... the USD to retain that position for a very long time".
Fed Board Governor Kevin Warsh writes, "I would hazard the view that prudent risk management indicates that policy likely will need to begin normalization before it is obvious that it is necessary, possibly with greater force than is customary". He added, however, "longer-term inflation expectations are stable, and economic conditions are likely to warrant exceptionally low levels of the federal-funds rate for an extended period".
Japan's corporate service price index fell 3.5% yoy in August, the fourth consecutive decline. The decrease is the largest since the Bank of Japan first began collecting the data in January 1985. Japanese financial stocks were hit hard overnight after Nomura announced plans to issue up to $5.3bn in shares. Its stock was off 16%, its worst one day performance since 1974.
Morgan Stanley have upped their target for the S&P 500. They previously expected the S&P to end the year at 900, with a near term stretch target of 1100 (14x two-year forward earnings). They now think equities will trade above this largely because earnings will be higher than previously anticipated, expecting 2009 and 2010 earnings to be $55 and $70, respectively. This implies a year-end 2009 fair value of 1050 ($70 EPS on 15x). A higher multiple would justify a higher target, yet they do not think equities should trade significantly richer in the current environment. The stretch target is at 1200, where they would then turn cautious – and other worrying signs include the strong consensus view of higher equities yet low conviction, rally in both bond and equities, cost underestimation, and asset view alignment to a depreciating USD.
What is the price of copper telling us? Well, it's closed below its 50 day moving average, which is generally a clear sign of a reversal of trend. Historically copper has been a good leading indicator of global economic growth, so this is a tad worrying. Expect basic resources stocks like Antofagasta (OTC:ANFGF), Kazakhmys [LON:KAZ], Vedanta (OTCPK:VDNRF) and Xstrata (OTC:XSRAY) to see some selling pressure.
Post G20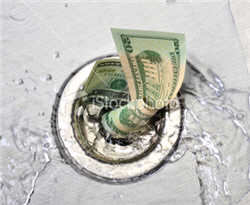 Investors must absorb a formidable flow of information next week as multiple A-list economic data releases and reports accompany a jam-packed schedule of speakers. However, at the risk of over simplification, and on the assumption that there is nothing more from the G20 to occupy the markets, I'd anticipate a broadly unchanged backdrop come the end of the week, with data more likely than not confirming a broad-based economic revival and political figures expressing cautious optimism over its longevity. Of course, the stronger the data and the assertions carried in such reports, the more intense the debate over exit strategies will become, and this is undoubtedly the major downside risk facing asset markets and the status quo of USD weakness in the currency markets.
Company News
Allied Irish Banks (AIB) successfully launched a €1bn three year "un" guaranteed bond. Though it was pricey, it provided much needed longer term funding and shows that the door for Irish financial names to fund off their on bat is opening. Good news for the taxpayer and the stock ahead of the critical NAMA vote in October. In a research note this morning Bloxham's opine following a meeting with AIB, they are not about to divest of their stake in Polish bank Zachodni WBK. AIB are up 7% today.
The improvement in CDS (credit) spreads is very positive for AIB. Also now with Bank of Ireland's recent bond issuance, it demonstrates that Irish financials are coming back on the international radar. Bond issuance outside the guarantee scheme is a major step forward for AIB and the Irish banks.
Davy's have added Tullow Oil (TUWLY) to their conviction buy list. They believe that it provides significant absolute and relative upside potential based on the strength of its reserve base, particularly in West Africa, and that the fully risked value of these reserves is not reflected in the current share price. They have removed DCC from the list after a very strong performance (+20%) over the period.
Unilever has announced the acquisition of Sara Lee's (SLE) Personal Care business for €1.275bn in cash. The business, which is mainly skin cleansing and deodorant products, includes the brands Sanex, Radox and Duschdas. EBITDA was €128m in 2008.
In their H1 trading update Tate & Lyle indicated that performance was running ahead of expectations before the impact of exchange rates. As previously indicated, profit before tax will be below last year because of buoyant prices last year, as well as higher interest costs. Demand from Food & Beverage clients remains resilient, although conditions in Industrial Ingredients and EU Sugar remain challenging. Lower corn prices has benefitted the European business, but has hit its US counterpart through lower product prices. The outlook was mildly optimistic, albeit subject to caution over some of its markets.
DSG International (OTC:DSGIF) sank 5.7% after the UK's biggest consumer-electronics retailer was cut to "underweight" from "equal weight" at Morgan Stanley.
Dana Petroleum (OTC:DNPXF) fell 4.1% after failing to find oil at its Trolla well in the Norwegian Sea.
Luminar [LON:LMR] slumped a shocking 32% to just to 89p after the UK's biggest nightclub owner said there is a "significant risk" the company may not meet analysts' forecasts for the full-year because of declining sales in its nightclub business and investments in two companies.
Ford Motor (NYSE:F) is putting $490m into a new plant in China that could significantly increase Ford's production in the country after the plant opens in 2012.
And Finally… Complete And Utter Banker

Disclosures = None