The first article of the series has introduced the Carbonate Triangle of the renowned Canadian oil sands. The region is the world's third largest oil reserve with its rich carbonate-hosted bitumen deposit located in the northern Alberta's deep underground. Precisely, the Carbonate Triangle is situated between three major bitumen areas, Athabasca, Cold Lake and Peace River.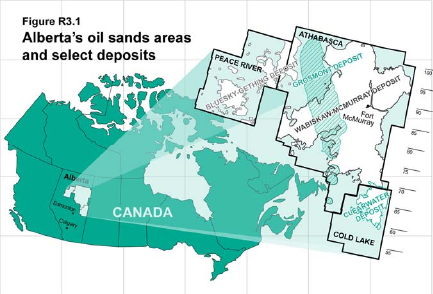 Source: ERCB
In today's investment guide on the Carbonate Triangle, I will present the main characteristics of the Athabasca area to have a better assessment of its potential. Then, I will introduce MEG Energy, a junior oil producer that owns two quality assets in Athabasca as well as some potential properties to develop.
Furthermore, this producer owns some midstream assets as well to generate more cash flow. Finally, I will discuss a proven process used by the company that allows it to lower its supply costs while operating, giving MEG a competitive advantage over its peers.
So far, I looked into several producers involved in Peace River and Cold Lake regions of the Carbonate Triangle:
Peace River's most notable producers:
Cold Lake's most notable producers:
Athabasca's most notable producers:
An analysis of the current operations of the company will be examined with the objective to provide the most complete information available to potential investors before deciding to seize the opportunity that the 54,132 square miles of the Carbonate Triangle has to offer. Let's start by introducing Athabasca, a famous and most prolific region in the Canadian oil sands as well as one of the largest reserve in the world.
Athabasca Region
The Athabasca oil sands are named after the Athabasca River which cuts through the heart of the deposit, and traces of the heavy oil are readily observed on the river banks. Commercial production of oil from the Athabasca oil sands began in 1967, when Great Canadian Oil Sands Limited, now incorporated into an independent company known as Suncor Energy, opened its first mine, producing 30,000Bls/d of synthetic crude oil.
The Athabasca region can be defined with two major oil sands deposits: the Grosmont Formation and the Wabiskaw-McMurray Formation. The Grosmont Formation is a late-Devonian shallow marine to peritidal platform carbonate consisting of four recognizable units within the deposit. All of the hydrocarbons are located in an updip position, structurally trapped along the erosional edge and contained by the overlying Clearwater Formation.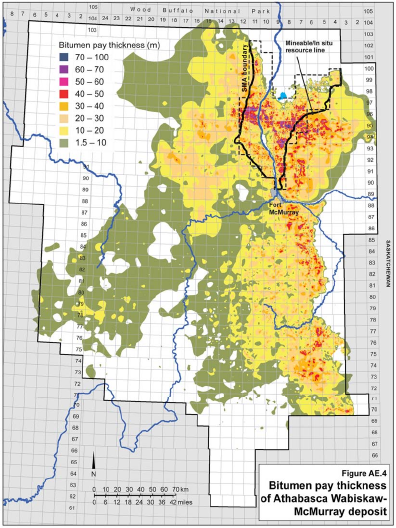 Source: ERCB
The McMurray Formation was deposited on an exposed karstic landscape of ridges and valleys and varies in thickness from being absent over Devonian highs to over 426 feet thick in the Bitumont Basin. Bitumen-rich reservoirs formed within estuarine valleys stacked above the Lower McMurray channel sands and are assigned to the Upper McMurray Formation.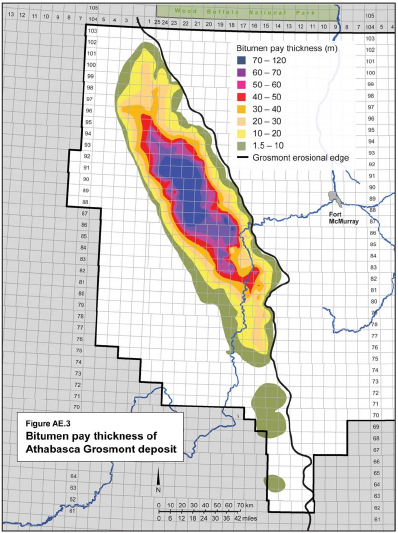 Source: ERCB
The Athabasca region is estimated to hold total reserves of 1.34 trillion barrels of oil. Approximately 8-10% would be recoverable with current technology, which would represent a total reserve of 134 billion barrels. Compared to the estimated 7 billion barrels contained in Peace River and approximately 16 billion barrels in Cold Lake, the Athabasca region is the most prolific and the most promising of the three, located in the Carbonate Triangle.
MEG Energy (OTCPK:MEGEF)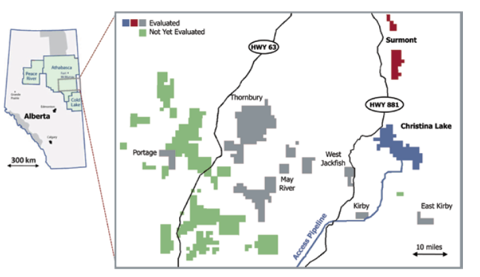 Source: MEG Energy
MEG Energy is a Canadian company focused on sustainable in-situ development and production in the southern Athabasca oil sands region of Alberta. MEG has acquired a large, high quality resource base and despite its small-cap size, is well positioned to be a strong oil sands player for many years to come.
MEG Energy's growth plan targets production capacity of 260,000 barrels per day by 2020. By expanding in stages, it can mitigate project construction risk by managing capital requirements and peak workforce levels, and pursuing standardized approaches to facility design. While current plans are based on proven technologies, a staged approach also allows MEG to incorporate technological improvements as it continues to learn and innovate with each successive stage.
Beyond 2020, further staged expansion is planned at MEG's Surmont Project. The growth properties to the South and West of the company's current operations offer significant additional development opportunities, which is in constant evaluation by the company.
Heavy Oil Assets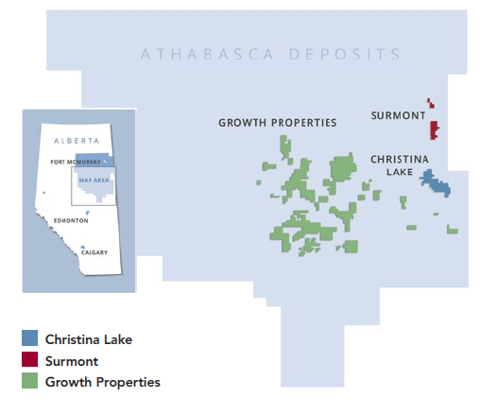 Source: MEG Energy
Christina Lake
The Christina Lake Regional Project is currently the focus of MEG's oil sands development. Located in the southern Athabasca oil sands region, this multi-phased project is located 93 miles south of Fort McMurray in northeast Alberta. Comprised of approximately 77.2 square miles of land leases or 51,200 acres, this SAGD operation was designed to produce 25,000Bls/d (barrels per day).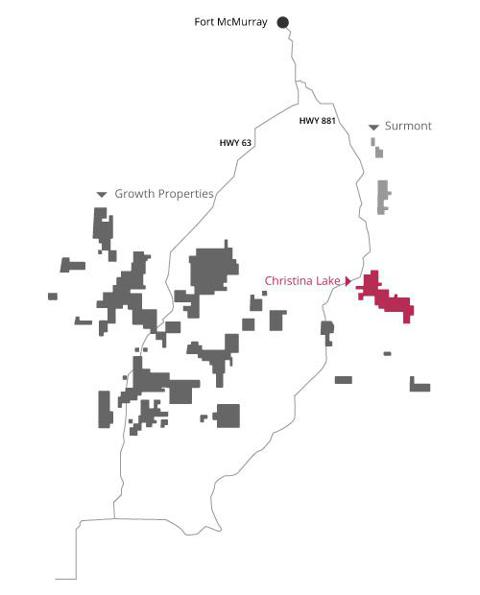 Source: MEG Energy's June 2013 Investor Presentation
The project came on-stream in 2008 when Phase 1 began producing at a design capacity of 3,000Bls/d. This was quickly followed with Phase 2A in 2009, an increase of 22,000Bls/d in incremental production. Combined total design capacity for Phase 1 and 2A was reached within just 10 months, a record-setting pace for industry. In total, Phases 1 and 2 feature six well pads with 39 horizontal well pairs. MEG's first two infill wells were added in 2011. The operation also features associated steam cogeneration, water treatment and other facilities.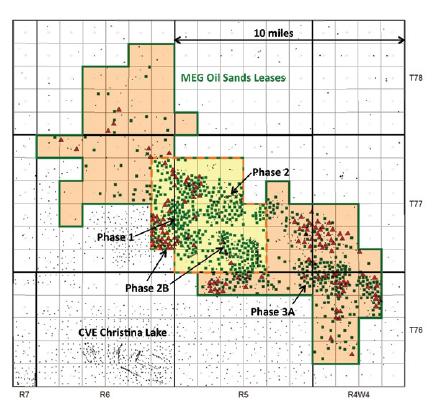 Source: MEG Energy's June 2013 Investor Presentation
MEG reported for its Phase 2B, that water treatment and steam generating facilities are now mechanically complete and in the commissioning process, with start-up of steaming planned for late in the third quarter. Completion of oil treating facilities and first oil are expected in the fourth quarter.
Phase 2B is Christina Lake's next step in its development, with a planned 35,000Bls/d in additional production capacity. The company said that initial steaming remains on schedule.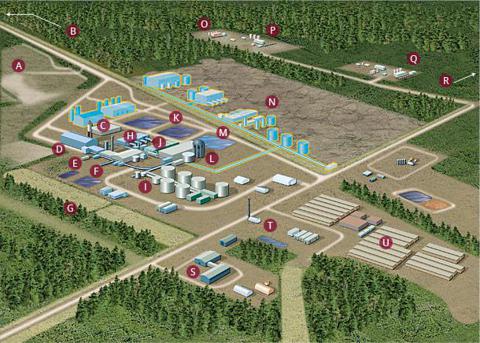 Source: MEG Energy's June 2013 Investor Presentation
Phase 3 is a multi-phased project that proposes to add an additional 150,000Bls/d of production capacity. The project was approved by regulators in early 2012. When all phases come on-stream, the project is anticipated to produce approximately 210,000Bls/d by the year 2020.
Proved plus probable reserves for Christina Lake are estimated at 2.13 billion barrels, with contingent resources (best estimate) evaluated at approximately 979 million barrels.
Surmont
The Surmont Project is a proposed multi-phased SAGD oil sands development with a total design capacity of approximately 120,000Bls/d. The Surmont leases fall in the southern Athabasca oil sands region of Alberta, approximately 50 miles south of Fort McMurray, an area that has been extensively explored and developed for natural gas projects and, more recently, for oil sands resources.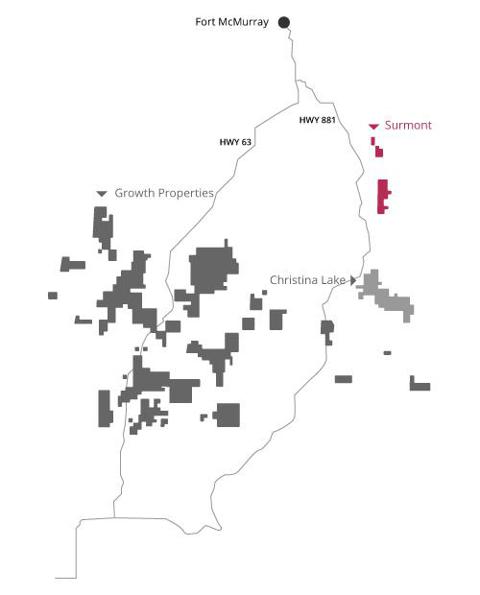 Source: MEG Energy's June 2013 Investor Presentation
The Surmont leases consist of approximately 31 square miles or 20,480 acres of land and will feature SAGD bitumen recovery from the McMurray Formation. The operation will also feature associated steam cogeneration, well pads, water treatment and other related facilities.
Like Christina Lake, Surmont plan proposes staged development with ultimate production capacity targeted at approximately 120,000Bls/d. A development application was filed with regulators in mid-2012 and community consultation and subsurface exploration programs have been ongoing. The company said that during Q1 of 2013, a total of 24 stratigraphic wells, one water source well and three water test wells were completed.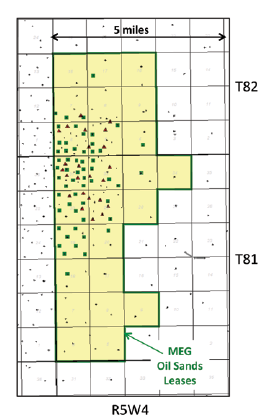 Source: MEG Energy's June 2013 Investor Presentation
Once developed, MEG plans to connect the Surmont Project to regional infrastructure, which will offer similar diluent supply and transportation advantages realized at Christina Lake.
Proved plus probable reserves for Surmont are estimated at 511 million barrels, with contingent resources (best estimate) evaluated at approximately 327 million barrels. According to the producer, Surmont is anticipated to play a significant role in MEG's overall growth strategy of achieving 260,000Bls/d in production capacity by 2020.
Growth Properties
MEG Energy's growth properties as it call it, comprise leases to the South and West of MEG's current operations. These lease holdings offer significant additional in-situ development opportunities beyond 2020. In total, the growth properties consist of approximately 772 square miles or 526,080 acres of leases land and are estimated to hold approximately 2.1 billion barrels of contingent resources (best-estimate).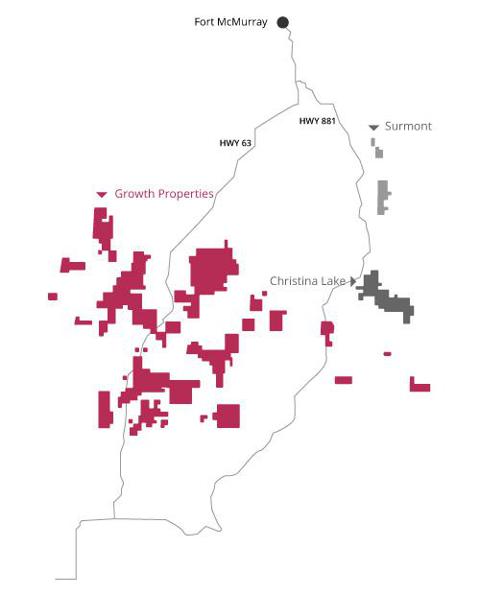 Source: MEG Energy's June 2013 Investor Presentation
The company continues to delineate these resources to identify opportunities for commercial development long into the future.
Cogeneration, An Offset Production Cost Process
As discussed above, MEG is using the cogeneration technology to recover bitumen. As a matter of fact, cogeneration is the process of simultaneously producing steam and electricity. In the company's operations, the steam is used for SAGD bitumen recovery, while the electricity is used at the plant site, with excess power sold to Alberta's power grid.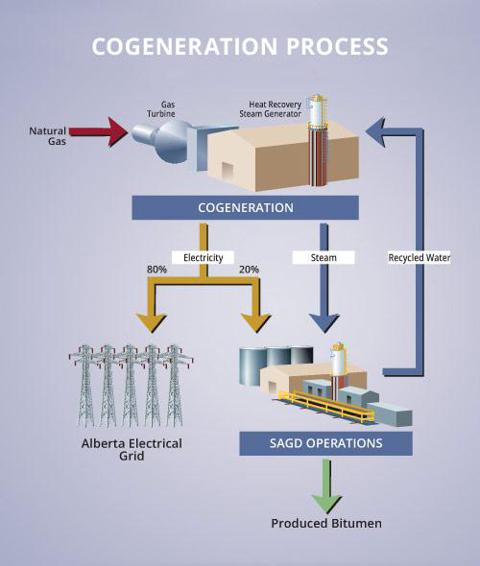 Source: MEG Energy
Cogeneration technology has several advantages over conventional steam boilers:
The "energy return on investment", the amount of useable energy created from the burning of natural gas, is increased, as both bitumen and electricity are produced

Electricity produced at the plant site helps to ensure steady and reliable power, reducing the risk of a plant shutdown due to power grid interruptions

The sale of excess electricity helps offset production costs

The electricity provided to the power grid has a lower carbon footprint than the provincial average, helping to reduce total greenhouse gas emissions
As seen below, the chart illustrates a worldwide comparison of greenhouse gas intensity barrels produced. The cogeneration process is one of the lowest of its industry.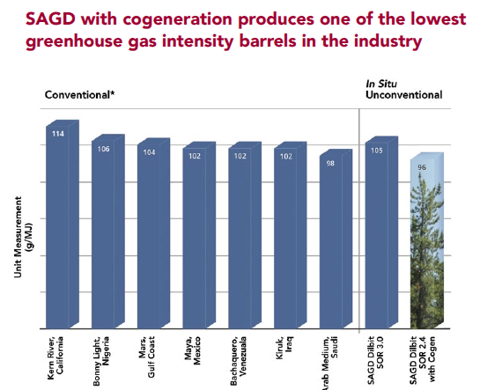 Source: MEG Energy's June 2013 Investor Presentation
Midstream Assets
MEG also owns interests in two key midstream assets including Access Pipeline and Stonefell Terminal.
Access Pipeline
Access Pipeline, a 50% owned joint-venture with Devon Energy, provides about 214 miles of connectivity from the Christina Lake asset to a main transportation hub in Edmonton, ultimately providing access for its product to multiple end markets. Access comprises two pipelines:
A 16-inch, 90,000Bls/d diluent line from Edmonton running North to the current and planned operations

A 24-inch, 200,000Bls/d line carrying a bitumen and diluent blend back to the Edmonton area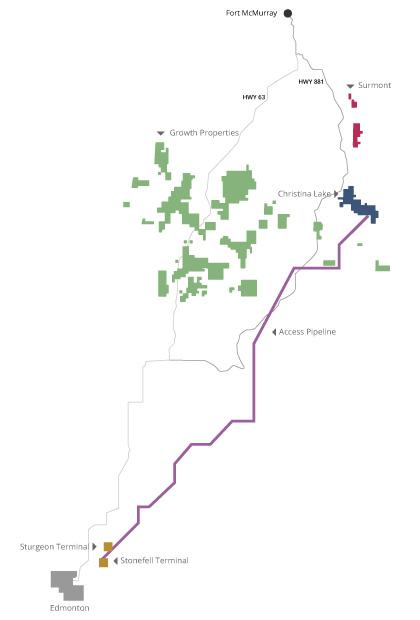 Source: MEG Energy's June 2013 Investor Presentation
In December 2011, MEG announced plans to expand the capacity of the Access Pipeline to accommodate planned production growth. The proposal calls for building a new 42-inch blended product pipeline along the existing pipe corridor and reversing the current blend line to carry diluent. Pending regulatory approval, the expanded pipeline is expected to be in operation by 2015.
The expansion of the Access Pipeline continues MEG's strategy of ensuring its control of the necessary pipeline export capacity in place as production volumes increase.
Stonefell Terminal
Stonefell Terminal, a 900,000 barrel storage facility located in Alberta's Industrial Heartland near Edmonton, is currently under construction. The purpose of the terminal is to allow MEG to mitigate risks with pipeline restrictions, improve blend quality and acquire and store diluent during favourable market conditions.
On completion in mid-2013, Stonefell will be tied into the Access Pipeline with planned connections to other regional pipeline and rail transportation infrastructure.
Stonefell will serve as the launch point for large volumes of blended products to multiple markets, diversifying MEG's sales of crude and purchases of diluent over a much larger market segment. In particular, the location of Stonefell at the Edmonton hub will allow access to traditional markets in eastern Canada and the U.S. Midwest, as well as current and developing West coast markets.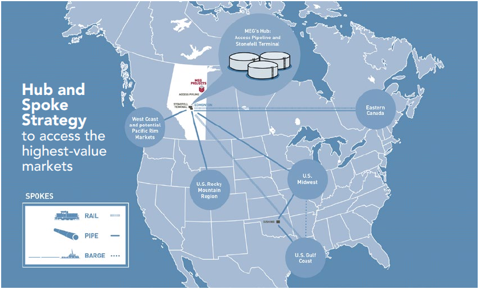 Source: MEG Energy's June 2013 Investor Presentation
Together, these assets provide MEG with a number of unique cost and revenue advantages that allow the company to add significant value to each barrel it produces. Furthermore, with the planned Stonefell Terminal, Access effectively places MEG's wellhead at the Edmonton hub, providing opportunities to expand market access and increase the value of its products.
Lowering The Supply Costs With A Proven Technology
MEG has introduced an enhanced program to lower its supply costs in early 2012 with its RISER initiative. This initiative focuses investment on projects which are expected to generate the highest returns and lead to near-term production and cash flow gains.
Employ proprietary technology to reduce steam-oil ratios and enhance recovery
Redeploy freed-up steam and debottleneck facilities to increase production from existing assets
At Christina Lake, since full implementation in January 2012, steam rates have been reduced by more than 30% with no decrease in production volume trend.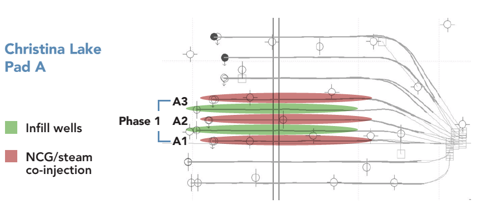 Source: MEG Energy's June 2013 Investor Presentation
The two infills positioned between three producing well pairs with NCG (non-condensable gas) at phase 1 achieved an average SOR (Steam-Oil Ratio) of 1.3 in Q1 of 2013.
RISER uses a proven technology called eMSAGP (enhanced Modified Steam and Gas Push). Early application of eMSAGP has the potential to significantly reduce SORs while accelerating bitumen production and increasing ultimate recoveries. The chart below illustrates the process.

Source: MEG Energy's June 2013 Investor Presentation
Additionally, the impact on Phases 1 and 2 at Christina Lake has the potential to reach up to 60% above design capacity through the RISER initiative.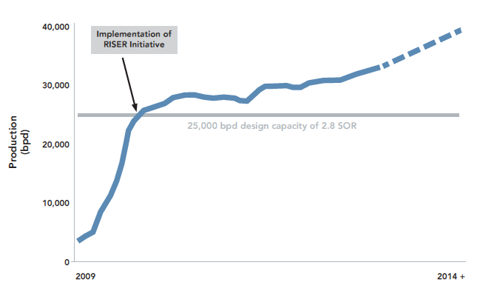 Source: MEG Energy's June 2013 Investor Presentation
According to the company, RISER should drive 2013 with target exit rate of 37,000-43,000Bls/d, on-track to deliver 80,000Bls/d by early 2015.
The RISER initiative includes several benefits:
Significantly lowering capital cost than typical greenfield projects
Growth of interphase production with new production between major expansions, resulting in accelerated cash flow
Higher efficiency and higher production lowering the costs per barrel
The picture below shows the supply costs per barrel using the RISER initiative, compared to most known extraction methods.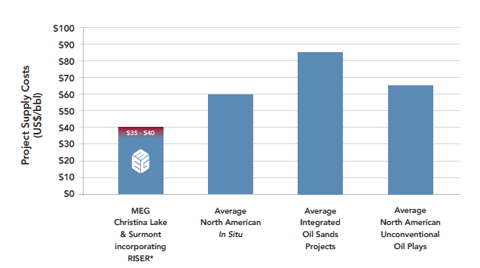 Source: MEG Energy's June 2013 Investor Presentation
Financials At A Glance
MEG reported in its Q2 2013 financial results, operating earnings, which are adjusted for items that are not indicative of operating results, of $13.6 million or $0.06 per diluted share compared to $11.1 million or $0.06 per diluted share in the same period of 2012, reflecting the same factors that impacted cash flow from operations.
The company recorded a $62.3 million net loss or $0.28 per diluted share compared to a net loss of $29.5 million or $0.15 per diluted share in Q2 of 2012. The net loss in Q2 of 2013 is primarily due to an unrealized foreign exchange loss of $82.4 million on the translation of the company's U.S. currency denominated debt, net of U.S. cash and cash equivalents, as the Canadian dollar lost value relative to the U.S. currency.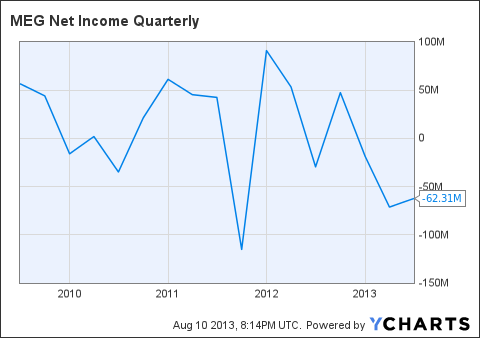 MEG's production during the quarter increased by 6% to an average 32,144Bls/d, a near-record quarterly production, from Q2 of 2012 production average of 30,429Bls/d. For the first six months of 2013, production increased by 10% to 32,337Bls/d from 29,411Bls/d in the first half of 2012.
Regarding net operating costs, which include natural gas energy costs and revenues from electricity sales, results achieved were $8.85 per barrel in the quarter compared to $8.55 in Q2 of 2012. This quarter's non-energy operating costs averaged $10 per barrel and remain within 2013 guidance of $9 to $11 per barrel. Furthermore, the company recorded strong cash operating netbacks at $41.93 per barrel, primarily due to narrowing light-heavy crude oil differentials.
High production volumes, low operating costs and stronger price realizations in Q2 of 2013 generated cash flow of $79.2 million or $0.35 per diluted share, compared to cash flow of $60 million or $0.30 per diluted share in Q2 of 2012.
Return on equity's ratio is currently at -2.26% but as shown on the following chart, its ROE usually tends to be positive. Furthermore, the company has not generated profit with shareholders' invested money in the last few months. Therefore, some concerns regarding its liquidity issues and its capacity to pursue further its operating activities remain unpredictable without its financing capital.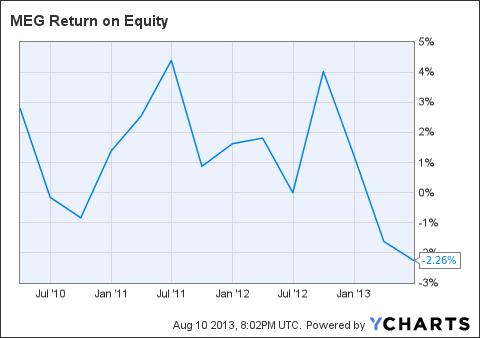 Bottom Line
MEG's management believes the company has the financial resources in place, including working capital of $731 million and an undrawn $2 billion revolving credit facility, to execute its plans to increase production to 80,000Bls/d by early 2015.
In addition to growing its production base, MEG continues to pursue strategies to expand the company's reach to higher-value crude oil markets. The producer now has all 18 of its leased barges available for use, as needed, to move products along the U.S. Inland Waterway system to the Gulf Coast.
MEG also expects connections between its Stonefell Terminal and an Edmonton-area rail loading facility, which is scheduled for operation later this year, to provide further transportation options. As a matter of fact, doing so, the company is taking a longer-term view with the goal of significantly mitigating the differential volatility between WCS (Western Canadian Select) and WTI.
It is important to note that MEG's shares doesn't trade very actively. As a matter of fact, the stock has a 3-months volume average of 680,936. Therefore, investors has to take this into account as well. In conclusion, here are the upsides identified which support investing in MEG Energy:
High quality resource base in the oil sands
Low-risk production approach based on proven technologies that keeps operating costs at low levels
A small-cap oil producer with tremendous potential for growth
Growth properties of more than 526,080 acres of leased land, estimated to hold about 2.1 billion barrels with best estimate of contingent resources
Strategy focused towards world pricing and support for greater price stability with a full suite of market options
However, a small-cap producer faces many challenges in its growing process:
Anticipated sources and sufficiency of funding for MEG's future growth remain uncertain
Presence of operational risks and delays in the development, exploration or production activities
The volatility of commodity prices and foreign exchange rates could be challenging on future operational costs and cash flows
Disclosure: I have no positions in any stocks mentioned, and no plans to initiate any positions within the next 72 hours. I wrote this article myself, and it expresses my own opinions. I am not receiving compensation for it (other than from Seeking Alpha). I have no business relationship with any company whose stock is mentioned in this article.