Many investors may not be familiar with Tower International (NYSE: TOWR), but it is one of the companies behind the success of major auto brands. In fact, the firm has outperformed many big and popular companies in the market place by posting more than 100% growth this year at an astounding 149% YTD increase. It even outperformed S&P 500 and Dow Jones. Tower International supplies vehicle parts to big automotive manufacturers and famous brands, and gets to enjoy the success of its clients.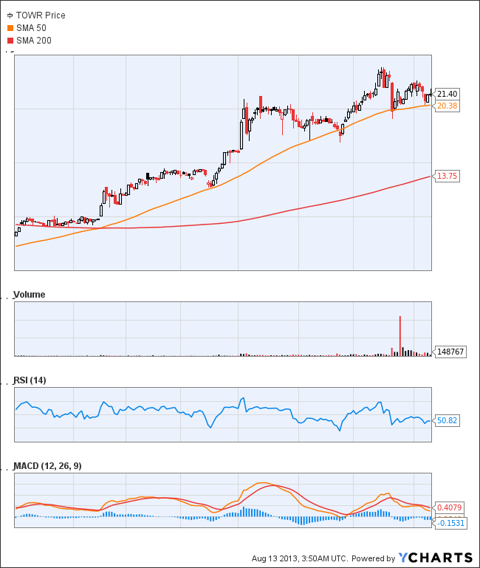 TOWR data by YCharts
Short glimpse of the company and its financials
Dubbed as one of the biggest worldwide suppliers of automotive metal structural components and assemblies, Tower International caters to the varying needs of almost all vehicle manufacturers across the globe. The company has 29 production facilities and 8 sales and engineering locations in different countries.
On July 22, the company reported strong second quarter results that showed increased revenue at $556 million, slightly higher compared to the same period in 2012; its EBITDA, however, remained unchanged. The company posted net loss of $45 million during the quarter due to certain items that greatly affected its earnings. But without these items, diluted adjusted earnings jumped 29% from $0.80 per share a year earlier to $1.03 per share.
Consequently, Tower International increased its full year diluted adjusted earnings outlook by 15%, or $0.25 per share. It expects to end the year with diluted adjusted earnings of $1.90 per share. Likewise, the adjusted EBITDA was increased, as well as its free cash flow.
On the contrary, it reduced its revenue projection by $10 million, citing exchange-rate translation as the main reason. Overall, the quarter showed better performance over last year. The fact that the management increased its full year forecast is a sign of better months ahead to end the year above and beyond the original projections.
Growth catalysts and market outlook
During the first half of this year, global automotive sales jumped 4%, and Scotiabank forecasted that car sales will end this year with a record high driven by strengthened global employment and generally low long-term and short-term interest rates across the globe.
In Asia and South America, global auto sales steadily increased with 9% year-over-year growth. In the U.S. and Mexico, car sales soared to the highest level since 2007 and the leading indicators showed that the direction is still in upward trend. In the U.S., consumer confidence escalated to a 6-year high as more Americans are still planning to retire their aging vehicles and replace them with new ones.
The affordability level to purchase new vehicles is seen as one of the best in decades. It's no wonder why Tower International made such a steep jump this year. In fact, it is not the only company that benefited from the rising demand for new vehicles.
One of its closest rivals, Magna International (NYSE: MGA), also showed mirror performance. While the share price appreciation is not as high as Tower International, a year-to-date growth of 57.61% is already a stunning feat.
Magna International is much bigger being a large cap firm with market capitalization of $18.45 billion, which is a far cry to the small market capitalization of Tower International at only $437.14 million. The company also posted net income of $415 million from $8.96 billion revenue with a profit margin of 4.8%. Quarter revenue growth was seen at 16% year-over-year.
Another peer with impressive shares growth is Visteon Corporation (NYSE: VC). Visteon is also an automotive supplier, but its products are mainly focused on electronics and interior systems. The company has three major segments: interior, climate, and electronics. It supplies to major auto brands worldwide with well-expansive global footprint. To-date, Visteon shares jumped 28% and the trend remains upbeat amidst rising car sales worldwide.
Compared to Tower International, Visteon is bigger by market capitalization at $3.45 billion. The company reported year-over-year growth in the second quarter of 2013 in all key financial metrics. Sales were up $199 million, while adjusted EBITDA also ended higher by $40 million or an increase by 23%. It ended the quarter with cash balances of $1 billion, while total debt is manageable at $799 million. Because of the solid quarter performance, Visteon raised its full year outlook for free cash flow, EPS, and EBITDA.
Investing recommendations
Investing in Tower International, at this point, looks riskier considering the steep jump this year. It's no surprise if investors are hesitant, at first glance, to secure a position given the high possibility for correction any time soon. But if you take a closer look at the company, the fundamentals are there and the company's financial position remains strong.
Moreover, car sales are growing at 5% every year and many analysts projected that growth in the automotive industry will persist in the next 20 years. This will be one of the major catalysts to Tower International's future growth. Consequently, the consensus of analysts in Yahoo gave the company 'hold' and 'strong buy' recommendations. As long as car sales continue to go up, Tower International will also hitch the ride of major auto brands it is currently serving towards future growth and success.
Disclosure: I have no positions in any stocks mentioned, and no plans to initiate any positions within the next 72 hours. I wrote this article myself, and it expresses my own opinions. I am not receiving compensation for it (other than from Seeking Alpha). I have no business relationship with any company whose stock is mentioned in this article.