I have been saying for some time that Apple (NASDAQ:AAPL) was significantly undervalued and that the second half of 2013 would be better for shareholders than the first six months of the year. Even given this, I have been surprised on how fast its ascent off its recent lows has been. The shares are up some 25% since its late June swoon. This rise has accelerated this week on the back of three important catalysts.
Catalysts:
Monday, AllThingsD broke a story that the company would reveal its next iPhone on September 10th. The new phone should have a faster CPU and is rumored to have a fingerprint sensor as well.
Second, noted value investor extraordinaire Carl Icahn reported he had accumulated a better than $1B stake in the giant from Cupertino. He has called the shares very undervalued and believes they can hit $600 in the near term. And, of course, he will be calling for adding to the company's already huge $60B stock repurchase plan. Given the huge successes that Mr. Icahn has had on his investments in Netflix (NASDAQ:NFLX), Herbalife (NYSE:HLF) and others this year, this is an extraordinary positive for sentiment on the stock and should have helped the company put in a bottom for the year. The only thing better for sentiment would be if Bill Ackman announced a large short position in the shares.
Finally, the stock broke above its 200-day moving average on Tuesday. This was the first break above this important DMA level since last November.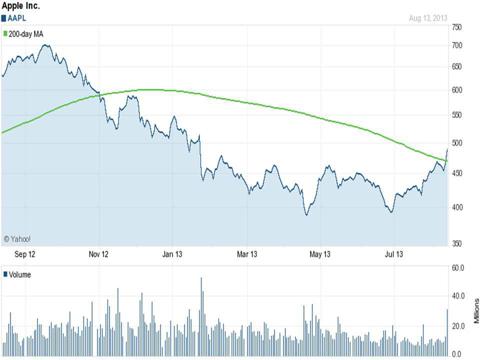 Still More Upside:
The sentiment on this tech giant is turning quickly. It should remain in the news given Mr. Icahn's vocal advocacy methods and the upcoming revelation of the new iPhone in less than a month away. Even with the recent rise, the stock is still cheap at about 8x forward earnings once you subtract the almost $150B in cash and short-term marketable securities on its balance sheet. It also pays an over 2.5% dividend.
The company has scored some litigation victories against its arch rival Samsung in recent weeks including an ITC win. In addition to the new iPhone, the company should also launch a new version of the Mac OS and new iPads by the end of the year. And of course, there's always the possibility of an announcement of a new product line like an iWatch or iTV sometime by the end of year. A more likely catalyst is a new agreement with a major carrier like China Mobile (NYSE:CHL) or NTT Docomo (NYSE:DCM) by the end of 2013. Given Mr. Icahn's persistent methods, an enhanced dividend and/or stock repurchase plan is also not out of the realm of possibility.
Anyone who has traded the market over the last few years can attest to how fast a long beaten down stock or sector can climb once sentiment starts to turn. A good example of this is the solar industry which was an absolute dog in 2012 but has been a huge winner in 2013 with stocks like First Solar (NASDAQ:FSLR) and SunPower (NASDAQ:SPWR) leading the way. Both of which have more than doubled over the past nine months.
I'm keeping my core position in Apple as I think it still has more upside in the near and long term. The shares I bought when the stock dropped to under $400 in June, I will probably sell some out of the money calls to pick up some premium on the stake that already has been a huge winner. Given recent developments, it probably will not be long before the shares get some analyst upgrades and price target upward revisions. This should power the next leg up.
Disclosure: I am long AAPL. I wrote this article myself, and it expresses my own opinions. I am not receiving compensation for it (other than from Seeking Alpha). I have no business relationship with any company whose stock is mentioned in this article.