Juniper Networks (NYSE:JNPR) reported robust second-quarter earnings for fiscal year 2013. Its revenue increased to $1.15 billion, a 7.2% jump from the second quarter of 2012. The credit goes to improvement in networking and the strength of its routers. The networking market looks strong for Juniper whose new products such as T4000, PTX, and QFabric are gaining momentum in the service provider market, which accounts for about 65% of its total revenue. These new products saw a progressive increase in revenue and are on the track to meet quarterly revenue of $150 million by the end of this year. Juniper also has growth potential in following products and technology.
Partner Advantage Program
Juniper has extended its Partner Advantage Program via Partner Support Services, or PSS, and Partner Professional Services, or PPS, for its Elite level partners. These services provide excellence to Elite partners and enable them to enhance their own business. PSS focuses on general support and maintenance services and PPS focuses on network design and planning services. Benefits for PSS partners includes exclusive and direct access to advanced Juniper support engineers within the Juniper Networks' Technical Assistance Center, along with value-based rewards. The company sees an addressable market for network equipment support services of $20 billion for PSS and $15 billion for PPS.
Network automation
Juniper successfully developed one of the most effective network automation and orchestration tools for simplifying data center operations. It allows network operators to move the new switches without manual interference. Juniper worked with Puppet Labs and Cloudscaling to develop this product. With this, Juniper will offer a solution that enables a flawless delivery in an enterprise cloud and a virtualized environment.
Expanding SDN
To accelerate its software defined networking, or SDN, business, Juniper developed the new JunosV Contrail controller. It built this controller with technology gained when it acquired Contrail in 2012. Its overlay approach will allow customers to start implementing the technology much more quickly, and it will reduce the time, cost, and risk to customers by delivering new network and security services. The product will be available for purchase during the second half of 2013, under the Juniper Software Advantage licensing program. Currently the product is being tested by Fortune 500 global service providers and enterprise customers.
It has also announced another SDN-type technology with the vApp Engine, which allows network-aware applications for security and mobility services. Juniper plans to make it compatible the JunosV Contrail controller, which will give applications the benefit of working on any virtual overlay. As a result, it will be a more robust and flexible platform. Juniper is expecting to report growth from its SDN line in 2014.
Competitors' presence
Cisco (NASDAQ:CSCO) is Juniper's main rival. It owns around 65% of the core routing market. Cisco's routing division revenue contributed about 17% of the company's total revenue in fiscal year 2013. According to Infonetics research, the carrier router and switch market will grow at an 8.8% compound annual growth rate through 2017. This means Cisco has more growth potential in the future.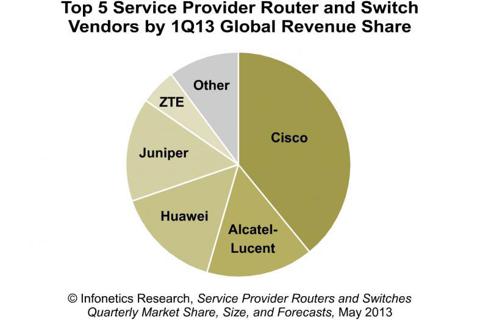 Click to enlarge
Cisco leads the SDN market. Recently it announced Dynamic Fabric Automation, or DFA, which uses an overlay network to provide orchestration and operational visibility. With DFA, Cisco is the only network vendor with a strategy to organize physical tunneling functions in network hardware with software network agents such as Nexus 1000V. It connects virtualized platforms such as OpenStack or VMware to non-virtualized devices and servers. Instead of supporting virtual workloads in a cloud platform like vCloud or OpenStack, Cisco can support any workload, anywhere. DFA is a strong product that certainly meets customer needs and plays to Cisco's strengths integrating the physical and virtual networks.
SDN is also changing the nature of the telecom industry by coupling with Network Functions Virtualization, or NFV. As per ABI Research, the NFV market will reach $6 billion by 2018. NSN and Cisco are well positioned to gain from this market growth. NSN has taken leadership in virtualizing its Liquid Core network with commercial ATCA and HP servers, and it is united with NFV.
With its nascent server business, Cisco is also positioned to explore this trend with its ASR5xxx software. This will increase top line and bottom line financial results much more than just cost reductions. In the long run, operators using SDN/NFV will beat their competitors with a much faster service speed.
The shift plan
Alcatel-Lucent (NYSE: ALU) is another rival of Juniper. It recently unveiled its "The Shift Plan" strategy to streamline the company's operations by diverting focus from some of its multiple projects to a few key business units. It will target cost-cutting initiatives and sale of assets in a restructuring program scheduled for completion in 2015. By refocusing on core networking, it plans to generate revenue of more than Euro 7 billion, or $9.28 billion, in 2015. It holds second position in router market share, posing a threat to Cisco and Juniper. It also launched Nuage Networks, specifically tasked with building SDN solutions based on Virtualized Services Platform, or VSP, technology. The platform also has a Virtual Services Controller, which is the SDN controller. This in return provides full virtualization using an overlay approach, and is fully independent of the network.
The Shift Plan will also help in eliminating its massive pool of debt worth $8.67 billion. The company aims to decrease the current debt by refinancing $2.65 billion, in the near term, and it is sure that it will be able to cut the debt by a similar amount once the shift plan begins to pay-off.
To sum up
Juniper is progressively gaining market share in networking, routers, and SDN. Cisco is a leader in router and switches and SDN and is undoubtedly the best stock. Alcatel-Lucent's shift plan also looks promising for the future. As per IDC, the SDN market will be worth $360 million in 2013, and by 2016 it will grow to $3.7 billion. As a result, I see a lot of potential for Cisco, Juniper, and Alcatel-Lucent.
I recommend buying all these three stocks for long-term growth.
Disclosure: I have no positions in any stocks mentioned, and no plans to initiate any positions within the next 72 hours. I wrote this article myself, and it expresses my own opinions. I am not receiving compensation for it (other than from Seeking Alpha). I have no business relationship with any company whose stock is mentioned in this article.