Gold has been a hot topic of late. We've seen shares for all the major producers - from Barrick (NYSE:ABX) to Newmont (NYSE:NEM) - being battered in recent months. On August 12, Newcrest Mining (OTCPK:NCMGF) reported a $5.3B loss. Last week, AngloGold Ashanti (NYSE:AU) announced 2,000 job cuts following similar workforce reductions from Barrick, Newmont, and Goldcorp (NYSE:GG). I'd like to take a step back and look at some of the less obvious factors which have played a role in this volatility; including how they may play out in the coming months. I'll likely cover a few of these topics in this article and, if there is sufficient interest, will follow up with a second article.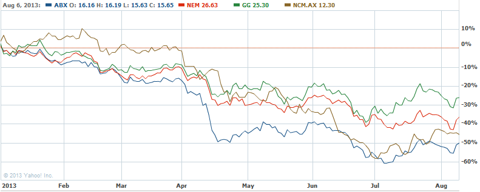 Click to enlarge
Physically Backed ETFs
ETFs backed by physical gold have been a huge source of volatility which has, to a great extent, been overlooked by many. 15 years ago, the ability to buy ETFs or Index Funds that were physically backed by gold simply didn't exist for most individual investors. Today, it is an extremely large market (and, following last year's SEC decision, will likely play a significant role in copper supply/demand as well).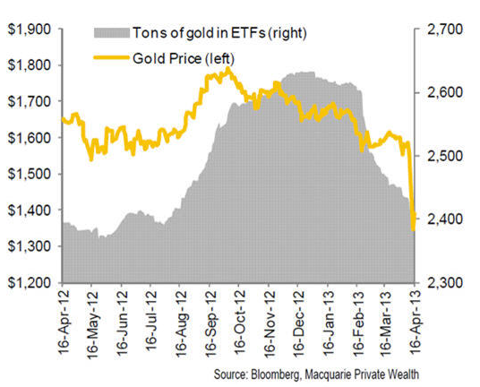 Click to enlarge
As the price of gold began to decline, individual investors began to jump ship. The result? To date, nearly 6 months of mine supply has been dumped on the market directly from physically backed ETFs. Consequently, this influx of supply has had a snowball effect as the impacts are felt by the supply/demand balance. It's likely that speculative individual investors may continue to dump shares in the coming months (perhaps after a slight rebound?); however, it appears that most of the damage has been done.
Net Result: Likely to continue to add to volatility of gold market in the short term
Indian Regulations
India is, far and away, the largest consumer of gold. Simply put, it's a part of their culture. However, as the Indian current account deficit has increased significantly since 2009, we've seen the Indian government begin to crack down on gold purchases. Initially, they increased the tax from 1% to 8%. Then, they restricted banks from lending for the purpose of buying gold. Finally, they clamped down on importing gold (now, 25% must be destined for export). The net impact has been nearly a 25% decline in demand for the precious metal in India.
Net Result: Regulations continue to dampen gold demand in India; however, new regulations seem unlikely
Central Bank Transactions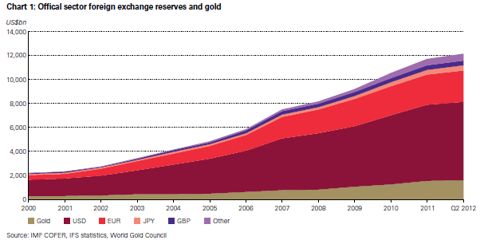 Click to enlarge
Central banks, particularly the Eurozone banks, began to increase their levels of transparency around 2000. Since that time, they've gone from net sellers of approximately 500 tonnes/year, to net buyers of nearly 500 tonnes/year. A swing of nearly 4 months of mine supply. This has helped to drive demand for gold over the last 13 years but, as many countries (included the OPEC nations), have begun to shift towards a basket of currencies rather than gold, it is likely that many of the net-buyer nations may move to net-sellers in the long term. In the near term, however, it seems that many are buying gold while the price is down.
Net Impact: Positive in short-term, negative in long-term
Conclusion
These are only a few of the factors which have been impacting gold prices and, subsequently, gold producers. Obviously, factors such as the economic stability of the eurozone, the end of QE, and the overall health of the global economy play a huge role in the future of gold as well. However, it's of equal importance to track the progress of these less-obvious factors when considering an investment directly in gold, or in a gold producer. My current forecast for gold, which includes the factors mentioned as well as several which were not addressed, is for a continued decline over the next 6-8 months as mines play catch-up in terms of adjusting supply. After which, gold will recover to the $1,400-$1,500 level by mid-2015.
Disclosure: I have no positions in any stocks mentioned, and no plans to initiate any positions within the next 72 hours. I wrote this article myself, and it expresses my own opinions. I am not receiving compensation for it (other than from Seeking Alpha). I have no business relationship with any company whose stock is mentioned in this article.