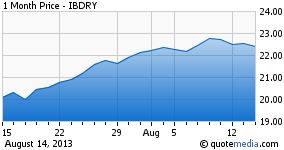 Iberdrola (OTCPK:IBDRY) is a Spanish utility that currently offers a high-dividend yield of 7%. For income investors this yield is much higher than available in its U.S. peers, such as Duke Energy (NYSE:DUK) which yields 4.4% or Southern Company (NYSE:SO) at 4.64%. However, Iberdrola's dividend is not paid in cash, helping explain its high-dividend yield. Instead, shareholders receive rights or the full amount distributed, having thereafter the choice to keep them, sell it in the marketplace, or sell it to Iberdrola. The company has a market capitalization of about $69 billion, and is traded in the U.S. in the OTC market. Its main shareholders are Qatar Investment Authority with an 8.4% equity stake, followed by ACS (OTCPK:ACSAY) with 5.7% of its capital.
Company Background
Iberdrola has undergone a wide-ranging transformation over the last ten years, which has enabled it to advance through the ranks to become the number one Spanish energy group, the world leader in wind energy, and one of the world's top power companies. In the U.S., it is the second-largest producer of wind power. Iberdrola carries out its principal activities through its different business areas in the fields of: electricity production through renewable and conventional sources; transmission and distribution of electricity; sale of electricity and related energy services; engineering and construction services and operation of energy facilities; and other activities in other industries. Geographically, Iberdrola is present in 39 countries with Spain, the United Kingdom, the United States, Mexico, and Brazil being the most important ones. At the end of 2012, the company had more than 30,000 employees.
The group's installed capacity is above 44,000 megawatts, with renewable being the largest fuel source with 32% of the total capacity base. Gas represents about 29% and hydroelectric has a 22% weight. Coal is only responsible for 7% of Iberdrola's installed capacity. Therefore, Iberdrola is a 'green' utility with a very high emission-free installed capacity, and its CO2 emissions are 30% lower than the average for the European electricity industry.
In 2012, Iberdrola achieved more than $45 billion in sales, an increase of 8.1% from the previous year. Spain was the major market, accounting for almost half of Iberdrola's sales. The U.K. was the second-largest market with a 28% weight, followed by the U.S. representing about 10% of total sales. Its EBITDA stood above $10 billion, 1% higher than in 2011. This lead to a slightly lower EBITDA margin, which was about 22%. In the first six months of 2013, the company's revenues declined 1% to $22.6 billion, and its profitability was relatively stable. Its recurrent net profit increased 2.8% to $1.8 billion, due to lower interest payments.
Iberdrola has an ambitious investment program up to 2020 to secure future growth, focused mainly on renewable and regulated businesses. In 2014, the company expect those two segments to represent about 77% of its EBITDA, compared to about 50% of its EBITDA in 2009. This will also be achieved through asset disposals, given that Iberdrola has identified non-core assets that could be sold for about $6.5 billion.
Dividends
Iberdrola's dividend is different from most companies, due to its scrip dividend option called Iberdrola Dividendo Flexible. Through this new remuneration formula, shareholders automatically receive one free allocation right for each Iberdrola share owned. With the new remuneration formula, the shareholder has three options:
Free Iberdrola shares for an amount equivalent to the dividend, without withholding tax;

An amount in cash without withholding tax by selling the rights on the market;

An amount in cash, subject to withholding tax, by selling the rights to Iberdrola at a fixed guaranteed price.
This system has some advantages given that shareholders are always able to choose the kind of remuneration best suited to their individual needs. In addition, shareholders do not necessarily have to opt for one single option. They can combine them according to their needs, and the free shares will be allocated if no instructions are given to their bank.
For the next few years, the company's dividend policy is to pay an average annual dividend of €0.30 ($0.40) per share, with a payout ratio converging to around 60% of its earnings. Traditionally, the company pays two dividends per year, usually in January and July.
Regarding the company's indebtedness, its net debt was $38.3 billion at the end of June. Iberdrola aims to reduce net debt until the end of 2014 to $35 billion, through lower investments, asset sales, and higher free cash flow. Moreover, it does not expect to raise equity during this period to lower its balance sheet leverage. Iberdrola's net-debt-to-EBITDA ratio should decline from more than 4x at the end of 2012, to 3.2x in 2014. Given its stable and profitable business, this leverage ratio seems reasonable.
Furthermore, its capex plan is much lower for the next two years compared to recent years, expecting to invest about $5 billion per year compared to more than $10 billion in 2011. Therefore, the company's free cash flow should be positive during the next couple of years, supporting its dividend payments.
Conclusion
Iberdrola is a good opportunity for income investors, yielding about 7% and giving the option to receive dividends in shares or cash. Moreover, if shareholders decide to sell its rights on the market it will not have withholding tax, usually a disadvantage of foreign stocks compared to U.S. alternatives. Therefore, Iberdrola seems to be a good alternative to overvalued U.S. utilities, which have lower yields and more demanding valuation multiples, taking into account that Iberdrola only trades at 10.5x its forward earnings.
Disclosure: I have no positions in any stocks mentioned, and no plans to initiate any positions within the next 72 hours. I wrote this article myself, and it expresses my own opinions. I am not receiving compensation for it (other than from Seeking Alpha). I have no business relationship with any company whose stock is mentioned in this article.