"If you are not confused about the economy, you don't understand it very well." - Charlie Munger
Our Monthly Macro is a recurring post that we publish around the beginning of each month to recap the high level macro developments of the previous month. We highlight the global themes that we believe are the most important and discuss why they matter for investors. This month's piece will focus on the game of chicken being played by China's (NYSEARCA:FXI) leadership and its economy, the recent optimism towards the eurozone (BATS:EZU) and potential hiccups being experienced in the U.S. housing market (XHB, ITB).
Chinese Chicken
Chinese GDP grew at a 7.5% annual pace in the second quarter, down from 7.7% in the first quarter. There appears to be a game of chicken developing between China's newly minted leadership and the fragile trajectory of its economy. Since taking office less than five months ago, the Li Keqiang-led government has traveled a different road than that of its predecessor. Barclays describes three important pillars to its economic policy: 1) no stimulus, 2) deleveraging and 3) structural reform. State-led investment is no longer the only game in town and is officially recognized as unsustainable. In its stead, a controlled downshift is occurring with a focus on reducing financial risks and stimulating organic, domestic growth. Along these lines, Chinese officials recently ordered over 1,400 companies to eliminate excess production capacity by the end of this year. This excess capacity has depressed prices, hurt corporate profitability and created imbalances within the industrial economy that could have severe consequences if left unchecked. All that said, one insight into who might blink first in this game of Chinese Chicken came when Chinese President Xi Jinping guaranteed the country would meet its 7.5% growth target for 2013 in a recent committee meeting laying out economic strategy for the second half of the year.
WHY IT MATTERS: With China there are no guarantees. Official policy stances of new leadership are still all but certain, and there are plenty who would strike the term "controlled downshift" from our paragraph above in favor of a more colorful descriptor - "hard landing" perhaps. This camp would cite a continued acceleration in year-over-year real estate price increases, a collapse in exports and recent turmoil in the interbank lending market as evidence that things are poised to get far worse before they get better. A hard landing is still a major global macro risk, particularly for emerging market stocks and commodities prices, but we believe leadership's tolerance for slower growth may be overblown. Economic numbers released thus far in August have also surprised on the upside. What's really going on in China is one of those areas that we are constantly learning more about, but must humbly accept that we might not ever fully understand. Therefore, our tack is to try to understand (and avoid) the major risks associated with a hard landing in China while not making any concentrated bets on China (in either direction) within the portfolios.
European Upside
We did not anticipate writing anything positive about Europe this year, but lo and behold a few green shoots have appeared that have dramatically shifted the narrative surrounding the region and its economic and political struggles. The Europeans' shift away from staunch austerity was well-documented throughout the second quarter in these Monthly Macros (see our May 7th and June 4th posts). In early July we saw further capitulation when Germany (NYSEARCA:EWG) signed an agreement under which it would guarantee up to €800 million of low interest loans made by KfW, the state run German bank, to small and mid-sized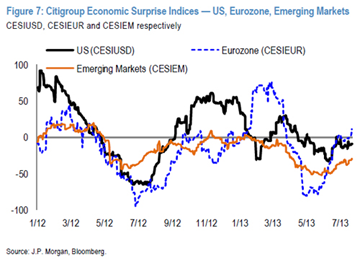 businesses in Spain (NYSEARCA:EWP). This could help defray the dramatic reduction in regional lending (to both households and businesses) that continues to occur as the banking system de-levers. Meanwhile, the region's economy is showing signs of coming back to life. The eurozone composite PMI climbed back to 50.5 in July from 48.7 in June. Any reading above 50 signals expansion, and this marks the first month since January 2012 that the measure was not in contraction territory. Citigroup's Economic Surprise Index confirms this trend of positive surprise occurring in the economic data coming out of the region.
WHY IT MATTERS: We have had a very negative view on Europe (as have most) for several years now, and we want to be careful not to hold that negative view too tightly and ignore what could be a major reversal in a global macro trend. That said, sometimes sentiment is so pessimistic for so long that it has nowhere to go but up, resulting in premature optimism at the first sign of a transition. This certainly is not the first time we've heard European officials express a positive outlook for the "coming quarters", and we can't help but wonder if the optimism will turn out to be a head fake. Despite the data presented above, there is still a slew of weakening data points in Greece (NYSEARCA:GREK), Spain, Portugal, Italy (NYSEARCA:EWI), France (NYSEARCA:EWQ) and others. If this is, in fact, a period of calm before the storm resumes then it would be a mistake to try to tilt any parts of the portfolio towards beneficiaries of a European recovery. That said, it's something we've been considering now for several weeks, particularly in light of the relative strength of US assets looking long in the tooth.
Housing Hiccup
The U.S. housing market is still hot, and that's a good thing. However, given its direct and indirect (via the wealth effect) contributions to this marginal economic recovery it's important to watch for clues as to how hot it will stay and for how long. We wrote about housing twice last month (here and here). Clearly the greatest source of uncertainty right now is how higher mortgage rates will impact the recovery. The jury is still out on this, so much so that we have yet to see any talking heads or their interviewees really come out with a firm stance on the issue. Everyone seems to be in the "wait and see" camp - and for good reason. The data continues to be mixed and extremely lagged, but there was at least one clear hiccup that appeared in May and accelerated through July that we wanted to highlight here. The Mortgage Bankers Association's applications index is now at its lowest level in two years and is off by nearly 50% since its May high. This trend is primarily driven by fewer refinancing applications, which makes perfect sense, but applications for purchase are also at their lowest level since February and about 15% off the recent highs.
WHY IT MATTERS: The U.S. economy is still growing at sub-2% levels on an inflation-adjusted basis. This is anything but robust, so slight changes on the margin can have big impacts. We believe housing's contribution is both economic and psychological. Consumers are finally beginning to believe they can recover some value in their largest asset, and an entire sector of the construction industry is roaring back to life. The impact of improved confidence on overall levels of economic activity cannot be underestimated, so anything that threatens to kill the momentum in housing is worth paying close attention to.
July brought a nice reprieve from the capital market volatility of May and June. U.S. equities (NYSEARCA:SPY) made fresh new highs, the bond market (NYSEARCA:AGG) remained relatively stable and even gold (NYSEARCA:GLD) recouped some of its recent losses. Now that we are through most of the 2nd quarter earnings season, Wall Street is on vacation and Congress is in recess, we are anticipating a relatively uneventful August. Looking forward to September we expect a Congressional war over the budget and debt ceiling to be back on the front page.
Original Source - Monthly Macro: Risk & Opportunity In Surprise
Disclosure: I have no positions in any stocks mentioned, and no plans to initiate any positions within the next 72 hours. I wrote this article myself, and it expresses my own opinions. I am not receiving compensation for it. I have no business relationship with any company whose stock is mentioned in this article. Transparency is one of the defining characteristics of our firm. As such, it is our goal to communicate with our clients frequently and in a straightforward way about what we are doing in their portfolios and why. This information is not to be construed as an offer to sell or the solicitation of an offer to buy any securities. It represents only the opinions of Season Investments. Any views expressed are provided for informational purposes only and should not be construed as an offer, an endorsement, or inducement to invest.