Athersys Inc. (NASDAQ:ATHX) is a stem cell focused regenerative medicine company working on several clinical trials to treat major unmet medical needs. In the stem cell sector very few companies have caught my attention as having a potentially groundbreaking product that works, but Athersys is certainly one at the top of the list. The first reason for this is due to the company's main stem cell candidate MultiStem which poses a potential solution for an overwhelmingly wide spectrum of medical ailments. MultiStem, which has already been documented in various scientific journals to show effectiveness and safety for numerous disease implications, is currently undergoing five clinical trials for Irritable Bowel Disease, Ischemic Stroke, Heart Attack, Organ Transplantation and Graft vs. Host Disease. Yet along with Athersys' potentially groundbreaking MultiStem product, what makes this company an even stronger buy in my opinion is its extreme mispricing in terms of market valuation.
A Major Market Mispricing
Athersys in terms of its clinical trials will be competing for future market share against companies such as Mesoblast (MBLTY.PK)(OTC:MEOBF) and Osiris (NASDAQ:OSIR) for certain disease markets. As many know, Osiris saw a 139% gain this Tuesday after the company released positive data on Grafix stem cell therapy. Yet Osiris which is developing a stem cell product like MultiStem which aims to modulate immune response is valued at more than 8x Athersys. Osiris' Pipeline can be seen in a side-by-side comparison against Athersys in the graphs below:
Athersys Pipeline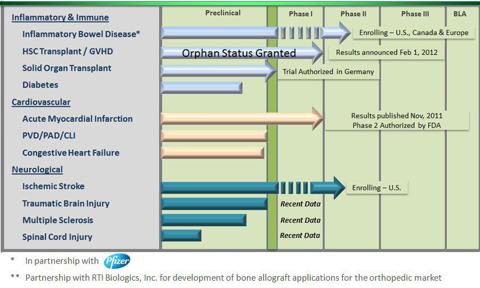 Click to enlarge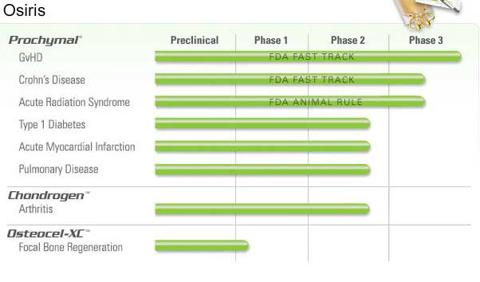 Click to enlarge
What can be seen in this pipeline comparison is that Osiris is currently working on 3 trials already in Phase III, while the majority of Athersys' trials are in Phase II. Yet is this a reason to value Osiris at $775M and Athersys at $95M? In my opinion it is not and especially not when the companies' drug disease markets are taken into account. In comparing ATHX's and OSIR's disease markets we see that both companies will be competing in the space of GvHD, Acute Myocardial Infarction (heart attack) and Diabetes, but while Osiris also has Pulmonary Disease, Arthritis, Crohn's Disease and Bone regeneration, ATHX has Ischemic Stroke, Inflammatory Bowel Disease, Multiple Sclerosis, Traumatic Brain Injury, Congestive Heart Failure, Spinal Cord Injury, Organ Transplant, as well as Schizophrenia and Obesity not updated to the company's list yet. In my opinion, in weighing the market size of the various disease markets being entered, ATHX should be valued at least the same as OSIR, but significantly more if upcoming IBD and Stroke trials have favorable data. Athersys' stroke trial alone is entering a $30B+ market with no current effective treatment available.
Yet in lieu of Osiris's valuation comparison, an even bigger mismatch on a larger scale is the valuation comparison of ATHX to Mesoblast. While Athersys's MultiStem therapy uses MAPCs(Multipotent Adult Progenitor Cells) that have been shown to promote healing and tissue repair through multiple mechanisms of action, Mesoblast's main stem cell therapy which uses MSC's (Mesenchymal Precursor Cells) has had sketchy data results thus far in clinical trials. Likewise, Mesoblast's trials like Athersys are primarily in Phase II not including Mesoblast's Bone Marrow Transplantation study which is in Phase III. That being the case a value of Mesoblast at $1.57B in comparison to Athersys' $95M is what I see to be an enormous mismatch awaiting a correction.
Upcoming Catalysts
This past Tuesday Athersys reported ending the quarter with $18.9M cash which puts the company in a safe financial position to reach near-term catalysts in my opinion. Athersys CEO Gil Van Bokkelen reported that the company is currently still looking into partnering or licensing its 5HT2c drug for Obesity and Schizophrenia, but that Athersys is more focused on achieving favorable terms than rushing a deal. Current upcoming catalysts for Athersys consist of the following:
Phase II results from the company's Irritable Bowel Disease trial partnered with Pfizer (expected Q4 2013 or Q1 2014)
Potential milestone payments from Pfizer upon receiving IBD Phase II results.
Phase II data for the company's Stroke trial (expected Q2 2014)
Initiation of GvHD Phase II/III trial(2013-2014)
Initiation of Phase II Acute Myocardial Infarction trial and receipt of $2.8M grant award from The National Heart, Lung and Blood Institute (1H 2014).
Potential partnerships for 5HT2c drug or other MultiStem trials (can occur anytime).
Potential further grant awards and peer reviewed publications (can occur anytime).
Conclusion
In evaluating Athersys, Osiris and Mesoblast what is clear is that all three companies pose interesting investments which could hold blockbuster potential. Yet Osiris' and Mesoblast's valuations of 8-16X that of Athersys appears to be a clear mismatch and market error. In looking at MultiStem's efficacy results across several different disease implications thus far I believe that Athersys is likely to have a superior stem cell product of the 3 companies which should reflect a significant price increase in the near term.
Disclosure: I am long ATHX. I wrote this article myself, and it expresses my own opinions. I am not receiving compensation for it (other than from Seeking Alpha). I have no business relationship with any company whose stock is mentioned in this article.