DCF Analysis Reveals Boeing Is Undervalued, Fair Value: $115
Discounted cash flow analysis suggests that shares of Boeing (NYSE:BA) are priced at a discount to fair value. The analysis supports a price target of $115.01 on Boeing; shares currently trade at $106.27. Current market price represents an opportunity to buy Boeing at an 8.224% discount to fair value, as the stock currently trades over 8 points below intrinsic value, relative to future cash flow, and profitability. A target price of $115.01 is based on the estimates shown in the chart below.
| | |
| --- | --- |
| Earnings Per Share | 6.52 |
| 10 Year Growth Rate | 12.88% |
| Terminal Growth Rate | 2% |
| Years of Terminal Growth | 5 |
| Discount Rate | 9.29% |
These conservative input values reflect current estimates for the year 2013, ending in December. A terminal growth rate of 2% accounts for current inflation, were inflation to rise to 3%, the fair value of Boeing would increase to $116.05. If inflation reaches 4%, $117.13. A discount rate of 9.29% is applied in order to replicate the total return of the S&P 500 (NYSEARCA:SPY) TTM. The chart below compares Boeing to the S&P 500, over a 1-year period.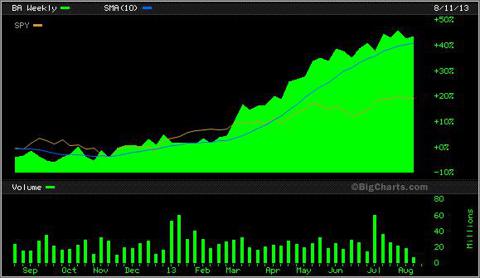 The Present Value of Boeing Is Less Than The Growth Value of Future Cash Flows.
The 10-year growth rate estimate of 12.88%, used in DCF calculation, is further validated in the results of reverse-DCF analysis. Boeing's current share price of $106.27 necessitates a cash flow growth rate of 11.48% in order to be justifiable. Boeing has grown free cash flow by 31.1% TTM, and by 37.10% over a 10-year period. This divergence, between free cash flow needed to justify present value, and real cash flow growth, strongly indicates that Boeing is undervalued.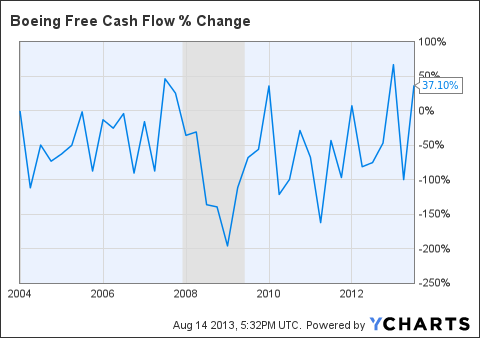 Strong Revenue Growth
Over a 10-year period, earnings growth increased 14%, revenue growth increased 5.8%, and EBITDA growth increased 13.9%. In that the estimated 12.88% 10 year, forward growth rate is 1.12% less than Boeing's 14% earnings growth rate over the past 10 years, Boeing can be bought, at present value, discounted to the value of future growth and revenue streams. Revenue growth is shown over a 10-year period on the chart below.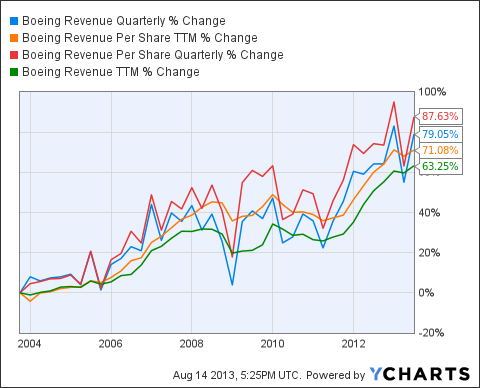 A history of robust growth, an undervalued share price relative to fair value, and significant growth value projections make Boeing an excellent long opportunity.
Disclosure: I have no positions in any stocks mentioned, and no plans to initiate any positions within the next 72 hours. I wrote this article myself, and it expresses my own opinions. I am not receiving compensation for it. I have no business relationship with any company whose stock is mentioned in this article.