By Todd McDonald
Overview
Wal-Mart Stores (NYSE:WMT) is scheduled to report 2Q 2014 earnings before the opening bell on Thursday, August 15. The release is typically available at 7:00 a.m. EST. Results from the world's largest retailer and constituent of the Dow Jones Industrial Average tend to heavily influence the direction of the equity index futures.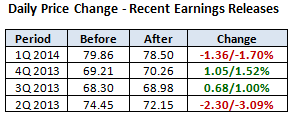 Outliers & Strategy
Earnings Per Share from Continuing Operations: The value for this measure is most often the figure that compares with consensus estimates. If an EPS from Continuing Operations is unavailable, GAAP EPS will be the comparable value. Wal-Mart indicated back in May it expects 2Q 2014 diluted earnings per share to range between $1.22 and $1.27. The current Street estimate is for $1.25. (Source: Yahoo! Finance).
Earnings Per Share Guidance (3Q 2014): This is a crucial forward-looking measure for Wal-Mart. The current consensus estimate for 3Q 2014 is $1.17.
Revenues: Revenues are seen rising 3.70% Y/Y to $118.57 bln.
Comparable-Store Sales: Back in May, Wal-Mart reported it expects comparable-store sales to increase in the range of 0% to 2%. According to Zack's Investment Research, analysts are expecting an increase of 0.9%, with a range of 0.5% to 1.5%.
Following the recent advance to all-time highs, the options market is pricing in a 2.6% move off earnings, below the historical average of about 3%.
Recent News
08/06: Analysts at Detwiler Fenton, a Boston-based research firm, are indicating that the sales trends at Wal-Mart were weak during the July period, according to a post on StreetInsider.com. The weakness was especially evident in women's apparel and consumer electronics. Detwiler Fenton notes that Q2 sales could be near the lower end of guidance.
07/24: According to a post on Benzinga.com, Citi reaffirmed its Buy rating on Wal-Mart. The firm points to Wal-Mart's strong positioning in the upcoming back-to-school season. Due to a consumer intention survey by the National Retail Federation, Citi believes that consumer will flock to the inferior goods space, with [overall] back-to-school sales expected to decrease 11.9% Y/Y.
06/07: During its Annual Meeting of Shareholders, the Board of Directors approved a new share repurchase program, with authorization to buy back up to $15 bln of its shares. The new program became effective as of June 6. Also noted in the press release was the increase in the company's dividend, which is now $1.88, bringing the yield to 2.45%.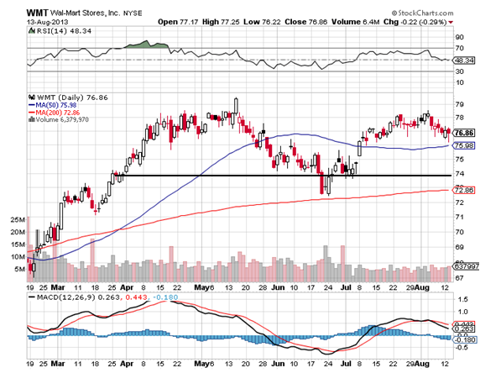 Technical Review
Wal-Mart shares have lagged the broader market, rising just under 15% YTD, based on the August 13 closing price. The stock has been consolidating just under all-time highs of $79.96, with the 50-day SMA acting as support. If earnings results surprise positively, look for resistance at the aforementioned all-time highs. If results disappoint, support can be found at the 50-day SMA near $76, followed by $74. (Chart courtesy of StockCharts.com)
Summary
Wal-Mart shares are near an all-time high headed into the 2Q earnings release, amid evidence of weak sales in July. Much of the focus will center on comparable-store sales and guidance for the upcoming 3Q period. Wal-Mart already telegraphed a "flat" to 2% increase in comp-store sales. To make new all-time highs, comp-store sales and guidance should come in well above consensus estimates, anything less could be considered a disappointment and send shares back below the 50-day SMA.
Disclosure: I have no positions in any stocks mentioned, and no plans to initiate any positions within the next 72 hours. I wrote this article myself, and it expresses my own opinions. I am not receiving compensation for it (other than from Seeking Alpha). I have no business relationship with any company whose stock is mentioned in this article.
Disclaimer: By using this report, you acknowledge that Selerity, Inc. is in no way liable for losses or gains arising out of commentary, analysis, and or data in this report. Your investment decisions and recommendations are made entirely at your discretion. Selerity does not own securities in companies that they write about, is not an investment adviser, and the content contained herein is not an endorsement to buy or sell any securities. No content published as part of this report constitutes a recommendation that any particular investment, security, portfolio of securities, transaction or investment strategy is suitable for any specific person.