Estimates have been falling for Orion Marine Group (ORN) after the company reported an earnings miss on Aug. 1. It is a Zacks Rank No. 5 (Strong Sell) stock. Despite the negative earnings momentum, shares of Orion Marine still trade at a premium valuation. Investors may want to wait for earnings momentum to turn around before establishing a long position.
Orion Marine Group provides heavy civil marine construction and specialty services in North America. The company relies heavily on federal, state and municipal governments, which account for approximately 42% of its revenue. It is headquartered in Houston, Texas, and has a market cap of $285 million.
Second-Quarter Results
Orion Marine Group reported its second-quarter results on Aug. 1. Earnings per share came in at $0.01, below the Zacks Consensus Estimate of 3 cents. It was an improvement, however, from a loss of $0.20 in the same quarter last year. Revenue rose 25% to $84.1 million, which was in line with consensus. Gross profit improved to 9.3% of revenue, but this was barely enough to cover its selling, general and administrative expenses.
Estimates Drop
Following the second-quarter earnings miss, analysts revised their estimates meaningfully lower for both 2013 and 2014. This sent the stock to a Zacks Rank No. 5 (Strong Sell). The Zacks Consensus Estimate for 2013 is now $0.11, down from $0.14 before the Q2 release. The 2014 consensus is currently $0.29, down from $0.36 over the same period. You can see the drop in consensus estimates in the following chart: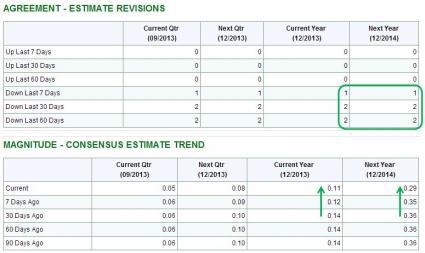 This is not just a company-specific phenomenon, though. The Building-Heavy Construction industry ranks 238th out of the 265 industries that Zacks ranks, placing it in the bottom 11% of all industries. This indicates that earnings estimates are generally falling throughout the industry.
Valuation
Shares of Orion Marine are down more than 17% since the Q2 earnings release. Despite this, the stock doesn't look like a value here. Shares currently trade around 41x 12-month forward earnings, which is a premium to the industry median 14x. Its price to sales ratio of 0.9 is also above the industry median of 0.6.
The Bottom Line
With falling earnings estimates and premium valuation, investors should consider avoiding this Zacks Rank No. 5 (Strong Sell) stock until its earnings momentum turns around. Investors still interested in the Building-Heavy Construction industry may want to take a look at MasTec (MTZ) or Primoris Services (PRIM), which both carry a Zacks Rank of 2 (Buy).
MasTec: Free Stock Analysis Report (email registration required)
Orion Marine: Free Stock Analysis Report (email registration required)
Primoris Services: Free Stock Analysis Report (email registration required)