As one of the most impressive stocks of 2013, Tesla Motors (NASDAQ:TSLA) has returned over 300% year to date. This highly controversial stock has demonstrated a short squeeze of epic proportions as the stock price (shown below) has risen in parabolic fashion. Now, approximately 12% off its all-time high, is profit taking and a shift in investor sentiment going to finally break this momentum stock?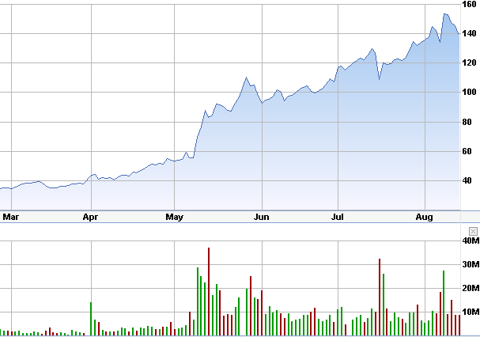 Valuation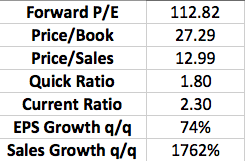 As you can see, Tesla's valuation is a tale of two cities. First, the price/earnings ratio seems unjustifiable at over 100 along with sky-high P/S and P/B ratios. These far exceed industry averages and indicate a divergence in the stock's price and the company's earnings. However, Tesla's balance sheet outperforms its industry peers with its quick and current ratios, which indicate Tesla has excellent short-term liquidity. In fact in this last reported quarter Tesla's short-term assets more than doubled those of the quarter before. The EPS and sales growth also are impressive, but these increases may be attributed to the minuscule earnings reported two quarters ago. From Tesla's fundamentals there are two important takeaways; first, after 10 quarters of reporting top line losses, TSLA has become profitable the past two quarters. Second, although the current earnings do not in my opinion support the company's stock price, management is working very hard to continue rapid sales growth, and the company has the short-term liquidity needed to to do so. Below is an estimate of Tesla's future earnings and P/E ratios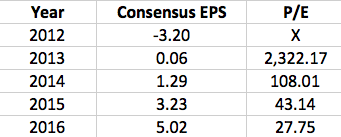 Management & The Industry
Tesla is led by one of the most brilliant entrepreneurs of the decade, Elon Musk. His other involvements include Space X, a commercial space business, Pay-Pal (he was the co-founder), and visionary other ideas such as the recently revealed high-speed transportation system named "Hyperloop." Musk is the founder of Tesla, and as confirmed most famously by Steve Jobs and Apple (NASDAQ:AAPL), no one can lead a company like the individual responsible for creating it. The vision and innovation of Tesla's management is its strongest asset. The company has already created a new industry of automobiles by combining clean energy, versatility, comfort, and fashion into its two models: the Model S and Roadster. Recently, BMW released the BMW i3 to rival Tesla's successes. In my review of the BMW i3 I noticed that it clearly lacked appearance and performance capabilities of the Model S (i3: 80 mile range; Model S: 300 mile range). The BMW i3 is a poor competitor in the electric car industry as it still incorporates a gas engine prompting popular tech website "technologyreview.com" to accuse the i3 as being nothing more than "a Plug-in Hybrid." I believe that for the time being Tesla still has the growing electric car market in a stranglehold as the excellent brand management and superiority of its products has cleared all competition. This trend of Tesla's market share domination should also continue into the longer term future as other companies continue their struggle to compete. Pictured below: the Roadster (top), the Model S3 (middle), and Elon Musk (bottom)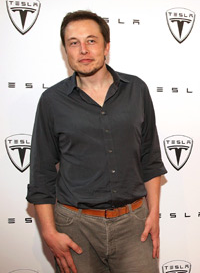 Takeaway
I do not dispute the quality of this company, but I am wary of the current quantity. I believe this stock price has come too far too fast, and investors will look to take profits in the near term as they wait for earnings to catch up. However, I believe a pullback in this stock would be healthy as volatility settles and a new leg of buying begins. Tesla still sports an approximate 25% short float. I am looking for a short-term pullback to present cheaper entry points in the later 2013 months. I am a believer in Elon Musk, and the future of the electric car industry. Even currently, this is an excellent long-term investment.
Note: Tesla is also working on a new Model X (shown below)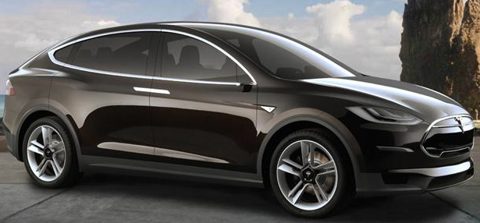 Disclosure: I have no positions in any stocks mentioned, and no plans to initiate any positions within the next 72 hours. I wrote this article myself, and it expresses my own opinions. I am not receiving compensation for it (other than from Seeking Alpha). I have no business relationship with any company whose stock is mentioned in this article.