Micron's (NASDAQ:MU) recent analyst day and the accompanying flurry of Micron-related articles have presented us with a wealth of information. I'd like to pick through a few of the choice bits for those new to the stock to explain why it's the third best performing S&P 500 stock year to date, and why its run has just begun.
Elpida Was a Steal
On July 31, Micron closed the acquisition of one of its few remaining competitors, Elpida. Elpida (and 65% of Rexchip) cost just over $2 billion. Throw in currency hedging losses and another 24% of Rexchip purchased from Powerchip, and the final price tag comes to about $2.6 billion. Not bad considering that the last time we were presented with a pro forma the level of assets was twice that. But wait, there's more -- this purchase of Elpida also came with $1 billion that Elpida had earned while the deal made its way through the courts. Unbelievably, Elpida also has operating cash flow of $500 million to $550 million per quarter. In other words, at the current rate it will take three quarters for Elpida to pay for itself plus the extra 24% of Rexchip. It's been argued that Micron just got a company roughly comparable to SanDisk (SNDK) for free.
This Time, It's Different
Some insightful Seeking Alpha authors have observed that things have changed in the industry. More recently, market research firms have been echoing the sentiment:
This means DRAM capital spending as a percent of sales is forecast to fall to an all-time low of only 11.9% this year.
Click to enlarge images.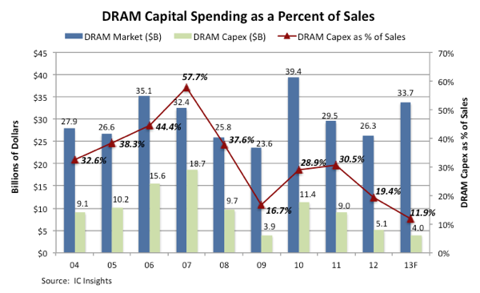 It was recently unimaginable that capex would be at an all-time low, while profits are at an all-time high. The number of wafers is not growing significantly, which also means capex per wafer is decreasing. Some Micron FY 2013 capex has been pushed back to FY 2014, which is now expected to be at the modest level of $2.6 billion to $3.2 billion. No wonder the bit growth for the industry this year is projected to be 40% for NAND and 27% for DRAM -- some of the lowest values in years and below the projected demand growth of 43% and 32%, respectively.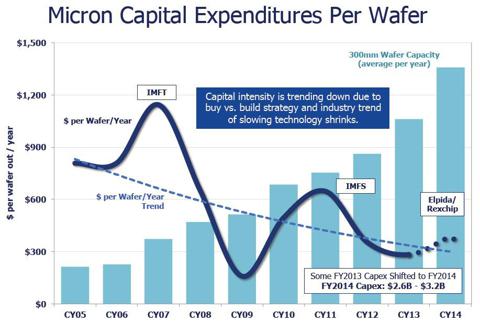 New Technology
The newest and most prominent buzzword in the memory industry is 3D NAND. It's NAND, but with the dies stacked in layers so you can get a lot more in the same volume. Sounds good. Samsung (OTC:SSNLF) unveiled its version of 3D NAND just three days before Micron's analyst day, and then followed up just a week later with Enterprise SSDs using 3D NAND. That would seem to be quite a coup since Micron and Hynix (OTC:HXSCF) don't expect to introduce 3D NAND until 2014, and SanDisk could be as late as 2016.
Not really, though. From Micron CEO Mark Durcan:
We could probably do it sooner, but I don't know that we will.
The reason is that Micron and SanDisk have paths forward with progressively smaller geometries, and Samsung and Hynix don't. Micron's high K process will enable 16 nm by Q4 2013, which will be the smallest and most cost-effective NAND available. 3D NAND will require far greater capex than the current planar NAND and is expected to give lower yields. It won't be cost effective. Micron will move to 3D NAND when there's a business case to do so.
The same day Samsung announced volume production of 3D NAND, startup Crossbar announced advances in ReRam. Is that something to fear? No. Micron's new acquisition Elpida has worked on that for years, and ReRam is unlikely to make it to market anytime soon.
What Do We Do With All of This Money?
And if we're really going to have a situation where its not quite as capital intensive, what are you going to do with all that capital? -- Mark Durcan
A good problem to have, but not one the memory industry is used to. Micron is sitting on $2.9 billion (excluding the $1 billion in Elpida), already above the $2 billion level that they feel should be kept on hand. They've committed to returning money to shareholders, and the first and most effective way to do that will be by buying back convertible debt. This most recent quarter there were approximately 1.05 billion shares, fully diluted, but if the average price had been $14 during the quarter the fully diluted share count would have been 1.2 billion. Buying the convertibles is a cost effective way of decreasing the effective share count.
Word has it that Micron is also looking to buy the remaining 11% stake of Rexchip from Kingston. This would, in essence, increase Micron's wafer production 1.5% without affecting industry supply. This seems a wise move at the right price, though it's hard to believe that Kingston will sell as cheaply as Powerchip did at the trough of the memory market.
Beyond that, will we see a buyback or perhaps even a dividend? Possibly. Micron is likely to make in excess of $3 billion in the next 12 months, a figure that is comparable to their entire current cash hoard, or the amount they expect to spend on capex for the year. Better to return it to shareholders than collect a fraction of a percent of interest in the bank.
The State of the Union
The union of Micron and Elpida has come fortuitously at the exact time that the memory business has begun to flourish. The deal was a steal, and already new efficiencies are being found (1,500 redundancies were just announced.) Micron is sitting on a strong portfolio of technologies with its newly acquired patents, and is enjoying unprecedented margins with a comfortable new balance of supply and demand. I expect to see shares double their current value in the next year with forward EPS well above $3, and I think that this remains a great entry point.
Disclosure: I am long MU. I wrote this article myself, and it expresses my own opinions. I am not receiving compensation for it (other than from Seeking Alpha). I have no business relationship with any company whose stock is mentioned in this article.