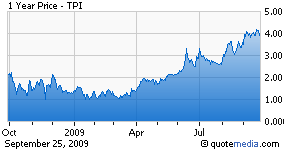 Tianyin Pharmaceutical Co., Inc., (NYSEMKT:TPI), which produces TCM and generic pharmaceuticals, announced final results for its 2009 fiscal year, which ended June 30, 2009. The company's revenues rose 28% to $42.9 million, while net income climbed 32% to $7.9 million. Both numbers improved slightly on Tianyin's forecast, which was issued with two weeks left in the fiscal year.

Tianyin also reiterated guidance for 2010, saying it expects revenues of $59 million and net income of at least $10.5 million. Both figures represent gains of about 35% over this year's results.

The company expects about half of its overall growth will come from an 80% increase in sales of Ginkgo Mihuan, a TCM treatment for cardiovascular problems, even though Tianyin did not explain why sales for the product are expanding so quickly. Revenues for the product are expected to total $20 million, about one-third of all sales. The other half of the increase will come from the nine new products that were brought to market during 2009.

Tianyin ended the year in good fiscal shape. It reported cash and cash equivalents of $12.4 million and working capital of $19.3 million. Its 2009 cash flow from operations jumped 125% to $8.3 million.

Tianyin has been growing quickly. In fiscal 2007, the company reported revenues of $20.4 million and net income of $4.2 million.

Disclosure: none.