After hitting its best levels of the year on Wednesday ahead of the Federal Open Market Committee's (FOMC) communiqué, the S&P 500 Index ran into heavy weather on the realization that the Fed could start scaling back on emergency support of the economy. U.S. equities dropped further later in the week on renewed concerns about the state of the troubled housing market and weaker-than-expected durable goods orders.
In addition to global stock markets declining, risky assets such as commodities, oil, gold and other precious metals all sold off as pundits worried about the winding down of quantitative easing puncturing the "liquidity rally". Government and corporate bonds, as well as the Japanese yen, emerged as winners.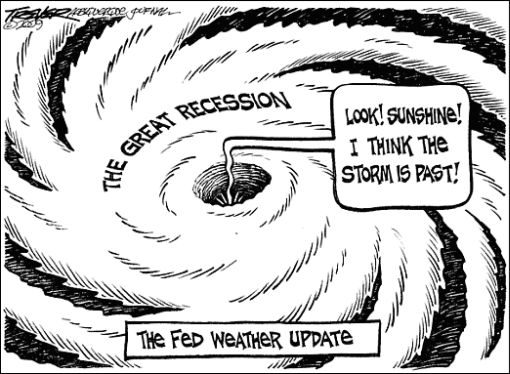 Hat tip: The Big Picture, September 23, 2009.
The FOMC maintained its loose monetary policy following its meeting on Wednesday. The statement said the committee expected to keep the Fed funds rate target in the 0% to 0.25% range "for an extended period".
Moody's Economy.com wrote:
The committee extended the time period over which it plans to purchase Fannie Mae and Freddie Mac debt and mortgage-backed securities. The remarks on current economic conditions were more optimistic than in August, and the FOMC now believes the recession is over. The Fed will keep monetary policy loose in the near term to support the recovery but is laying the groundwork for an eventual tightening.
Although the U.S. Dollar Index (+0.4%) closed a little higher on the week, the greenback hit a one-year low against the euro on Wednesday, with the Fed's indication of keeping U.S. interest rates at current levels for a while longer underscoring the dollar's status as a carry-trade funding currency. (Click here for a short technical analysis of the outlook for the dollar by INO.com's Adam Hewison.)
The past week's performance of the major asset classes is summarized by the chart below - a set of numbers that shows risk aversion creeping back into financial markets.
Click to enlarge: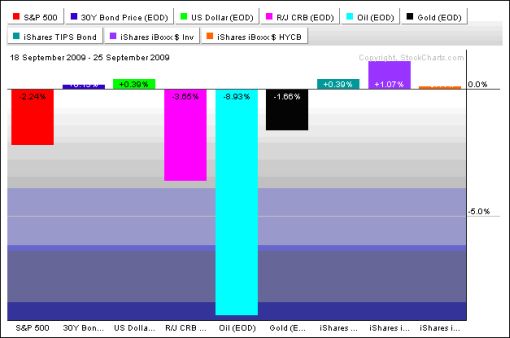 Source: StockCharts.com
A summary of the movements of major global stock markets for the past week, as well as various other measurement periods, is given in the table below.
The MSCI World Index (-1.4%) and MSCI Emerging Markets Index (-1.2%) both closed the week in the red, with the Shanghai Composite Index (-4.2%) one of the biggest losers among the major stock markets. After bucking the global weakness that prevailed during the week, Chile is now only 5.1% down from its July 2007 highs and could be one of the first markets to wipe out all the financial crisis losses.
The major U.S. indices declined for three consecutive days (from Wednesday to Friday) and registered their first weekly drop since the last week of August. The year-to-date gains remain in positive territory and are as follows: Dow Jones Industrial Index +10.1%, S&P 500 Index +15.6%, Nasdaq Composite Index +32.6% and Russell 2000 Index +19.9%.
Click here or on the table below for a larger image.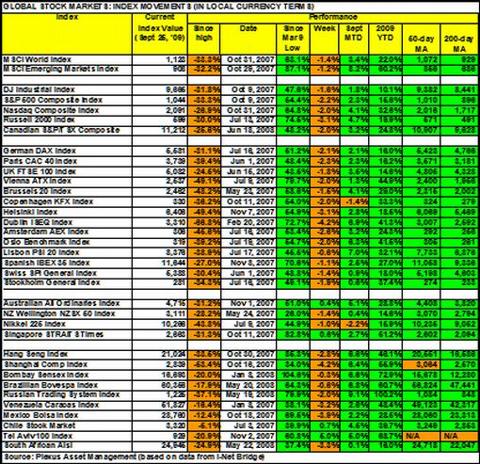 Click to enlarge
Top performers in the stock markets this week were Latvia (+8.0%), Cyprus (+6.8%), Israel (+5.0%), Ukraine (+4.9%) and Saudi Arabia (+4.1%). At the bottom end of the performance rankings, countries included Luxembourg (‑8.7%), Ireland (-4.2%), China (-4.2%), Mexico (-4.0%) and South Africa (‑3.3%).
Of the 98 stock markets I keep on my radar screen, 44% recorded gains (last week 81%), 51% (15%) showed losses and 5% (4%) remained unchanged. (Click here to access a complete list of global stock market movements, as supplied by Emerginvest.)
John Nyaradi (Wall Street Sector Selector) reports that, as far as exchange-traded funds (ETFs) are concerned, the winners for the week included Global X/InterBolsa FTSE Colombia 20 (NYSEARCA:GXG) (+6.0%), Market Vectors High-Yield Municipal (NYSEARCA:HYD) (+2.9%), iPath S&P 500 VIX Mid-Term Futures (NYSEARCA:VXZ) (+2.9%) and United States Natural Gas (NYSEARCA:UNG) (+2.8%).
At the bottom end of the performance rankings, ETFs included United States Gasoline (NYSEARCA:UGA) (-10.8%), United States Oil (U.S.O) (-8.4%), United States 12 Month Oil (U.S.L) (-8.3%) and iShares Dow Jones Home Construction (NYSEARCA:ITB) (‑8.3%).
Against the background of the International Monetary Fund's approval of the sale of 403.3 metric tons of its gold and beggar-thy-neighbor currency devaluations, Richard Russell reminded us of the following quote from the Republican National Platform in 1932:
The Republican Party established and will continue to uphold the gold standard and will oppose any measure which will undermine the government's credit or impair the integrity of our national currency. Relief by currency inflation is unsound in principle and dishonest in results." Russell added: "My, how times have changed, and not always for the better."
Other news is that the summit of G20 countries have agreed, inter alia, to plot a roadmap for the banking industry, align economic policy, ensure that tax havens comply with global standards and phase out subsidies for fossil fuels in the "medium term".
Also, the Federal Deposit Insurance Corporation (FDIC) closed another bank on Friday, bringing the tally of U.S. bank failures in 2009 to 95 (120 since the beginning of the recession). Meanwhile, according to The New York Times, regulators are considering a plan to have the nation's healthy banks lend billions of dollars to rescue the FDIC. This would enable the fund, which is running low on resources as a result of the myriad of bank failures, to continue to rescue the sickest banks … "You can't make up stuff like this!," commented Bill King (The King Report).
Next, a quick textual analysis of my week's reading. Although "banks" still features prominently, the key words have started taking on a more normal pattern compared with the crisis-related words that have dominated the tag cloud for many months.
Click to enlarge:

The major moving-average levels for the benchmark U.S. indices, the BRIC countries and South Africa (where I am based) are given in the table below. With the exception of the Shanghai Composite Index, which is trading below its 50-day moving average, all the indices are above their respective 50- and 200-day moving averages. The 50-day lines are also in all instances above the 200-day lines.
The August highs and September lows are also given in the table as these levels define a support area for a number of the indices.
Click here or on the table below for a larger image.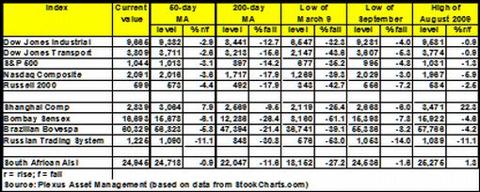 Click to enlarge
Kevin Lane, technical analyst of Fusion IQ said:
Yesterday's [Wednesday] intraday sell-the-Fed-news price reversal of the S&P 500 stalled at the area (1,079 to 1,106) where the index really accelerated its 2008 sell-off. While we believe liquidity and buying power remain strong and thus pullbacks should be relatively shallow in nature, it doesn't mean we can't get a corrective wave of some magnitude before this sideline liquidity is redeployed. Additionally, quarter-end window dressing may keep stocks elevated or from slipping too much.

However, we do believe putting new money to work in front of this more significant resistance level poses risks. Initial support below the current S&P levels comes into play near the 1,040 level (current 1,044). Secondary supports if 1,040 were to give way would come into play near 980/975 then 950.
David Fuller (Fullermoney), making a successful recovery from heart surgery, said:
… it does look as if Wall Street and other stock markets under its influence have temporarily run out of upside momentum following a good run recently. Supply in the form of secondary offerings has increased. This coincides with understandable October jitters as investors recall last year's meltdown.

At this stage of the bull market cycle, a consolidation would have the benefit of preventing overheating. When a larger reaction eventually unfolds it is likely to be a providential buying opportunity rather that a repeat of last year's harrowing decline - provided monetary conditions remain favorable.
The S&P is at a level that should be reached in the third year of recovery from a recession, David Rosenberg, chief economist of Gluskin Sheff & Associates, told Bloomberg (via MoneyNews). "The fair multiple for earnings should be 12 or 13," he said. "We've blown right through that." (The S&P 500 is trading at a level equal to almost 20 times reported earnings from continuing operations, according to weekly data compiled by Bloomberg.)
The Bullish Percent Index shows the percentage of stocks that are currently in bullish mode as a result of point-and-figure buy signals. With the figure at 86.4%, this indicator conveys the message that the vast majority of stocks are in uptrends, but the line looks as if it might start turning down from a high level, which could spell at least a short-term top.
Click to enlarge: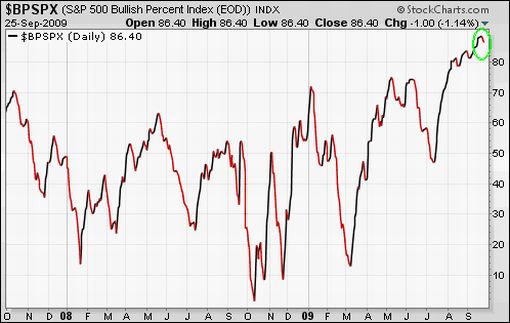 Source: StockCharts.com
As stated often before, share prices have moved too far ahead of economic reality. This calls for a cautious approach in anticipation of the market working off its overbought condition and fundamentals reasserting themselves. I will bide my time while the fundamentals play catch-up, especially as we could be seeing one of those occasional all-change signals in the short-term trends of a number of markets.
For more discussion on the economy and asset classes, see my recent posts "Bonds & equities: Expect a major shift", "Chart of the Day: Dow Jones vs Monetary Base", "Marc Faber video bonanza" and "David Rosenberg: Equity market est très expensif". (And do make a point of listening to Donald Coxe's webcast of September 25, which can be accessed from the sidebar of the Investment Postcards site.)
Economy
A tentative global economic recovery has begun, according to the results of the latest Survey of Business Confidence of the World by Moody's Economy.com.
Business expectations are strong that conditions will improve further later this year and early next. Sentiment is strongest in Asia and South America and among business service firms. European businesses and those that work in government are least upbeat. Pricing power is consistent with very low rates of inflation.
Click to enlarge: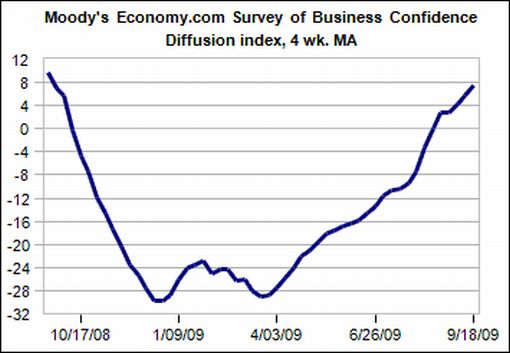 Source: Moody's Economy.com
The Business Confidence Survey's results were confirmed by the Duke/CFO Magazine Global Business Outlook Survey of CFOs of 650 companies in the U.S. and nearly 900 in Europe and Asia. According to the Survey, the economic outlook has improved since the last quarter; it appears that the Great Recession is ending and economies around the world are stabilizing. However, the analysis indicates that the recovery will be lethargic, with employment growth lagging behind the rest of the economy.
Click to enlarge: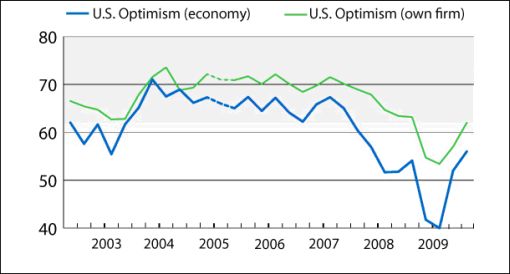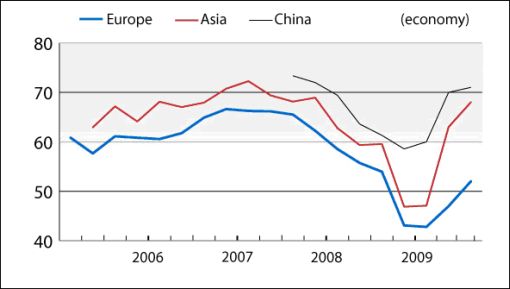 Source: Duke/CFO Magazine Global Business Outlook Survey, September 17, 2009.
As far as hard data are concerned, an index compiled by the Bureau for Economic Policy Analysis, a Dutch research institute, showed the volume of world trade rising by 3.5% in July after a revised increase of 1.6% in June - its fastest rise in more than five years, as reported by the Financial Times.
Also, according to China's National Bureau of Statistics (via U.S. Global Investors), as of the end of June 97% of the 151 million migrant workers in the country have landed a job, a significant improvement from early this year when more than 20 million migrant workers were reported as being unemployed.
A snapshot of the week's U.S. economic reports is provided below. (Click on the dates to see Northern Trust's assessment of the various data releases.)
Friday, September 25
•New homes sales - many encouraging details to report
•Aircraft orders bring down orders of durables in August
Thursday, September 24
•Sales of existing homes are stabilizing, although headline reading fell in August
•Initial jobless claims decline, but tally of unemployment insurance recipients advances
•Surveys point to subdued Eurozone recovery
Wednesday, September 23
•FOMC policy statement - nature of incoming data allows Fed to wait and watch
Monday, September 21
•Index of Leading Economic Indicators - confirms economic recovery is under way
MarketWatch said:
The Fed mentioned in its quarterly flow-of-funds report that American households were $2 trillion richer on June 30 than they had been three months earlier - the first time in two years that household net worth had increased.
Household wealth rose in the second quarter at a 17% annual rate, or $2 trillion, to $53.1 trillion after falling at a 13% rate in the first quarter, the Fed said. It was the first time since the second quarter of 2007 that wealth had increased. Net worth is down $12.2 trillion from the peak in 2007, an indication of how much the collapse in stock prices and home prices has hurt.
Click to enlarge: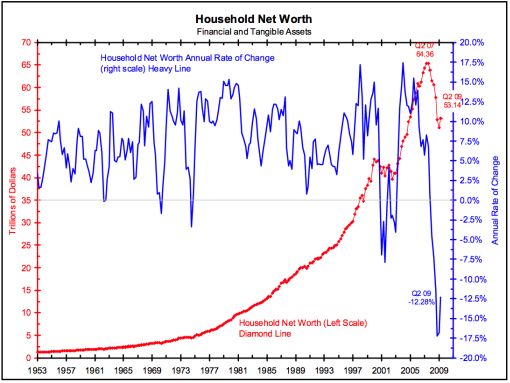 Source: Market Minds (via Bianco Research), September 24, 2009.
On the topic of wealth destruction, the chart below, courtesy of Chart of the Day, not only illustrates that house prices are currently 30% off their 2005 peak, but also that a home buyer who bought a median-priced single-family home at the 1979 peak has seen that home appreciate by a mere 4% over the ensuing three decades.
Click to enlarge: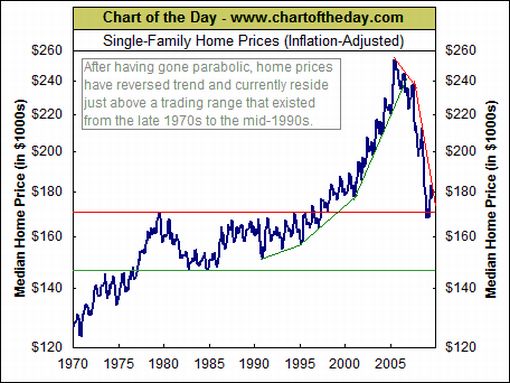 Source: Chart of the Day, September 25, 2009.
The U.S. has lent, spent or guaranteed $11.6 trillion to bolster banks and fight the longest recession in 70 years, according to data compiled by Bloomberg.
There's not a lot of new job creation going on on Main Street, and the liquidity to the consumer and to small business is still contracting,
bank analyst Meredith Whitney said on CNBC (via MoneyNews).
It's very difficult to get the engine moving without a lot of government support within that. So when you slowly wean government support, that's going to be the test that I think everyone's going to be watching starting in October.
Richard Koo, author of Balance Sheet Recession and chief economist at Nomura Research Institute, said in an interview with Kate Welling at Welling@Weeden (via Dow Theory Letters):
In this type of recession, the economy will not enter self-sustaining growth until private sector balance sheets are repaired. Until the private sector is finished repairing its balance sheets, if the government tries to cut its spending, we're going to fall into the same trap that Franklin Roosevelt fell into in 1937 (a crushing bear market) and Prime Minister Hashimoto fell into in 1997, exactly 70 years later.

The economy will collapse again and the second collapse is usually far worse than the first collapse. And the reason is that, after the first collapse, people tend to blame themselves. They say, 'I shouldn't have played the bubble. I shouldn't have borrowed money to invest - to speculate on these things.' But a second collapse affects everyone, not just the bubble speculators, and it also suggests to the public that all the efforts to fight the downturn up to that point - all the monetary easing, the low interest rates, quantitative easing - they all failed and even fiscal policy failed. Once that kind of mindset sets in, it becomes ten times more difficult to get the economy going again.

So the fact that Larry Summers was talking about 'temporary' fiscal stimulus had me very, very worried. That whole Larry Summers idea that one big injection of fiscal stimulus will get the U.S. out of the recession, and everything will be fine thereafter, probably led to President Obama's saying he's going to cut his budget deficit in half in four years.
Week's economic reports
Click here for the week's economy in pictures, courtesy of Jake of EconomPic Data.
| | | | | | | | |
| --- | --- | --- | --- | --- | --- | --- | --- |
| Date | Time (NYSE:ET) | Statistic | For | Actual | Briefing Forecast | Market Expects | Prior |
| Sep 21 | 10:00 AM | | Aug | 0.6% | 0.9% | 0.7% | 0.9% |
| Sep 22 | 10:00 AM | FHFA U.S. Housing Price Index | Jul | 0.3% | 0.4% | 0.5% | 0.1% |
| Sep 23 | 10:30 AM | Crude Inventories | 09/18 | 2.85M | NA | NA | -4.73M |
| Sep 23 | 02:15 PM | FOMC Rate Decision | Sep | 0.25% | 0.25% | 0.25% | 0.25% |
| Sep 24 | 08:30 AM | | 09/19 | 530K | 560K | 550K | 551K |
| Sep 24 | 08:30 AM | Continuing Claims | 09/12 | 6138K | 6100K | 6183K | 6261K |
| Sep 24 | 10:00 AM | | Aug | 5.10M | 5.20M | 5.35M | 5.24M |
| Sep 25 | 08:30 AM | | Aug | -2.4% | 1.2% | 0.4% | 4.8% |
| Sep 25 | 08:30 AM | Durables, ex Transportation | Aug | 0.0% | 0.7 | 1.0% | 0.9% |
| Sep 25 | 09:55 AM | Michigan Sentiment -Revised | Sep | 73.5 | 71.2 | 70.5 | 70.2 |
| Sep 25 | 10:00 AM | | Aug | 429K | 425K | 440K | 426K |
Source: Yahoo Finance, September 25, 2009.
Click here for a summary of Wells Fargo Securities' weekly economic and financial commentary.
U.S. economic data reports for the week include the following:
Tuesday, September 29
•Case-Shiller Housing Price Index
•Consumer confidence
Wednesday, September 30
•ADP employment
•GDP - final
•Chicago PMI
Thursday, October 1
•Initial jobless claims
•Personal income and spending
•Construction spending
•ISM Index
•Pending home sales
Friday, October 2
•Employment data
•Factory orders
Markets
The performance chart obtained from the Wall Street Journal Online shows how different global financial markets performed during the past week.
Click to enlarge: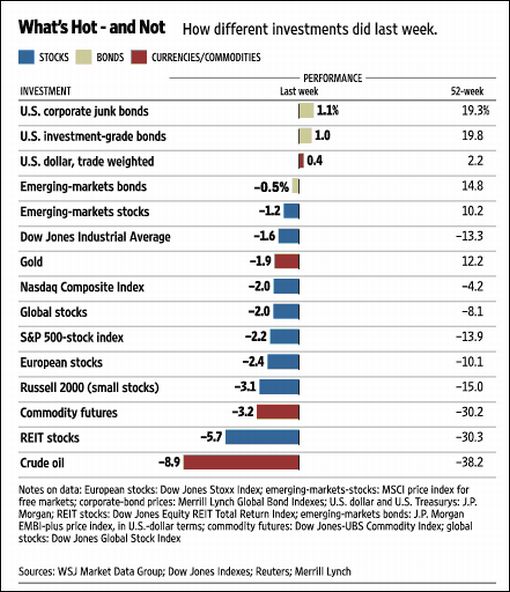 Source: Wall Street Journal Online, September 25, 2009.
"Genius may have its limitations, but stupidity is not thus handicapped," said Elbert Hubbard, American writer and philosopher (hat tip: Charles Kirk - do make a point of visiting his excellent site). Let's hope the news items and quotes from market commentators included in the "Words from the Wise" review will assist readers of Investment Postcards to make sensible investment decisions to ensure sold wealth building over time.