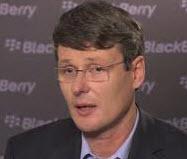 Executive Summary
I believe BlackBerry (NASDAQ:BBRY) has now officially been put on life support. I would sell into the recent surge if I was long. I posit BlackBerry is dead money walking. The recent pop in the stock will precede a downward spiral as the rumors of private equity deals and the Q10 beating sales expectations fizzle out.
BlackBerry's stock was destroyed after missing earnings and refusing to give forward guidance last quarter. Since then, the stock drifted lower hitting a low in the mid-$8 range near the end of July. Things looked bleak for the company and shareholders were fleeing the stock in droves until rumors of a possible buyout caused the stock to spike 28% in recent days.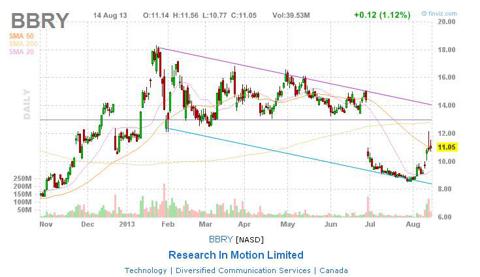 On May 30th I wrote an article titled "BlackBerry: Time To Throw In The Towel?" where I detailed the reasons I felt it was a good idea get out prior to earnings. After that correct call, I received numerous requests regarding what I thought about the stock after earnings. My response was an article titled "BlackBerry: Time For Longs To Wave The White Flag?" where I detailed my position that if I were long I would sell out and make up the losses elsewhere. Now, I have received several requests for an article detailing my current opinion on BlackBerry's recent developments. In the following sections I will lay out my bearish case for BlackBerry going forward.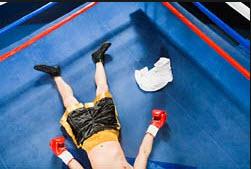 Recap of issues already covered
In my last article I raised several issues regarding the stock. The primary points were the company is essentially a value trap, the smartphone market is highly saturated and the QWERTY keyboard will not be a significant catalyst for the stock. I stand by these assertions and have a few more logs to throw on the fire.
The buyout is already priced in
BlackBerry is up 28% since Reuters first reported the company is thinking of going private and rumors of potential buyers began to swirl. I say take the money and run. I don't see things working out in the end.
Firstly, regarding BlackBerry going private, all you have to do is look at the Dell (NASDAQ:DELL) situation to see this will be a long drawn out process where private equity buyers will look to acquire the company for pennies on the dollar. If you think they are going to take on the risk in this stock for much more than the current share price, I feel you will be sorely disappointed. Take your rose colored glasses off and look at the big picture, BlackBerry is in big trouble.
Secondly, BlackBerry is a Canadian company. Canada is notoriously strict regarding the sales of Canadian companies to companies outside its borders. BlackBerry is one of Canada's flagship companies. I don't see them approving the sale to anyone outside the country. The recent 28% surge in the share price is the premium. The buyout is already priced in. Finally, never buy a stock based on the assumption it is a takeover target.
No insiders have bought the stock in the last five years
According to Scottrade, no insiders have bought the stock in the last five years. There are several major insider sales though when the stock was trading in the $40s, prior to the massive drop in share price. This does not bode well for the company. If the stock is such a great value, why aren't insiders loading up? Shouldn't they be in the best position to see the vast upside purported by longs in the stock? There seems to be a disconnection here. See chart below provided by Scottrade.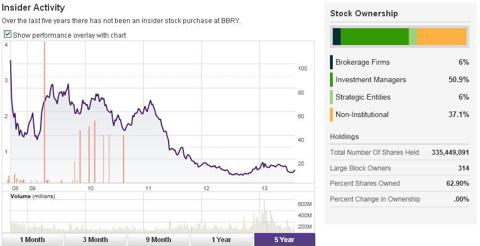 Have you seen one?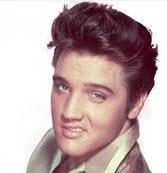 I have not run into one person with a BlackBerry. Lately, I have made it a point to ask people what kind of phone they have. No one has said a BlackBerry. I know this is completely anecdotal, but I'm starting to think I have a better chance of running into Elvis than seeing someone with a BlackBerry in their hand. This is not something I would base an investment decision on, but it does trouble me. I like to invest in things I see being successful. I have yet to see anyone buy a BlackBerry.
The market is trading at all-time highs
The market is currently trading at all-time highs and appears to be weakening in recent weeks. I see asymmetric risk in the market. The odds of the stock market correcting in the near future are extremely high in my book. With interest rates spiking and the market climbing to new heights simultaneously, something has got to give. I say it will be the stock market. Consequently, now is not the time to be buying or holding speculative stocks like BlackBerry.
Conclusion
Based on the above facts I would not buy BlackBerry at this level. Furthermore, I would sell my shares if I was long. Nevertheless, this is not the time to be short either. BlackBerry has shown itself to be highly volatile subject to irrational moves in both directions. What I'm saying to current shareholders is never look a gift horse in the mouth. I believe BlackBerry will lose value with each passing day. Take the money and run.
Disclosure: I have no positions in any stocks mentioned, and no plans to initiate any positions within the next 72 hours. I wrote this article myself, and it expresses my own opinions. I am not receiving compensation for it (other than from Seeking Alpha). I have no business relationship with any company whose stock is mentioned in this article.
Additional disclosure: : This is not an endorsement to buy or sell securities. Investing in securities carries with it very high risks. The information contained within this article is for informational purposes only and is subject to change at any time. Do your own due diligence and consult with a licensed professional before making any investment.