Overview
Costco Wholesale Corporation (NASDAQ:COST) operates an international chain of membership warehouses that carry quality, brand name merchandise at substantially lower prices. Costco is known for carrying top quality national and regional brands, with 100% satisfaction guaranteed, at prices consistently below traditional wholesale or retail outlets. Additionally, Costco Wholesale Industries, a division of Costco, operates a manufacturing business; including special food packaging, optical laboratories, meat processing, and jewelry distribution. These businesses have a common goal of providing members with high quality products at substantially lower prices. Costco is a 'members only' store; offering three types of membership levels: Business ($55/annum), Gold Star (individual) ($55/annum) and the Executive membership ($110/annum).
Share Price Performance
Costco's stock price has been on a smooth, upward trajectory throughout the year. Over the last 10 years, the stock has performed well; with the only notable exception being the financial crisis from late-2008, through 2009 and into early 2010. However, Costco managed relatively well through the crises and has recovered; currently trading slightly above its 50-day moving average.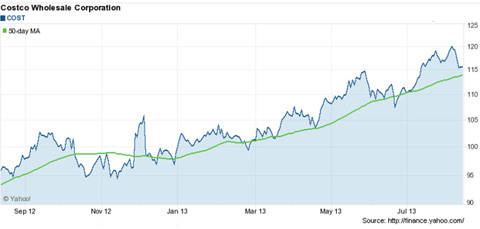 A recent slight correction has worried some investors; however, the net result has been for many to enter at marginally cheaper price. The reason Costco is regarded as many investors' darling stock? Costco's financial performance has been consistently profitable over the past several years. Despite the aforementioned navigation through the financial crisis, revenue and earnings from operations have consistently increased significantly over the previous years. Recently, Costco reported growth of 7% in net sales for the month of July when compared to the same period last year.

This consistent performance has been reflected in its quarterly performance:

This positive trend in monthly sales would seem to indicate another strong quarterly earnings report (to be announced in a month's time).
Competition
Costco faces tough competition from a slew of other warehouse club operators such as Wal-Mart (NYSE:WMT) Sam's Club and BJ's Wholesale Club (NYSE:BJ). In addition, low-cost operators such as Amazon.com (NASDAQ:AMZN), Target (NYSE:TGT), and Kohl's (NYSE:KSS) compete directly with Costco in a number of categories, while other local, regional and national retailers with low-cost operations selling a single category of merchandise such as Lowe's (NYSE:LOW), Home Depot (NYSE:HD), Staples (NASDAQ:SPLS), Trader Joe's, Office Depot (NYSE:ODP), PetSmart (NASDAQ:PETM), Whole Foods (NASDAQ:WFM), Best Buy (NYSE:BBY) and Barnes & Noble (NYSE:BKS) compete against Costco in one or more segments. Obviously, from the list of names above, Costco is in an extremely competitive market, pitted against highly sophisticated operations. Nevertheless, it has managed to perform extremely well.

An often cited negative of Costco, relative to its competition is its high P/E ratio as compared to some peers and the industry ratio. Why the high P/E ratio? Several reason; chief among them Costco's solid business model, customer base, and plans for international expansion.
Analyst Views & Valuation
While analyst recommendations may not always point in the right direction, they provide a nice bellwhether, and mixed recommendations tend to be an indicator for opportunity. The recent downtick in Costco's share price has been viewed by some as a correction in the right direction. However, many analysts are extremely bullish on the stock. Below is a collection of analyst recommendations as reported by NASDAQ:

It's difficult to account for factors such as employee satisfaction (Costco has one of the highest) into a valuation. However, while taking into account some of these intangibles along with historic return-on-equity (17.3%), current valuation, and profit margins -- Costco appears to be slightly undervalued, with a fair value closer to $120.
Conclusion
Consistent financial performance has enhanced the company's market position and improved its profitability. But a high P/E valuation along with a share price trading above its 50-day moving average has dragged prices lower of late. Many investors are lined up to enter, but are waiting for the stock to shed some more. I believe those investors have the right idea. Indicators point to Costco delivering strong quarterly results with increased growth in sales, which will result in a heightening of their valuation. To this end, Costco is well positioned for a short-term gain immediately following its quarterly results while having enough long-term potential to be attractive to buy-and-hold investors. Rather than wait for trade volumes to increase following the end of this mini-correct, I believe that now is the time to buy.
Disclosure: I have no positions in any stocks mentioned, and no plans to initiate any positions within the next 72 hours. I wrote this article myself, and it expresses my own opinions. I am not receiving compensation for it (other than from Seeking Alpha). I have no business relationship with any company whose stock is mentioned in this article.