On Wednesday, the SPDR Gold Shares ETF (NYSEARCA:GLD) added to its holdings for the second time in the last four days and, while the amounts are small, this is the first time this has happened since last December. Also, the iShares Silver ETF (NYSEARCA:SLV) again added to its holdings this week that are now up an impressive 369 tonnes for the year.
Both of these developments signal that the late-June lows may have marked the bottom for the two-year long correction in precious metals markets, news that can't come soon enough for gold and silver bulls.
Inflows of 2.1 tonnes on Wednesday following last Friday's 1.8 tonne addition are relatively small amounts for the world's most popular gold ETF, however, changes in trend have a big impact on investor psychology. As shown below, this follows some fairly large outflows in late-July/early-August, so, more net inflows over time will be needed as confirmation of a fundamental change.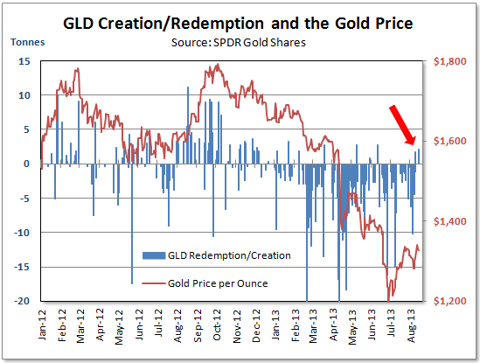 Click to enlarge
This actually looks more impressive than I thought it would prior to updating the graphic, but only because inflows have been so few and far between in 2013.
During the first eight days of the month there were outflows of almost 27 tonnes, so, recent additions may be more a case of authorized participants squaring their books a bit rather than clear signs of new demand.
Nonetheless, it is encouraging for gold bulls to see signs that outflows from the GLD ETF may have finally come to an end, what many analysts have cited as a prerequisite for a sustainable rally in prices.
As for silver, Tuesday's increase of 57 tonnes to the trust's holdings was just the latest in a long series of additions that came after the silver price plummeted below $18 an ounce about six weeks ago. As shown below, there has been a rather remarkable 571 tonnes added to the trust since that time, a pile of silver bars worth somewhere around $400 million.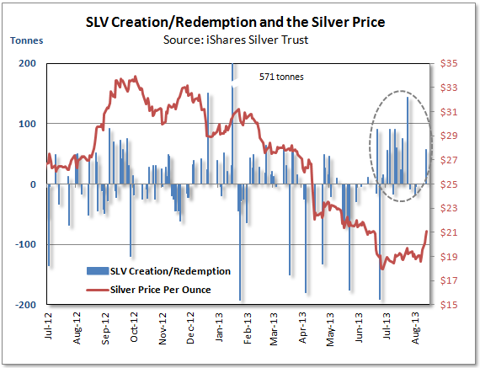 Click to enlarge
Looking at overall silver holdings below rather than the daily flows above shows the impressive rise in holdings this year despite sharply lower prices. All told, the "tonnes in the trust" have increased by 4 percent in 2013, this despite a nearly 30 percent decline in the price of silver.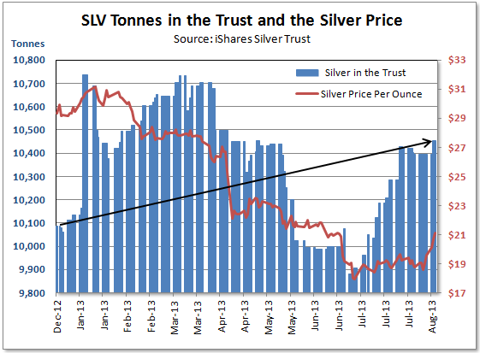 Click to enlarge
As noted here in recent months, SLV share owners appear to be more retail investors than professional money managers and, should the silver price continue its recent surge, this will be one very good example of Mom and Pop investors getting it right.
Of course, hedge funds and day traders are now well aware of the price action in silver and these momentum players are probably already piling in, so, prices could continue to move higher in short order.
It was only a few months ago that silver was trading around $30 an ounce, not $20, and it probably won't take much to get it back to those levels, a good portion of that perhaps coming during the thinly traded last two weeks of August.
It's worth pointing out that the gold price first surpassed the $1,900 an ounce mark two years ago in thin August trading, albeit under different conditions as a U.S. debt default was being talked about very seriously.
As noted here in previous commentary, due to the absence of any major catalysts this month, I wasn't expecting much out of gold or silver in August, but there are clearly enough bullish traders still at their desks to make things very interesting for precious metals bulls.
Disclosure: I have no positions in any stocks mentioned, and no plans to initiate any positions within the next 72 hours. I wrote this article myself, and it expresses my own opinions. I am not receiving compensation for it (other than from Seeking Alpha). I have no business relationship with any company whose stock is mentioned in this article.
Additional disclosure: I own gold and silver coins and bars.