By Carla Fried
As second quarter earnings season begins to wind down we're on pace for revenue growth among S&P 500 companies to limp in at just a smidge under 2%. So you would think a mid-cap stock reporting revenue growth of 6% -- and that's organic revenue growth, not M&A wizardry -- might be trading at a rich premium, especially if the stock price had risen more than 80% over the past year.
But TRW Automotive Holdings (NYSE:TRW), which manufactures safety devices -- air bags, brake systems -- for automakers including General Motors (NYSE:GM), Ford (NYSE:F), Chrysler and Volkswagen (OTCPK:VLKPY) is a rare instance of a solid company in a rebounding industry that has not seen its valuation rev into high gear as its stock price sped ahead.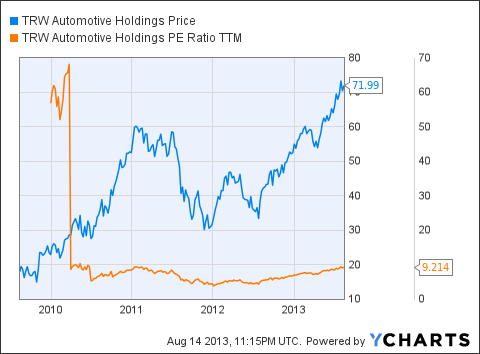 There may be some mid-cap oversight at work here. TRW's 10.95 forward P/E ratio is well below the 16.6 of Denso (OTCPK:DNZOY) and the 15.4 of Johnson Controls (NYSE:JCI), and the near 12 of Continental (OTCPK:CTTAY). Those three companies, which derive only a portion of their revenue from safety systems, have market caps that are more than triple the $8.5 billion size of TRW.
Bill Nygren, lead manager of the $3.8 billion Oakmark Select mutual fund, built a 4% stake in TRW in late 2011 when the stock was trading in the low $30 per share range. The stock is now Oakmark Select's largest position, accounting for about 8% of fund assets at the end of the second quarter. Even though TRW traded in the mid $60s in the second quarter, the Oakmark Select team bought a little more, adding 100,000 shares to bring its total to 4.5 million shares. While that's a very small add, the fact that the value managers are still willing to add at this juncture -- and have yet to sell one share since opening the position -- suggests they see more room for the stock to run.
TRW management is clearly seeing an improving overall market. In its first quarter earnings report the full-year revenue guidance was in the range of $16.6 billion to $16.9 billion. In the second quarter the full-year guidance moved up to $16.8-$17 billion.
Management called out rising auto sales in North America and China as two main catalysts for rising revenue projections. In the U.S., we're on pace to have the strongest year since 2006; new car sales rose 13% in July, according to Kelley Blue Book.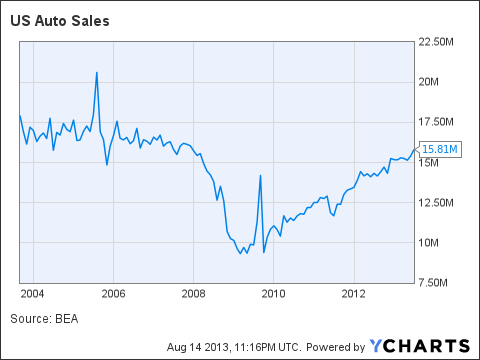 US Auto Sales data by YCharts
As for China, if there's an impending crash coming, it's yet to show up in the auto sector. TRW's second quarter sales from China operations rose 11%. Granted, that's a slowdown: For all of 2012, China revenue grew more than 30% to $2.2 billion. (The United States is the company's single largest market, accounting for $4.7 billion of sales last year.)
But 11% for the Big Worry of all economies is still pretty darn strong. There's a good chance that China will be TRW's second largest market by year-end. At the close of 2012, Germany was in the #2 spot, generating $2.3 billion of TRW's revenue. In fact, TRW is an intriguing way to get some emerging market exposure without a direct bet. The company reported that 20% of its second quarter sales came from China and Brazil.
Europe of course is the big drag for all cyclical manufacturers. TRW estimates annual auto production in the region will be 18.6 million in 2013, still well down from the already depressed 19.2 million produced in 2012. But the bottom may be forming for Europe. TRW reported that second quarter auto production rose 1% in the region (+2% in Western Europe and -1% in eastern Europe), representing a big swing from sharp volume declines in the first quarter. The big unanswerable is whether those cars will get sold.
About 60% of TRW sales are to GM, Ford, Chrysler and Volkswagen. Volkswagen is its single-largest client. In 2012, Volkswagen -- manufacturer of its eponymous brand, as well as 11 other brands, including Audi, Porsche and Bentley -- accounted for $3.8 billion of TRW's $16.4 billion in annual revenue. While Volkswagen's second quarter profit fell 11%, it reported a 5.6% increase in sales volume. That's what matters to TRW: as long as more cars are being moved to market, that's more new cars in need of its safety systems. In the second quarter, TRW delivered $1.99 in per-share earnings, 17% higher than the year earlier period.
Disclosure: I have no positions in any stocks mentioned, and no plans to initiate any positions within the next 72 hours. I wrote this article myself, and it expresses my own opinions. I am not receiving compensation for it. I have no business relationship with any company whose stock is mentioned in this article.