The share price of Merrimack (NASDAQ:MACK) has been swinging significantly over the last weeks, in response to interim clinical trial data in the wake of a capital raising. As a long-term shareholder (and one who expects to hold this stock for the long term) this has clearly been rather "interesting". I thought that it is a good time to share my thoughts on this stock. It is my opinion that a lot of the downward momentum has been due to misconception of the meaning of the data released, and a somewhat poor communication effort by the company. Whenever the word "fail" is used in a results release from a biotech company, there is an instinctive urge to sell the stock. In this article, I hope to show that in the case of Merrimack, the "failure to reach endpoints" in individual tumor subtypes is not unexpected, neither does it necessarily represent bad news.
Clinical Focus
The clinical focus of Merrimack is cancer. For the most part, cancer is a disease of old age. I believe that the changing age demographics of populations in developed countries, as well as increased incidence of risks for cancer - most importantly obesity - mean that there will be an increasing number of people diagnosed with solid tumors (i.e. not leukemia or lymphoma). The sad truth is that for the most part, chemotherapy for solid tumors does not work very well, especially if the tumor has spread. Cancer therapeutics for solid tumors is a clear unmet medical need and an attractive drug development target, with payers willing to fund very expensive novel treatments if they can demonstrate efficacy. So even if the overall patient numbers for an individual treatment are relatively small, income may be very significant.
Scientific Focus
The scientific focus of Merrimack is based on a "network biology" platform. This essentially means breaking down the function of a whole cancer cell into the operation of its (very many) individual protein molecules, and using mathematical modeling to identify the "rate limiting steps" of cellular function - this is the part of cellular function which, when inhibited, will lead to the greatest disruption of cell function. This can then be targeted by directed antibodies. Crucially, the rate-limiting step in the operation of a cancer cell is often not the mutant protein that may initiate the cancer. An example of this is ErbB3 signaling. I think it's important to stress that this is an extremely complex area of biology, with no animal models available, so much of the groundwork in identifying the patient subpopulations that will benefit from the treatments has to be carried out in early stage clinical trials.
It has been known for a while that alterations in the function of individual genes involved in cell signaling can lead to the cancerous state. One crucial complicating factor is the fact that the genetic architecture of tumors (i.e. the mutations that lead a normal cell to be transformed into a cancer cell) differs widely among individuals. This is the crux of "personalized medicine" - only a portion of tumors of a given anatomical origin will have mutations in the same signaling pathways, and therefore be susceptible to antibody drugs which block the individual pathways.
What Merrimack seeks to do is to use the "network biology platform" to identify the "rate limiting step" of each tumor subtype and to treat this group of patients with their proprietary antibodies. Within this group of treated patients, there will be subgroups where the drug works better than others. Once an early stage trial is completed, the response of individual tumors to the drug can be matched with gene expression signatures ("biomarkers"). In turn, these markers can be used to identify the patients in the definitive clinical trial, which will respond to the drug. Thus, during the clinical development process of the drug, it will be given to progressively narrower patient populations, with (in theory) progressively greater response to the drug. This is why the company seems so relaxed in releasing data showing that MM-121 does not work in some patients - this is expected, and by eliminating this group of patients from subsequent clinical trials, it makes an eventual positive result more likely.
MM-398
MM-398 is a novel formulation of an established drug, irinotecan, in-licensed from PharmaEngine of Taiwan, and Merrimack holds the worldwide rights outside Taiwan to commercialization of this drug. MM-398 is well advanced in Phase III of development, with results expected towards the end of 2013. I'm not going to concentrate on this drug here, as Ben Yoffe's excellent interview with Frank Gentile was recently published (August 9) on Seeking Alpha, which covers this subject very eruditely.
MM-121
Some of the recent swings in MACK share price have been in response to clinical trial data from MM-121. This is a therapeutic antibody directed against the ErbB3 receptor, which is a membrane protein on many cell types whose function is to bind extracellular growth factors, which function to alter cellular function in response to physiological stimuli. Erb receptors are members of the EGFR super-family of receptors, which contain EGFR, Erb and HER receptor subfamilies. There is a large body of evidence that aberrant Erb receptor signaling drives proliferation in many tumor types (for example breast, lung, prostate, colon). The multiplicity of these receptors and their cross-reactivity leads to a huge degree of complexity and a large number of subgroups of patients.
ErbB3 is an attractive drug target
There are several antibody drugs on the market targeting Erb receptors, and other families of receptors that associate with Erb family members. For example Trastuzamab (Herceptin, Roche) targets the HER2 receptor, which is present in approximately 25% of breast cancers, and binds Erb receptors. In other words, 75% of breast cancers do not express HER2, and have a much poorer prognosis due to the fact that no drug is currently available to treat them specifically.
Examples of therapeutic anti-Erb antibodies are Cetuximab (Erbitux, Merck and others) Gefitinib (Iressa, AstraZeneca), used in cancers of the lung and head/neck. The major problem of these drugs is that subsets of tumors may not respond to the antibody, and resistance to therapy may develop after starting therapy. Merrimack believes that its network biology may answer both of these issues, by targeting novel areas of tumor function.
Merrimack identified that ErbB3 is a significant "node" in Erb signaling, using their network biology modeling. Due to the fact that this molecule regulates both EGFR and HER receptors by direct interaction, targeting ErbB3 has the potential to overcome resistance of the tumor to therapies, or the absence of specific receptor subtypes such as HER2 that confer sensitivity to therapies (see figure):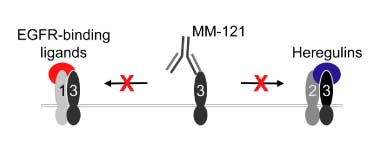 Figure-MM-121 binding to ErbB3 prevents binding to EGFRs and HER receptors.
ErbB3 was initially overlooked as a therapeutic target in cancer as it is rarely mutated. However, as one of the key rate limiting steps in cellular metabolism, and control of the function of many other receptor types, ErbB3 is now seen as a very attractive target. Validating ErbB3 as an attractive drug target, several companies are now developing anti- ErbB3 antibody drugs;
| | | |
| --- | --- | --- |
| Antibody name | Company | Stage of development |
| MM-121 | Merrimack/Sanofi Aventis (NYSE:SNY) | Phase II |
| AMG-888 | U3Pharma/Amgen/Daiichi-Sankyo | Phase II |
| GE-huMab-HER3 | Roche (OTCQX:RHHBY) | Phase I |
| AV-203 | Aveo Pharmaceuticals (NASDAQ:AVEO) | Phase I |
| TK-A3 | Takis | PreClinical |
| TK-A4 | Takis | PreClinical |
| MP-RM-1 | Mediapharma | PreClinical |
| LJM716 | Novartis (NYSE:NVS) and Sanofi Aventis | PreClinical |
| REGN1400 | Regereron (NASDAQ:REGN) | PreClinical |
Merrimack has data from animal models, and predictive network biology modeling that its anti-ErbB3 therapeutic antibody MM-121 will be active against tumors of lung (adenocarcinoma and NSLC subtypes), breast, prostate and bowel. As can be readily seen from the following table, this set of cancers represent a large reservoir of unmet medical need (especially when the cancer has spread), and therefore large potential market even if only a subgroup of these patients will respond to the drug (see table).
Number diagnosed 2012

Average

Age at

diagnosis

Localized at diagnosis % (5 year survival %)

Disseminated

at diagnosis %

(5 year survival%)

Lung

226,166

70

15% (52%)

56% (3%)

Breast

226,870

61

60% (98.4%)

5% (23%)

Prostate

241,740

67

81% (100%)

4% (27%)

Bowel

143,460

69

39% (89%)

20% (11.9%)
Table; Estimated cancer cases diagnosed in the USA in 2012-ie in one country (albeit the biggest one in market terms) in one year, and proportion of cancers localized or disseminated at diagnosis. Survival data at 5 years reflects efficacy of current therapy, and emphasizes extremely poor prognosis of lung cancer, and of metastasized tumors in general. Data; http://www.cancer.gov/statistics/find.
Development of MM-121 is now ongoing in partnership with Sanofi, and Phase II trials in Lung, breast, and bowel cancers are underway. Classically, Phase II clinical trials are carried out in small numbers of cancer patients, to determine optimal dosage, side effect profile and early indications of efficacy. Crucially, the Phase II trials for MM-121 are being carried out in larger numbers than would be expected, with the explicit aim of identifying the tumor subtypes which will benefit from the drug. Phase III will be carried out in these subtypes only. In theory this will de-risk these pivotal trials, which will be paid for by Sanofi. The terms of the agreement are that Sanofi is entirely funding these trials. In my view this is efficient, as clinical trials are the most expensive part of drug development, and the logistical advantages of a large company like Sanofi will speed up this stage of development.
Merrimack has been very open in discussing the "failure to reach endpoints" in the Phase II trials of MM-121, while not really explaining the rationale behind the clinical development of this drug adequately. In the wake of the recent capital raising (which was handled questionably to say the least), this has created downward momentum for the stock.
I believe that MM-121 is the key drug in Merrimack's portfolio, as it validates the network biology platform, and therefore the other antibiotics in the pipeline. The company expects three trials involving MM-121 to report in late 2013. If they are positive, I believe that this will lead to substantial revaluing of the company, and potentially acquisition by a large pharmaceutical company.
I remain long MACK.
Disclosure: I am long MACK. I wrote this article myself, and it expresses my own opinions. I am not receiving compensation for it. I have no business relationship with any company whose stock is mentioned in this article.