R.I.P.: Prior to the CEF Weekly Review, it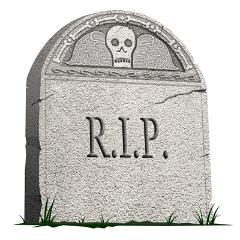 is altogether fitting and proper for serious CEFs investors to take a moment to morn the untimely death (execution style) of a good friend: ETFconnect.com.
This unfortunate passing will create a hole in the knowledge base and likely result in the diminished interest in the CEF market segment.
An Unworthy Successor: Its replacement, CEFconnect.com, is an unworthy successor. Morningstar, the new data provider, is a bunch of chimps with computers.

Not only is the data incorrect, the configuration is inscrutable and most outrageously it is stale. As of Sunday the 27th the CEFConnect.com website was posting share prices as of Thursday the 24th.
Yeah, this is real helpful. This puts the weekend retail investor in CEFs at a huge disadvantage. Less precise and not readily available information will allow CEF sponsors and their advisors better "cover" for their indiscretions. Also, it will allow institutional "raiders" an informational advantage over the bulk of CEF ownership: the independent retail investor.
We can only hope by cajoling Nuveen its management will be inspired to address the deficiencies of their new website and seek incremental improvements.
CEF Weekly Review: The 13 closed end fund (CEF) types on average were up 0.3% for the week ending 9/25/09. On an aggregate, unweighted basis, the weekly average price increase for 536 CEFs was up 0.3%. The weighted 49 CEFs as of 9/25/09 comprising the Claymore CEF Index registered an average decline of 2.0% for the week. The S&P 500, as measured by the SPDR S&P 500 ETF (NYSEARCA:SPY), registered a decline of 2.1%.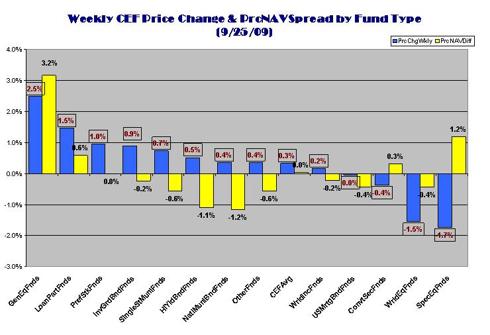 Click to enlarge
(Click here for YTD CEF performance. The table is based on a 274 CEF sample size as all the data fields are not available for the CEF universe.)
The Eqcome CEF Fear Index moderated to a positive 0.6% relative to recent weeks when CEF investors demonstrated a willingness to assume greater risk. The unweighted average price change was up 0.3% versus -0.3% for the related NAV. The CBOE Volatility Index (VIX), which typically moves inversely with the stock market, rebounded from last week's yearly low and posted a 7.1% increase.
CEF Weekly Fund Type Performance: With investors taking a pause with respect to piling into stocks, most of the fixed-income CEF fund types outperformed the average with the exception of GenEqFnds which posted the strongest price performance. This was essentially on the strength of a small CEF postings a large gain and pulling the unweighted average up. In its absence, GenEqFnds would have posted a 1.0% decline
SpecEqFnds brought up the bottom with regards to price change and posted a 1.7% decline. Most of the drag came from the real estate sector (down 4.4%) after weeks of superior performance. One of the interesting changes is the gathering strength in the energy and natural resource sector. Energy/Natural Resource CEFs were up 2.8%. While oil threads a needle between the US dollar valuations and predicted rising global demand, Goldman Sachs on Friday projects oil will be $85 per barrel at the end of the year.
CEF Spread Changes: In many cases the best performing CEFs in terms of price change are the same as those that have experienced the greatest positive change in its PrcNAVSprd. This was the case for Engex (EGX). EGX is a micro CEF with little more than $5.0 million in net assets; it invests in private equity. EGX has also been the subject of insider buying (see below).
Beyond EGX there were a number of energy related CEFs that demonstrated strong positive spreads for the week, all of which were energy MLP (master limited partnerships) related. Kayne Anderson Energy Development (NYSE:KED), Cushing MLP Total Return (NYSE:SRV) and Fiduciary/Claymore MLP Opportunity Fund (NYSE:FMO).
Two HiYldBndFnds where at the other end of the receiving line with the greatest negative PrcNAVSprds: New America High Income Fund (NYSE:HYB) and Pioneer Municipal High Income Advantage Trust (NYSE:MAV). HYB posted a negative PrcNAVSprd of 10.5 and was off 3.8%. MAV's was 7.6% and 4.7%, respectively.
(A positive spread between the change in price and NAV could be viewed unfavorably subject to other metrics. This is because the stock has advanced greater than its underlying NAV. All things equal, they should move in tandem. The opposite would also be true.
However, Alpine Global Total Dynamic Dividend Fund (NYSE:AGD) was off the most at 10.3% for the week. AGD generated a negative PrcNAVSprd of 6.4%. AGD had previously declared its October and November monthly distributions of $.11 per share. While AGD is currently trading at a 14.2% distribution yield, it is also supporting a 32.5% premium to its NAV. This is near the top end of its 52 week high of 43.1%. Despite its global moniker, almost 50% of its portfolio is in US companies.
Market Perspective: Most of the major averages are again testing their 20 day moving averages from above for the second time in less than a month. These tests are also occurring on higher volume days dominated by selling. MACD divergence is suggesting that investors may be getting tired of supporting this rally in the face of economic news.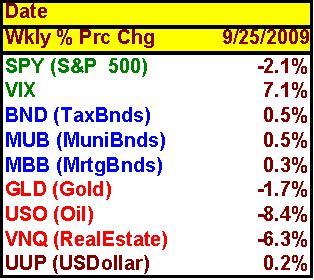 So far for September, the worst month historically for stock market performance, the S&P 500, as measured by SPY, is up 1.9% MTD. Last minute quarter-end portfolio changes may obscure trends earlier in the week. (Click here for next week's economic calendar.)
ETFs: (Click here for ETF YTD sector performance.)
Insider Trading: Karpus Management, Inc. ("Karpus") filed this week it had added to its existing position in Insured Municipal Income Fund (PIF). Karpus purchased an additional 15,100 shares at $13.49 for a total expenditure of $203,694. This was atop of the 6,600 shares it acquired the previous month at $13.00 per share at a cost of $85,783. Karpus is a 10% owner of PIF.
Other investment managers owning shares in PIF reads like a list of CEF investor activists which include Western Investment, LLC, Bulldog Investors (Phil Goldstein), and RiverNorth Capital Management.
PIF has been under siege by Bulldog to implement a tender offer in lieu of a proposed liquidation by the PIF board. PIF is a muni CEF that is currently selling at a 3.9% discount and at a pre-tax distribution yield of 6.4% (taxable equivalent of 9.8%). Seems like blood in the water here.
Other new monthly CEF insider transactions included another 10% holder. In this case it was Engex Inc. (EGX). Rosalind Davidowitz has been a consistent buyer of the shares in very small transactions. Davidowitz acquired 3,000 shares in 14 transactions for a total capital outlay of $10,579. Total share holdings are 308,933. This is a minuscule fund with assets of $5.3 million. The stock trades by appointment.
Lawrence H. Cohn, a director of MGS Intermediate Income Trust (NYSE:MIN), purchased 5,000 shares at $6.60 per share for a total outlay of 33,000. His holdings in MIN now total 17,073 shares.
Insiders adding to their September positions are 900 shares by the Horejsi Group to The Denali Fund (DNY) for an additional expenditure of $11,384. This brings their holdings in DNY to 3,065,740, or 73.7% of the outstanding shares.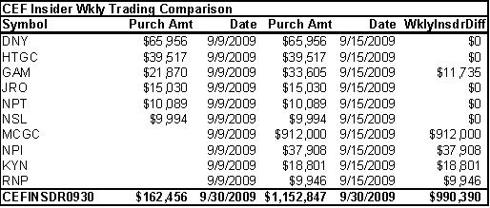 Click to enlarge
Daniel Neidich, Director of General American Investors Company (NYSE:GAM), continues to add to his position in September with an incremental purchase of 1,100 shares at average price of $24.10 per share. He has been the only insider buying GAM's stock. (Click here for insider summary.)
CEF Distribution Announcements This Week: Below is a table of this week's CEF distribution announcements with prospective ex-dividend dates. (The list is not intended to be all inclusive. While reasonable care was taken in its construction, please confirm its accuracy independently prior to making an investment decision based on this table.)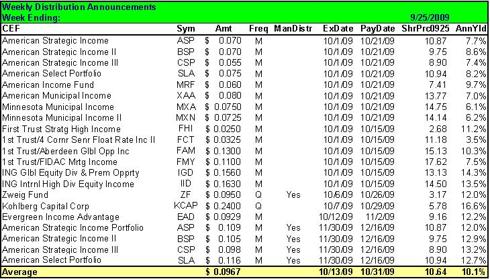 Click to enlarge
CEF Focus for the Week: None, in mourning.
Disclosures: Long SPY & GLD and a diverse portfolio of CEFs