By Mike Yamamoto
Liberty Media (LINTA) has more than doubled in the last three months, and at least one big investor has confidence it will hold most of those gains.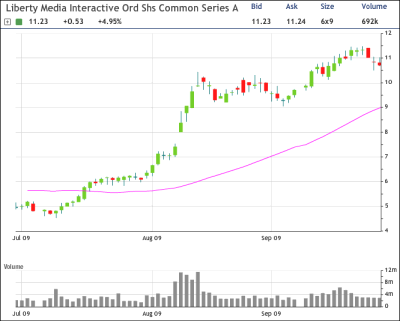 optionMONSTER's tracking systems detected the sale of at least 5,000 November 10 puts against open interest of 2,280 contracts. Premiums fell from $0.45 to $0.35 as the share price climbed and the selling progressed.

LINTA rose 5.25 percent to $11.26 in morning trading. The owner of QVC and Starz has been climbing as investors snap up economically sensitive stocks with heavy debt loads, betting on a recovery.

Many such companies still offer high levels of implied volatility, which attracts put sellers. Implied volatility on LINTA, for instance, was 49 percent on Friday, almost twice the level for the S&P 500 as measured by the VIX.

Monday's trade follows similar transactions in other media companies last week. It will be profitable as long as LINTA remains above approximately $9.60 by expiration.

Overall options volume in the name was almost four times greater than average today.
(Chart courtesy of tradeMONSTER)