Looking at the Latin-American market from an economic point of view, we can see that there are a number of reports and indicators coming out, particularly from Brazil, Chile and Argentina, that the continent is bouncing back from the global recession a lot quicker than it's Western counterparts.

Normally with stockpicks, I tend to focus on a single market, rather than a whole region, however, I have been looking at MercadoLibre (NASDAQ:MELI) for the last few weeks and am bullish on its prospects going forward.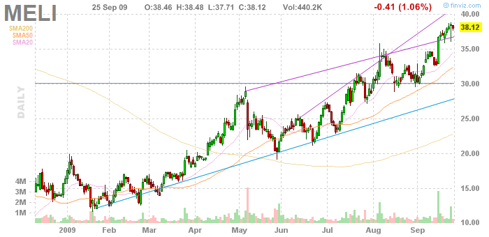 Click to enlarge

MercadoLibre is an Argentinean based Spanish-Portugese language online auction and fixed price marketplace provider across Central and Latin America, including key markets such as Brazil, Argentina, and Mexico. It also runs a payments processing system called MercadoPago that is similar to Paypal. Enjoying a near monopoly in this marketplace, it also operates as e-Bay's (NASDAQ:EBAY) exclusive partner for the region, with e-Bay holding an 18.3% stake in the company. Unlike its erstwhile partner, MELI has not become sidetracked from its strategy and is a pure e-commerce play.
This year the stock has performed very well, running from a low of $12.51 up to today's price of $38.12, an eye watering $203% return for those lucky enough to buy & hold for the period. Looking at Q2 2009 earnings against same year 2008, it is obvious that MELI is bucking the global trend, as it has grown organic revenues by 19% and increased its net income by 127%, pretty spectacular figures and one of the main reasons that I am looking at this stock with interest. The following excerpt from MELI's earnings review points to more bullish figures.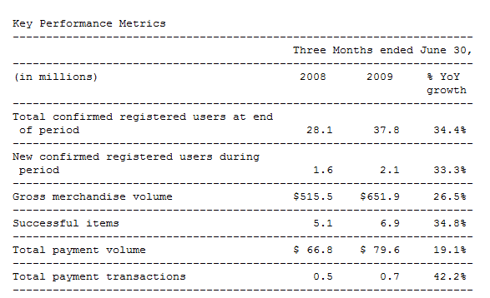 Click to enlarge
For me the main reason that I am interested in MELI is that in the countries in which it operates, broadband penetration has been traditionally much lower than in developed countries, but has been accelerating of late and is set to boom over the next 5 years.
According to MarketResearch.com Broadband penetration in Latin America and the Caribbean was about 4.9% in early 2009, well below the world average of 6.1%, however, competition has been increasing and prices have been dropping in most countries. Given the region's general economic indicators, there remains ample space for expansion.
Looking at the three largest markets, we can see that a large internet subscription audiences exist; Brazil 29.3% (67.5M), Mexico enjoys 21.3% (27.4M) and Argentina 11.6% (20m) respectively, as of June this year. (source Internet Statistics). A recent survey by the Broadband Forum revealed that in the Latin America heads up the broadband growth rankings globally, with a 31.4% increase in broadband subscriptions this year. With Brazil alone adding 10 million users this year, making them the 9th largest broadband community in the world.
I believe this year has shown that broadband expansion is not limited to the top industrialized countries, but is a key factor in assisting developing nations to gain a foothold in today's tough market.

-George Dobrowski, Chairman and President of the Broadband Forum.
As we have seen, the region has been faring better economically of late & with retail investors looking to developing markets for better returns, technology stocks should see greater capital inflows. From my research, it would seem that investors are now looking to South America for new opportunities & a stock with MELI's past performance is very attractive indeed.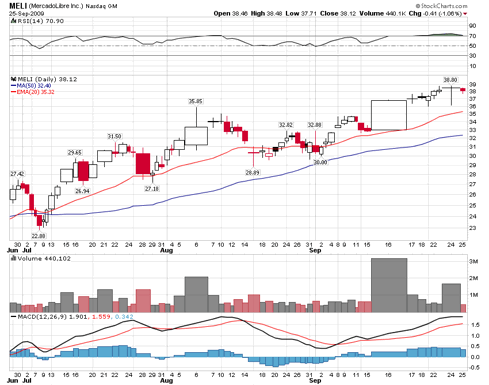 Click to enlarge

Looking at a three month chart, we can see that there has been quite a bit of volatility, although the trend is still positively upwards. Right now, I am looking for an entry in the $35 area, with a view to the stock hitting $50 within 6 months.

Disclosure : Author holds no current position.