I would guess that the most popular question I see circulating in the investor community of late is, "are the wheels about to come off of this market?" There are varying motivations behind the concern, from those anxious to protect a good year, to those who would like to catch up to that good year, and finally those doubting Thomases who have not yet been able to bring themselves to believe. Somewhere to the right of that group is Peter Schiff.
The answer largely depends on two things, the first being the time frame you mean by "about," as in "about to come off." The second depends not so much on your faith in capitalism, but on government institutions. That must sound like deep heresy indeed, yet I encourage you to read on, for you may find grist for your mill.
Let's begin with the time frame. The market has been choppy and a bit tired of late, worrying some of the long-time bulls. Could we be about to hit an air pocket?
There's always that chance, but it would have nothing to do with the current market behavior. The market is typically lackluster in the first part of August, especially so in recent years when the second-quarter earnings season has so consistently failed to shine. Diminishing earnings estimates manage to keep up appearances, but the general trend has been growth that's a little weaker every year. The latest edition seems to be somewhere around 2% year-on-year, but flat to down when financials are excluded.
But August has rarely come out with guns blazing, even before that fateful day when Lehman's attorneys decided to head over to bankruptcy court. It's just not one of the better market months, for reasons going back to our agriculturally-based economy. Yet it also has a way of rallying towards the latter part of the month, for reasons that are somewhat murky. Perhaps the buyers are over their case of fatigue, or refreshed from vacation. Maybe they're feeling elated at the prospect of the kids going back to school. Whatever the case, without any real news to frighten us, in a couple of weeks we'll probably be busy regaining what losses we're making now. Trading programs are set to work this rhythm.
The immediate perils that lurk on either side of the road are fairly well known, mainly the possibility of terrorist action, a flare-up in the Middle East, or both. But there are some events that could lift the markets, too, beginning with the failure of either of the preceding two dangers to come to pass. The Jackson Hole monetary policy symposium sponsored by the Kansas City Fed is also looming, and while there will be no present Fed chairperson attending this time around, a future one may be in attendance. Most notably, the sense of resignation about the Fed tapering its Treasury bond purchases has been gaining traction of late, setting us up for a week or three of real excitement if the right person can talk instead about a deferral to December - or even better, a delightfully vague future.
The latest FOMC minutes come out next week, and should the impending housing news disappoint - July starts are due this Friday, new home sales the following one - we could see sentiment begin to run a bit hotter, swinging from disappointment over the economy and terror over housing possibly slowing down (June permits fell, and mortgage-purchase applications have been weak) to exalted relief if Jackson Hole produces talk of postponement. I don't think that the current QE program is really doing anything anymore but propping up asset prices and putting the bond market into an increasingly dangerous place, but the Fed has blinked frequently in the recent past and traders can always hope for another flinch.
The wheels could come off later on, of course. If the Fed does decide to go ahead with tapering next month in what is historically the market's weakest month of the year, we could be in for some excitement of a different sort.
Keep in mind it's a sentiment-driven market. The equity presentations I've been seeing lately seem to revolve around one idea - where else are you going to go, surely not the bond market? While at their end of the podium, the bond market people are talking mostly about the importance of having a negative correlation with equities. It's all very compelling stuff. If the Fed is stepping to the sidelines, we might have to fall back on the economy as our guiding star, and therein trouble may lie.
I have to say, the business media is straining mightily to convince us that better days are ahead. Every other story I read about is filled with words like "accelerating," "momentum" and "solid" - or how about regaining momentum? Newsreaders talked about Tuesday's retail sales report in tones that conveyed utter shock at the notion that sales could ever have increased four months in a row in our lifetime.
Well, June had lousy weather and July had good weather, so a little rebound action isn't so stunning. Let's look at the longer-term trend with this chart of rolling 12-month retail sales, excluding gas and autos: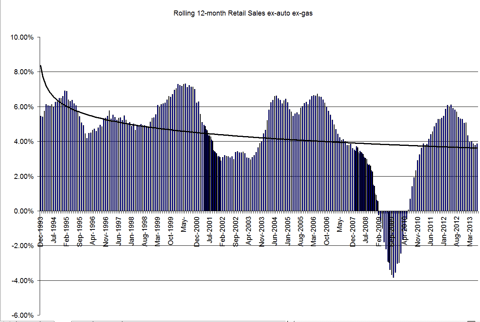 Click to enlarge source: Commerce Dept, Avalon Asset Mgmt
Note the simple Excel logarithmic trend line, along with the two shaded areas indicating recession. We're in the same region now that the last two recessions began.
With the stock market having a good year and housing prices up, the 1% are clearly doing well, as evidenced by the latest earnings report from Michael Kors (NYSE:KORS). But the 99% represented by American Eagle (NYSE:AEO), Macy's (NYSE:M) and this report on the correlation between wage growth and overall spending have painted a different picture. Yet CNBC was quite excited about the "good data" and retail sales. Maybe they have different charts.
The Macy's folks made a point I've been making - that auto sales are crowding out other spending. It only makes sense, given how weak personal income growth has been.
Another trend that isn't our friend can be seen here in the latest picture of wholesale sales and inventories: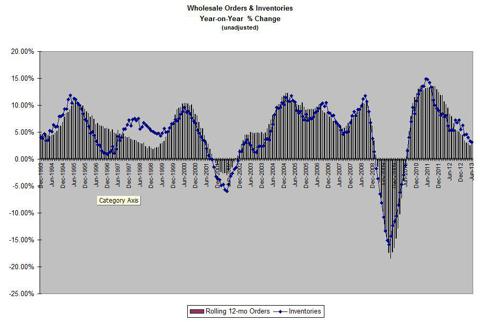 Click to enlarge
On the one hand, the good news is that the inventory-to-sales ratio is the lowest it's been since April 2011, so we're due for a little restocking episode that could lift third-quarter GDP. On the other hand, this chart gets worse every month.
But, you may say, Europe is on the mend. China is regaining traction. It's just a matter of time.
Besides the fact that those both sound like the "global growth" mirage of 2007, I beg to differ. I don't think Europe is recovering - it's just found a bottom. Unless and until the EU can confront its debt issues, it's only going to repeat the Japanese experience of prolonged stagnation with the occasional false hope. It won't confront them either, not without a social or political crisis.
If you believe that the EU will wisely restructure itself, soon and without any need of a crisis to goad them into it, then there is much hope ahead for equities. If you take a different view that the more likely outcome is that prices run up temporarily on hopes that demand will somehow manufacture itself, then get crushed when the miracle doesn't arrive, then there's still time for a trade.
As for China, they can (and do) print up whatever data they like. It won't change the fact that the magic circle is broken: exporting to the West and using the money for a building boom that fueled additional booms in resource countries like Australia and Brazil.
After the crash of 2008, China embarked on a real-estate investment mega-boom that dwarfed the previous one. It was nice while it lasted, but ran into the same sort of asset surplus that exhausted the tech and housing booms - far more supply produced that can ever be sold in time for companies to be viable. They're following the European example of trying to hide it all while waiting for the American spending machine to bail everyone out. On that matter, see the charts above.
The odds favor the rally sticking it out until this time next month, probably with some routine volatility in between. The real test comes later.
Disclosure: I have no positions in any stocks mentioned, and no plans to initiate any positions within the next 72 hours. I wrote this article myself, and it expresses my own opinions. I am not receiving compensation for it (other than from Seeking Alpha). I have no business relationship with any company whose stock is mentioned in this article.