Editors' Note: This article covers a micro-cap stock. Please be aware of the risks associated with these stocks.
Background
Cardiovascular disease ("CVD") is one of the leading causes of death in the developed world, accounting for around a third of all deaths. It remains a tremendous medical and cost burden on society. The identification and application of novel cardio biomarkers has helped cardiologists to stratify high risk patients whilst the advances in diagnostic imaging has led to improvements in the speed and resolution of images, increasing its clinical utility in the detection, diagnosis and treatment of CVD whilst minimizing the need for invasive procedures.
A variety of cardiac biomarkers are now available including those to determine cholesterol & lipoproteins levels, cardiac necrosis, thrombosis, inflammation and genetic variants - to aid in patient risk stratification and the diagnosis of a range of cardiovascular conditions - acute coronary syndrome, coronary artery disease, heart failure, stroke and pulmonary embolism. A raft of possible and probable cardiac biomarkers are currently under evaluation that if successful, may provide cardiologist with a more comprehensive assessment of cardiovascular risk and prognosis. Meanwhile in vitro diagnostic companies have launched a range of assay platforms including laboratory bases ultra-high through systems to point of care bench top and hand held devices. Enabling rapid and cost-effective testing and migrating CVD testing from the hospital to the clinic and bedside.
Investment Thesis
BG Medicine (NASDAQ:BGMD) is just turning to commercialize there diagnostic tests, this needs time. Investors seem not patient enough and don't see the upside potential of this compelling life sciences company.
The Company
BG Medicine, Inc. is a commercial stage company that is focused on the development and delivery of diagnostic solutions to aid in the clinical management of heart failure and related disorders. The company currently has two diagnostic tests, the first of which is the BGM Galectin-3® test, a novel assay for measuring Galectin-3 levels in blood plasma or serum for use as an aid in assessing the prognosis of patients diagnosed with heart failure. The second diagnostic test is the CardioSCORE™ test, which is designed to identify individuals at high risk for near-term, significant cardiovascular events, such as heart attack and stroke. Currently, the company's focus is on the adoption and commercialization of the Galectin-3 test.
The Business
BGM Galectin-3 Test
Galectin-3, a member of the galectin family of proteins, is a biomarker that has been shown to play an important role in heart failure. Heart failure is a condition caused by a combination of diseases or factors that damage or overwork the heart muscle, resulting in its inability to pump blood efficiently to meet the requirements of other body organs. Galectin-3 test provides physicians with meaningful information that may lead to more clinically- and cost-effective management of heart failure patients. The test is available in two versions, a microplate version, and automated versions.
The microplate version is available in the United States for use as an aid in assessing the prognosis of patients diagnosed with chronic heart failure and in Europe for use as an aid in assessing the prognosis of patients diagnosed with chronic heart failure or acute heart failure, and for screening individuals in the general adult population who are at risk for developing new-onset heart failure. The automated versions are available in Europe as an aid in assessing the prognosis of patients diagnosed with chronic heart failure.
Microplate Version
A microplate version of the BGM Galectin-3 test received 510(k) clearance from the U.S. Food and Drug Administration, or FDA, in late 2010 for use in patients with chronic heart failure who are at increased risk for hospitalizations or death based on elevated levels of Galectin-3. The test is commercially available in the United States, as well as in Europe under a CE Mark, which was obtained in October 2009. This microplate version of the test is being marketed in the United States through several regional and national laboratory testing facilities.
In the United States, the payment rate at which the microplate version of the BGM Galectin-3 test is reimbursed by the Centers for Medicare and Medicaid Services, or CMS, is $17.80 per test. This payment rate was assigned by CMS under a new, analyte-specific Current Procedural Terminology, or CPT, code, which took effect on January 1, 2013 for the 2013 fee schedule. The company is requesting a higher payment rate from CMS for the 2014 fee schedule, though there can be no assurance that they will be successful in obtaining a higher rate. A decision is expected by the end of the year.
In 2012, BG Medicine revised their commercial strategy to speed the adoption and increase the sales of the microplate version of the BGM Galectin-3 test by focusing on the increasingly urgent need for hospitals to reduce their rates of unplanned patient readmissions, in response to new guidelines from CMS that went into effect on October 1, 2012. The guidelines seek to reduce the number of unplanned readmissions by imposing financial penalties on hospitals and other healthcare providers if reductions in readmission rates are not made. Because it has been demonstrated that heart failure patients with elevated levels of Galectin-3 are two-to-three times more likely than other heart failure patients to be readmitted to the hospital within 30 days of discharge, identifying these high-risk patients through Galectin-3 testing is a potentially valuable and cost-effective tool in hospitals' strategies to reduce unplanned 30-day readmissions.
Also as part of the revised strategy, the company converted their field sales force from an awareness- and education-focused organization into one with a sales mission and growth strategy. The new field sales force will focus initially on promoting Galectin-3 testing at a core group of hospitals with higher-than-average readmission rates, which are at risk of incurring significant financial penalties due to the new CMS rules.
Automated Versions
BG Medicine has partnered with four leading diagnostic instrument manufacturers that are developing automated instrument versions of the Galectin-3 test, this will ultimately lead in broader customer acceptance and clinical adoption of the Galectin-3 test. The company has entered into worldwide license, development and commercialization agreements with Abbott Laboratories (NYSE:ABT), Alere Inc. (NYSE:ALR), bioMérieux SA, and Siemens Healthcare Diagnostics Inc. (SI), for the development of the Galectin-3 test on their automated instruments, including point-of-care instruments, which are utilized within hospitals and other medical organizations. Through these partnerships the company will have broad access to major segments of the diagnostics market, including hospital laboratories, private laboratories, reference laboratories and physician office laboratories. Under the agreements, the partners are responsible for developing and commercializing the tests and BG Medicine is responsible for furthering clinical awareness and developing the market for Galectin-3 testing.
CardioSCORE Test
The second product of BG Medicine is the CardioSCORE test, a biomarker-based blood test designed as an aid in the assessment of near-term risk for significant cardiovascular events, such as heart attack and stroke. The test is used to identify patients at risk for atherothrombotic cardiovascular disease, commonly known as vulnerable plaque and is a proprietary in vitro diagnostic multivariate index assay that measures the levels of seven protein biomarkers in blood, and integrates the results to yield a single numerical score that is related to an individual's cardiovascular risk.
The development work to date suggests that CardioSCORE is an improved diagnostic test compared to conventional risk factor-based approaches, such as the Framingham Risk Score. The CardioSCORE test uses laboratory instrumentation and reagents that are available commercially.
In December 2012, the company obtained a CE Mark for the CardioSCORE test, which will enable the company to market the test in Europe and other countries that recognize CE Mark. The expected launch of the CardioSCORE test in Europe, through one or more specialty laboratory partners, is on hold. The company decided to redirect their investments to support the Galectin-3 test. If there is an appropriate partnership opportunity, the company may move forward with a European launch of the CardioSCORE test.
In December 2011, BG Medicine submitted a 510(k) to the FDA in order to obtain regulatory clearance to market the CardioSCORE test in the United States as an aid in the assessment of near-term risk for significant cardiovascular events, such as heart attack and stroke. The FDA requested additional information, but due to the time involved in responding to the FDA's request for additional information, the 510(k) was withdrawn on August 8, 2012. Since that time, the company has been working on an independent medical review of the CardioSCORE clinical study results in accordance with FDA's feedback. Completion of the medical review is expected by the end of 2013. Results from the review will then guide the regulatory, commercial and investment strategy for CardioSCORE.
2013 Developments
Europe
In January 2013, bioMérieux obtained a CE Mark in Europe for an automated version of the BGM Galectin-3 test and launched the test in Europe. bioMérieux is distributing its VIDAS® Gal-3 test through its VIDAS® immunoassay platform.
In April 2013, Abbott obtained a CE mark in Europe and launched an automated version of the BGM Galectin-3 test in several European countries. Abbott is offering the ARCHITECT® Galectin-3 assay on its ARCHITECT® immunoassay platform.
United States
Fujirebio, on behalf of Abbott, is the first of the company's automated partners to have filed for 510(k) regulatory clearance of an automated version of the test in the United States. Fujirebio is developing the test for use on Abbott's ARCHITECT® immunochemistry instrument platform. Fujirebio submitted its 510(k) to the FDA in July 2012 and received a letter from the FDA requesting additional information on various matters, including the geographic composition of the patient cohort that provided the blood samples used to support the 510(k).
Due to the nature of the additional information requested and the time required to address the FDA's questions, Fujirebio was unable to submit a complete response to the FDA by the FDA-designated February 25, 2013 deadline and withdrew the submission. A new 510(k) submission is expected to be submitted by the end of this year.
Second quarter 2013 Market Development Achievements
During the second quarter of 2013, the company achieved two noteworthy market development milestones in the United States.
First, the Trenton Health Team, a community health improvement collaborative located in Trenton, New Jersey, adopted Galectin-3 testing for identification of chronic heart failure patients who are at risk for re-hospitalization.
Second, the BGM Galectin-3 test was recognized for its ability to predict adverse outcomes, including rehospitalization, in the American College of Cardiology Foundation and American Heart Association (ACCF/AHA) Guideline for the Management of Heart Failure (2013 Edition).
The Company's Strategy
The two diagnostic products, the BGM Galectin-3 test and the CardioSCORE test, are in the early stages of commercialization. The ultimate goals are to make each of these cardiovascular diagnostic tests a clinical standard of care in the stratification and prognosis of heart failure patients and in the assessment of near-term risk for significant atherothrombotic events, such as heart attack and ischemic stroke, respectively.
BG Medicine plans to achieve these goals by providing physicians with better information for the diagnosis, prognosis, treatment, and monitoring of disease, which will result in improved patient outcomes and more efficient use of healthcare resources.
The company has built scientific and medical support functions to drive physician awareness and utilization of their products through additional studies and publications and key opinion leader engagement, as well as assisting in the positioning of tests in patient management guidelines.
BG intends to retain primary responsibility for their diagnostic tests through various commercial activities, including the development of new indications, management of intellectual property rights, marketplace education, market development and reimbursement strategies and plans.
The Numbers
If you look to the cash burn of the company, disciplined efforts have translated into a 20% decrease in cash used in operations during the first six months of 2013. Cash used in operations decreased by $2.2 million over last year to $8.8 million. Second quarter, net loss was $4.8 million, 25% lower than the $6.4 million net loss reported in 2012. The $1.6 million year-over-year decrease in net loss results from lower operating expenses primarily in research and development. The company ended the first half of 2013 with cash totaling approximately $16.2 million and term loan debt of $9.3 million.
Product revenue from the BGM Galectin-3 test was $1 million in the second quarter of 2013, compared to $600,000 last year. Second quarter growth in product revenues, primarily reflects domestic sales.
BG Medicine currently believes that revenues for the full year of 2013, will range from between $3.8 million to $4.0 million a 46% to 54% increase from 2012. The company's operating cash burn for the full year of 2013 will range from $15.5 million to $16.5 million, a 37% to 22% reduction from 2012.
This year is transitional so analyst's expectations were too high. Establishing a sales organization and achieving topline results can't be done in two quarters.
Just Starting
The company's products currently remain at a relatively early stage in the typical new test adoption cycle, which will not drive sales yet.
The company believes that there are several prerequisites that must be achieved to drive a new assay along the adoption curve. These include demonstration of a clinical utility, professional recognition by inclusion in practice guidelines, regulatory clearance, local support from key opinion leaders, existence of multiple publications that support assay applications, well defined channels of distribution with the value of the assay is clear, reimbursement and access.
As its typical in companies that move from scientific (Research & Development) company mode to a new phase of their corporate life, patience and trust is needed.
Risks
Institutions have been busy with selling this stock.
What do they know, what we don't know? It is true that if sales don't improve the company runs out of money and they have to do another offering, but this will not happen this year.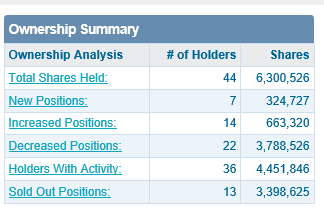 Source: www.nasdaq.com
Issues about safety, efficacy, regulation are not there, so only competition and demand are left. Demand will pick up going forward and the only real risk could be that in the company's licence agreements the contract partners have not agreed to fair deal terms.
Of course with 27.9 million shares outstanding, shares could easily be manipulated by short sellers and other entities that don't believe in BG Medicine's products.
Final Note
According to a study of the American Heart Association, it is estimated that 82.6 million American adults (approximately 1 in 3) have one or more types of cardiovascular disease. Between 2012 and 2030, total direct medical costs of cardiovascular disease are projected to triple, from $309 billion to $834 billion. Most major cardiovascular events occur in individuals with low or intermediate risk profiles according to traditional risk factor-based approaches recommended in the United States and Europe.
BG Medicine's main product the Galectin-3 is a biomarker that has been shown to play an important role in heart failure. This blood-based test will provide better detection and earlier diagnosis, so a more personalized treatment selection if necessary.
The company's focus on adoption and commercialization of the Galectin-3 test, will likely lead to revenues exceeding the $10 million next fiscal year. We think investors are just not patient enough.
Disclosure: I am long BGMD. I wrote this article myself, and it expresses my own opinions. I am not receiving compensation for it (other than from Seeking Alpha). I have no business relationship with any company whose stock is mentioned in this article.
Additional disclosure: Dutch Trader is managing partner of RJT Capital, a Dutch-based investment fund. RJT Capital is long BG Medicine (BGMD). For our current holdings check: www.iextraders.nl/Portfolio/1139129/RJT.aspx