Company: Cvent, Inc.
Symbol: (NYSE:CVT)
Source: IPO prospectus.
Summary:
The company is a leading provider of cloud-based event management solutions. The company provides solutions for both sides of the events and meetings value chain.
Event and meeting planners.
Hotels and venues.
Its solution addresses the entire event lifecycle by allowing event and meeting planners to organize, market and manage their meetings, conferences, tradeshows and other events.
Its online marketplace connects event planners and venues through its proprietary database of detailed hotel and venue information. In 2012, its Fortune 1000 event and meeting planner customers managed an average of 630 events and meetings on its platform.
Investment theme/thesis:
The company has shown very strong financial performance in the past few years and is expected to continue its growth momentum in the future. Everything looks good for the company except the valuations. I will avoid the company just because of its valuations. At these valuations, all the positive (for the company as well for the industry) seems to be priced-in. So, for the time being, I will wait for some pullback in the prices before considering it as an investment opportunity.
Solutions offered:
Solutions for Event and Meeting Planners: Its cloud-based platform offers six major products:
Event management software,
Strategic meetings management software,
Mobile event apps,
Web surveys,
Ticketing software,
The Cvent Supplier Network ("CNS"): a marketplace that connects more than 200,000 venues with high-quality, ready-to-transact event and meeting planners.
Solutions for Hotels and Venues: hotels and venues enter into annual and multi-year contracts with the company for marketing solutions that increase the prominence of their properties in its CSN.
Cvent Supplier Network or CSN
Cvent Supplier Network, or CSN, connects tens of thousands of planners seeking the best venue for their events and meetings with more than 200,000 venues featured in its proprietary database. As per the company CSN contains the world's largest, most accurate database of detailed meeting venue information with listings of venues in more than 175 countries that can be searched and filtered. The number of event requests for proposal, or RFPs, submitted through its CSN has increased considerably from approximately 12,000 in 2008 to approximately 1.1 million in 2012.
Customers:
Event and Meeting Planner Customers: (as of December 31, 2012, the company had more than 6,200 event and meeting planner customers). Its customers under this segment includes: Visa (NYSE:V), Merck (NYSE:MRK), Walmart (NYSE:WMT), etc.
Hotel and Venue Customers: (as of December 31, 2012, more than 4,700 hotels and venues have purchased marketing solutions from the company). Its customers under this segment includes: Hilton, Hyatt (NYSE:H), Fairmount, etc.
Operational and financial metrics:
The following table presents its operational and financial metrics:

Click to enlarge
All operational parameters showed healthy growth.
Financials:
Source of revenue:
The company generates revenue from:
Platform Subscriptions: the company generates the majority of its revenue through subscriptions for its event management solutions platform, pricing for which is based on the features and functionality selected.
Marketing Solutions: marketing solutions revenue is generated through the delivery of various forms of advertising sold through annual or multi-year contracts to marketers, principally hotels and venues.
The following table presents its revenue by segment:

Click to enlarge
Income statement analysis: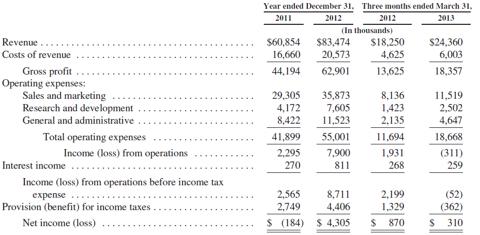 Click to enlarge
Key points:
Its total revenue increased by $22.6 million, or 37.0%, from fiscal year 2011 to fiscal year 2012.
Its total revenue increased by $6.1 million, or 33%, from fiscal Q1 FY 2012 to Q1 FY year 2013.
Its gross profit margins were at 75% in FY 2012 and 73% in FY 2011.
Operating margin has shown a significant improvement from 3.75% in FY 2011 to 9.5% in FY 2012.
Balance sheet analysis:

Click to enlarge
The balance sheet is very healthy.
Market Opportunity (very positive): (Source: IPO prospectus page 76)
"Events and meetings reach across every industry vertical, from consumer products to energy to healthcare. A 2013 independent study conducted by Frost & Sullivan, which was commissioned by us, estimated that the global market for events and meetings management, including such costs as accommodations, transportation and other support, was approximately $565 billion in 2012. Of that amount, Frost & Sullivan estimated that the global event management software market was $5.6 billion in 2012, which we view as an immediately addressable opportunity. The same study estimated that the global market for non-software event and meeting management was $22 billion in 2012, which included the additional labor of planning, managing and executing events and meetings using manual processes that we believe can be made more efficient by our platform."
The table below shows the market size of the industry (events and meetings management):

Click to enlarge
Growth Strategy
The company intends to grow its market by:
Aggressively pursue new customers.
Up-Sell and cross-sell existing event planner customers.
Up-Sell and cross-sell existing hotel customers.
Grow its revenue outside North America.
Further monetize the Cvent Supplier Network by creating value for hotels and venues.
Enhance its mobile applications and social media offerings.
Risks:
Normal business risks like: Emergence of new competitors with the better products/services, any adverse change in the Govt. regulations, the economic slowdown etc.
Positives:
Vastly underpenetrated market.
Very positive industry outlook.
Very healthy balance-sheet.
Full range of services.
Unmatched proprietary database.
Valuations:
At $33 per share, the company is available at PE of about 295x (FY 2012).
Conclusion:
The company operates in an industry which is vastly underpenetrated and expected to show huge growth in years to come. Due to its strong balance-sheet, product/service quality and proprietary database the company is all set to get most out of this opportunity. However, at these valuations all the positive (for the company as well for the industry) seems to be priced-in.
Disclaimer: Investments in stock markets carry significant risk, stock prices can rise or fall without any understandable or fundamental reasons. Enter only if one has the appetite to take risk and heart to withstand the volatile nature of the stock markets.
This article reflects the personal views of the author about the company and one must read offer prospectus and consult its financial adviser before making any decision.
Disclosure: I have no positions in any stocks mentioned, and no plans to initiate any positions within the next 72 hours. I wrote this article myself, and it expresses my own opinions. I am not receiving compensation for it (other than from Seeking Alpha). I have no business relationship with any company whose stock is mentioned in this article.