L&L Energy (NASDAQ:LLEN) reported excellent Q4 (April) results. Sales climbed 55% to $63.6 million. Earnings advanced 79% to $.34 a share. Our calculation excludes a non-cash expense of $.05 a share. That deduction was caused by warrants that were issued to help finance a series of new mine acquisitions during the year. L&L Energy's stock price appreciated after they were issued, creating a profit for the warrant owners. GAAP accounting mandated the company record an offsetting expense. Perversely, L&L Energy will show a profit on the position in upcoming quarters if its stock price declines. It's a meaningless number that doesn't reflect on the company's business performance.
Full year results were dynamic. Sales improved 39% to $199.0 million. Earnings widened 66% to $.83 a share. Both figures were adjusted lower as a result of asset sales and purchases that were made during the year. L&L Energy swapped some higher earning properties with declining prospects -- mainly coking coal mines whose output is used in steel production -- for high potential thermal coal mines. The new properties are being developed with lower cost modern technology. And they hold massive reserves. The new mines were included in results from the date of acquisition, for part of the year. The mines that were sold off were removed from "continuing operations" for the entire twelve months. So the previous quarters were re-calculated. Our figures don't adjust fiscal 2012 (April) results, because at that point everything was a continuing operation. The company's official figures do include that change, at their auditors' insistence.
We are raising our fiscal 2014 (April) sales estimate by $10 million to $285 million. Pricing has remained firm in L&L Energy's marketing territory. Output is rising rapidly. Imports from the U.S., Indonesia, and Australia are exerting pressure on coal prices along the coast. But the infrastructure doesn't exist to bring those supplies inland. Demand for coking coal (steel) has stabilized. But thermal coal (heating) continues to be absorbed effortlessly. The standard of living in China is improving. That trend is likely to continue. Our earnings estimate has been reduced by $.05 a share, however, to reflect a higher tax rate and more shares outstanding. The warrants are in the money. Still, a 45% gain to $1.20 a share appears realistic.
A contemplated share listing in Taiwan is on schedule. L&L Energy may issue additional shares to seed the market there. Major coal property acquisitions in Northern China are likely to be funded in part with Taiwan issuances, as well. At current market prices those transactions are likely to be modestly accretive. A more realistic valuation could generate significant earnings leverage, creating a progression that might carry the share price substantially higher.
These shares have exciting potential. The new Chinese government is driving the country towards a standard economic model. The citizens are engaged. There are problems to be solved left and right. Opportunity abounds. Annualized income based on Q4 performance is $1.36 a share, above our full year estimate. However the P/E multiple is computed, it's extremely low in relation to growth and return on capital. There are no immediate obstacles in the company's trajectory.
Longer term, L&L Energy will have to contend with alternative energy, pollution, and water shortages. If coal remains out of favor the company's valuation probably will remain below the market multiple. But the science of climate change is in a quandary right now because worldwide temperatures have not increased at all during the last 15 years. Even if that theory ultimately proves correct, coal could remain a key energy source in the future to counter the higher costs incurred by newer technologies. L&L Energy is a well run company with a proven track record, superior earnings growth, and significant potential to improve its P/E multiple.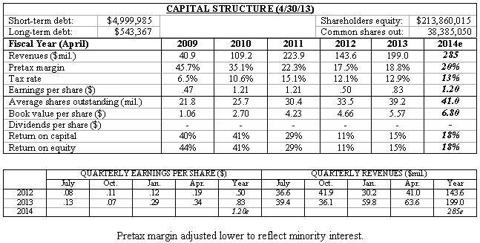 (click image to enlarge)
Disclosure: I am long LLEN. I wrote this article myself, and it expresses my own opinions. I am not receiving compensation for it. I have no business relationship with any company whose stock is mentioned in this article.