I often see people complaining about the fact that some authors just write articles for the sole purpose of seeing how many people click on them. I was curious if I, subconsciously, was doing the same thing, and well, I have come to the conclusion that in a way, I was. Of course we (the contributors) want people to read our articles, not only to increase our earnings, but also because it absolutely feels pointless, discouraging and sad to spend hours on making an article and then to see it only get a few views. It is like no-one has appreciated your effort/work.
It would be very easy for me to write numerous articles just to increase my earnings, but I have always kept giving - what I thought was - correct and good information based on a clear and good analysis as and when I spotted a good company to follow. I always told it exactly as I saw it in my articles. The opinions I give/gave are absolutely honest.
I believe that it should be easier for the readers to spot the real value-givers. I think it would be great if every contributor published once in a while the performances of his greatest calls (long and short).
When I started to write for Seeking Alpha, I decided to follow up my own advice that I was giving to other people through my articles. I decided to launch a virtual portfolio with a starting capital of $100,000 on the 1st January, 2013. Now, 8 months later, I have decided to publish the performance of this "virtual Seeking Alpha portfolio", once again, completely based on 7 of my bullish (I almost never write short articles) published articles which are free to read for everyone who is a member of SA.
This is what the portfolio looked like on August 13:


The first stock I bought was Harman International (NYSE:HAR) based on my article: "Is Harman still worth a buy?" In this article, I mentioned that Harman was at least worth 15 times its earnings, but that it should only be bought after a dip to the $45 price level. I placed a buying order at $45, and it got executed on February first, two days after my article got published.
Then, a few weeks ago on the 26th July, I published a follow-up article of Harman. In this article I wrote:
If BMW & Volkswagen's next quarter figures are good, Harman could easily jump above $60. If not, there will probably be a great buying opportunity.
A few days later, Harman jumped above $60. And now, the stock is already quoting at $70, a 57.58% increase since I first recommended Harman.
My next purchase was Mylan Inc. (NASDAQ:MYL), a purchase I made after I published my bullish article "Why you should hold on to Mylan." In this article, I discussed why people should definitely hang on to Mylan despite its rally of +25% in 6 months. When I published my article, Mylan was quoting against a share price of $28. Now the stock is quoting at a share price of $37, the stock continued its rally and gained another 28.94%.
After this, I had to publish an Instablog about Apple (NASDAQ:AAPL), as my article was deemed "not good enough", "too basic" and "not original enough" to be a premium article. I bought Apple at $405, an excellent buy in my opinion, and I'm still convinced the P/E ratio of this company should at least be around 12 indicating a $500 share price. The stock has increased 20.88% since my purchase.
My next article was a comparison of four retail companies: Gap (NYSE:GPS), Nordstrom (NYSE:JWN), Ross Stores (NASDAQ:ROST) and Unlimited brands (LTD). After my analysis, I concluded the following:
If I had to buy one of these right now, I would buy Gap, as it is seeing higher growth figures, less debt, a higher profit margin and a lower payout ratio than Nordstrom.
Since then, Gap outperformed everyone with a gain of 25.63%.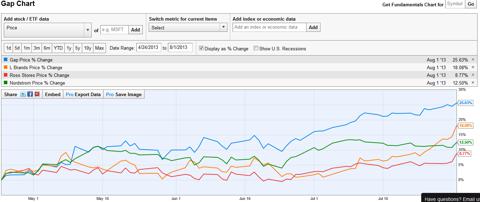 On the 5th of July my first SCI article got published. It was an article about China Cord Blood Corp. (NYSE:CO). Let me quote my latest sentence of the article:
I am convinced that China Cord Blood Corp should at least quote against 17 times (...) the expected EPS of next year which would indicate a share price of $4.76, indicating a 64% upside potential.
Since then, the stock has soared from $2.90 to $4.33, an increase of 49%.
My weirdest bullish article was about Chesapeake (NYSE:CHK) (at the time quoting at $20.05). I wanted to see if investors who bought at all-time-highs would be able to see some of their invested money back within a few years. I used an earnings model and accidentally used a too high discount rate. In the end, I concluded that they definitely would, but that it could take some time. Since I published my article on Feb 12, the stock gained 24%. The recovery came a lot quicker than I expected, but it did what I thought it would do.
The only company that did not perform as I expected was Coach (NYSE:COH). I placed an order on Coach at $50, after my Coach vs. Michael Kors article, as I concluded Coach would be the best bet. And it was for a long time, until Coach published disappointing results. Michael Kors (NYSE:KORS) eventually outperformed Coach, with an increase of 24.44% vs.13.45%. Nevertheless, I remain confident about Coach. A $60 share price would be more justified.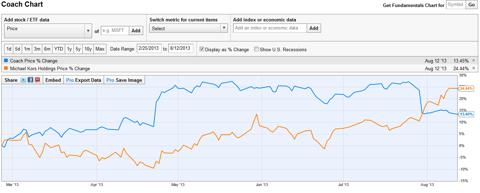 Conclusion
One could say investing is the same thing as gambling. You put in some money, hoping to gain some money, but there always is a risk of losing it all. However, just on the performance of my 7 recommendations one could have gained over 30% in 6 months, as I appeared to be right 6 out of the 7 times. That is a 85% success rate when it comes to my forecasts.
Furthermore, every time I told the reader to stay long or go long, he would have gained some money ( the worst performer was Coach with an increase of only 13%).
It feels good to know that I possibly helped other investors in making a good investment decisions and that they were able to maximize their returns. It is sad, that only a few hundred people, sometimes a thousand, have read my articles. I hope this article points out the value that can be found in my articles and that it will inspire the reader not only to click my 'follow' button but also of other valuable contributors.
Disclosure: I am long COH, AAPL. I wrote this article myself, and it expresses my own opinions. I am not receiving compensation for it (other than from Seeking Alpha). I have no business relationship with any company whose stock is mentioned in this article.
Disclaimer: Started writing this article on the first of August, but because of some delays I was only able to publish it until now. Further suggestions will be made in my next article.