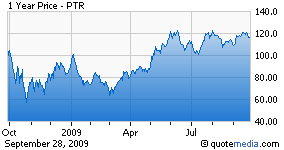 Buy-recommended PetroChina (NYSE:PTR) offers unlevered appreciation potential of 30% to a McDep Ratio of 1.0 where stock price would equal Net Present Value (NPV) of $150 a share. First half results released on August 28 exceeded our estimate from a month ago for unlevered cash flow (Ebitda) and earnings on the highest cash flow in the industry for downstream operations. Relaxation of price controls on refined products drove a dramatic gain compared to a dramatic loss last year.
On the production side, natural gas volume was up 14% over the second quarter of 2008 and 46% a year in the eight years we have been covering the stock. Latest results justify a boost in the relative contribution to NPV from downstream to 15% and from natural gas production to 15%. Oil is the remaining 70% of NPV where the outlook is for growth outside China.
Among international ventures in 2009, the company was a successful bidder to develop the super-giant Rumaila field in Iraq. New oil will likely find a home within PTR where sales of major refined oil products grew 3% in the latest six months over the previous year, despite the global recession. Considering that China burns more coal than any other country, there is a near boundless need for cleaner energy from natural gas and refined oil.
Originally published on August 31, 2009.