BioCryst Pharmaceuticals (NASDAQ:BCRX) has been an outstanding performer this year. Its share price has moved from a 52 week low of $1.08 to a recent high of $6.47. The share price has subsequently fallen to $5.66 post its $20.2m capital raising, but BioCryst and its shareholders are still in a far healthier position than they were.
This share price appreciation was largely due to excitement about the progression of 2 drugs in its clinical pipeline, namely Peramivir and BCX 4161. Peramivir is an intravenous neuraminidase inhibitor used to treat the influenza virus and BCX 4161 is an oral kallikrein inhibitor used to prevent attacks in patients with hereditary angioedema (HAE).
BioCryst is a stock that has regularly moved both up and down with great rapidity, creating a share price chart resembling a rollercoaster ride. The recent downward movement in its share price could be the beginning of the freefall as it is highly unlikely that either Peramivir or BCX 4161 will ever be approved by the FDA.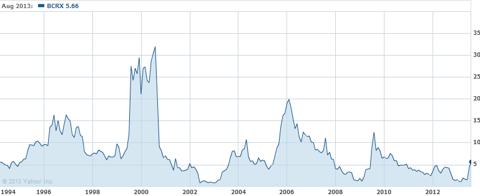 BioCryst has a history of progressing molecules with little chance of reaching FDA approval. BCX 5191 was its antiviral nucleoside targeting the Hepatitis C virus. BioCryst ultimately abandoned development of BCX 5191 after discussion with the FDA about its potential toxicity profile.
It is quite normal for products to fail in the pharmaceutical industry, so in this regard BioCryst is not unique. It is surprising to note however that the United States Patent & Trademark Office awarded a patent that covered BCX 5191 to Biota Pharmaceuticals (BOTA) not BioCryst. BioCryst contested this and continued to spend money progressing BCX 5191 until its ultimate failure.
BCX 4161: The Status Quo
The successful completion of BioCryst's phase 1 safety and tolerability trial has seen BioCryst's share price skyrocket. BioCryst's CEO Jon Stonehouse has also called BCX 4161 "a game changer for HAE patients and their physicians."
HAE is indeed a serious condition but there are already many effective therapies to treat and to prevent attacks. For BCX 4161 to be a 'game changer' in the treatment of HAE, it needs to be safe, effective and convenient.
Convenience - BCX 4161's selling point is its oral administration. Its drawback is its poor bioavailability and pharmacokinetic profile. This means patients taking BCX 4161 tablets absorb very little of it and their body gets rid of what little it does absorb very quickly. If you forget to take your tablet then very little of BCX 4161 will be left in your body.
To overcome this flaw patients need to take a lot of BCX 4161 and they have to do it very often. BioCryst plans for patients in its phase 2a trial to take 400mg of BCX 4161, three times a day.
That is hardly convenient.
BioCryst has been remarkably open about this issue and is actively looking for a second generation molecule with a better pharmacokinetic profile. What most investors would not be aware of is that work done on BCX 4161 would not be applicable to that molecule.
That second generation molecule would need to undergo the same pre-clinical work that BCX 4161 did. It would then need to repeat the phase 1 trial BioCryst has just completed and the phase 2a trial BioCryst is currently planning.
Safety - This is a major concern for BCX 4161. BCX 4161 shares the same mechanism of action (kallikrein inhibition) as Ecallantide, developed by Dyax Corp (NASDAQ:DYAX).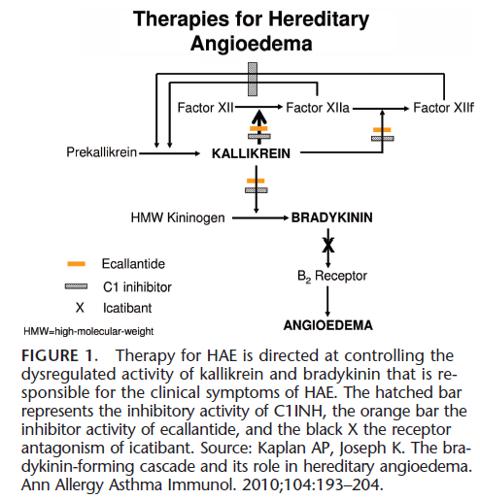 Ecallantide now has a black box warning. This is the most serious warning about the safety of a medication that the FDA applies. Ecallantide was given this black box warning after post-marketing surveillance as up to 4% of patients with it developed an anaphylactic reaction.
In patients who develop angioedema this is potentially fatal.
To date BCX 4161 has only been tested on normal volunteers who process bradykinin differently to people with HAE. Participants in a phase 1 trial would be far less likely to have an anaphylactic reaction to BCX 4161.
Even after completing the upcoming phase 2a trial, BCX 4161 would not be out of the woods. Uncommon problems can be missed during clinical trials if the trial population is small and not enough HAE patients would have been dosed by that stage to exclude an association with anaphylaxis.
The significant association between Ecallantide and anaphylaxis was missed in Dyax's clinical program even though up to 4% of patients are affected. A successful phase 3 trial would be required before BCX 4161 could be deemed safe and would likely need post-marketing surveillance.
Efficacy - Again BCX 4161 has only completed a phase 1 trial. It has not been tested on a patient with HAE. In this case, having the same mechanism of action as Ecallantide is a positive. If BCX 4161 can inhibit kallikrein sufficiently, it should be able to prevent attacks in HAE patients
Peramivir a Peramiflop
The rescindment of a stop work order on the development of Peramivir saw BioCryst's share price rise in April. Peramivir has been developed with a $234.8m grant by the Biomedical Advanced Research and Development Authority (BARDA).
BioCryst is reimbursed for all expenses that it incurs in this process. Under these conditions it is in BioCryst's interest to continue Peramivir's development even with a low probability of success.
BioCryst's phase 3 trial for Peramivir was terminated early by its independent data monitoring committee for futility. At the time, BioCryst's Chief Medical Officer, Dr. William Sheridan stated "… it is unlikely that Peramivir development for US registration will continue."
BioCryst also changed its study design to enhance the capacity of Peramivir to obtain a positive result. The altered protocol, compared Peramivir to placebo rather than Tamiflu (Oseltamivir) developed by Gilead Sciences (NASDAQ:GILD).
Fortunately for Peramivir it has little in the way of competitors. Unfortunately, this is because of its limited indications. Peramivir would only be indicated in obtunded patients, not being fed nasogastriclly and hence requiring intravenous treatment options. This would be due to Peramivir's likely high cost and equivalent efficiency to Tamiflu.
The vast majority of people affected with the influenza virus would be treated with the other neuraminidase inhibitors. These are Tamiflu, Relenza (Zanamivir) licensed by Biota Pharmaceuticals to GlaxoSmithKline (NYSE:GSK) and Laniminavir developed by Biota Pharmaceuticals and Daiichi Sankyo (OTCPK:DSKYF).
Intravenous Zanamivir is the only direct competitor to Peramivir. GlaxoSmithKline is currently recruiting patients for its phase 3 trial comparing intravenous Zanamivir with Tamiflu. This trial is due to be completed in February 2015.
Both Peramivir and intravenous Zanamivir were temporarily approved by the FDA for use during the 2009 H1N1 pandemic. Peramivir has also secured some revenue for BioCryst with approvals in Japan and Korea but this has been minimal.
Like Tamiflu there have also been some concerns regarding Peramivir's resistance profile.
Conclusion
BioCryst may end up developing a successful orally available molecule to treat patients with HAE, but this will not be BCX 4161. If you are interested in BioCryst for BCX 4161 you should consider taking some profits off the table given the stunning run up in its share price.
For investors interested in BioCryst for Peramivir, I suggest you look elsewhere. Laniminavir, in particular may be a game changer in the influenza space and I have written more about it and Biota Pharmaceuticals here.
Disclosure: I am long BOTA. I wrote this article myself, and it expresses my own opinions. I am not receiving compensation for it (other than from Seeking Alpha). I have no business relationship with any company whose stock is mentioned in this article.