I recently had the pleasure of reading Harry Long's "You're Welcome Planet Earth: The Most Powerful Trading System Ever Publicly Revealed." The book is broken out into two sections. The first section describes Long's systematic approach to investing. The second section, amazingly, reveals a trading system developed by Long.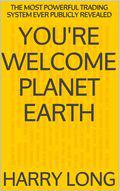 "You're Welcome Planet Earth" is different than most investment books. This is not a book that provides insightful technical analysis and the latest methods of reading charts. This is not a book that tells you to go to your local shopping mall and gather stock ideas based on the latest consumer trends. This is a book that may provide the reader with a different perspective on how to approach investing.
Long's systematic approach should challenge the thoughts and perspectives of many investors. The approach is scientific in nature, with objective rules that rely on the observation and analysis of data. One such mathematical discovery is revealed in Chapter 4. To learn this secret however, one must buy the book!
Over the past four years, the revealed strategy has dramatically outperformed the S&P 500, with very little correlation to the S&P 500. Thus, the reader can adopt the strategy as one part of an overall portfolio. Long advises that such an approach may be advisable, but in the end the reader will be responsible for his or her own decisions.
As one may infer at this point, it is rare that an investment manager would develop a highly successful system and share it with the world. It would seem intuitive that an investment manager could exploit an investment strategy for a longer period of time if others were left unaware of the trading strategy. Perhaps this can best explain the chosen title for the book - "You're welcome Planet Earth." Harry Long shares with the reader a successful strategy that most other individuals would be unwilling to share.
One can backtest the revealed strategy to determine its success. As mentioned earlier, Harry Long has actually performed this analysis for us over a recent four-year time horizon. However, it may be more interesting to observe the success of the strategy over the upcoming years. Will revealing the strategy to the world decrease the strategy's effectiveness? If so, over how long a time period will it take? As the strategy may rely on market inefficiencies, the system could stop working if the market inefficiencies cease to exist. There are no recognizable answers to these questions - it will be interesting to observe over time.
For those readers who appreciate a succinct writing style, this book should be a perfect match. The book itself is approximately 40 pages, with not a word wasted. Even if the reader opts to not implement the strategy described in the book, there is much to be learned about trading systems and approaching the market in a less conventional manner.
Overall, "You're Welcome Planet Earth: The Most Powerful Trading System Ever Publicly Revealed" is a fantastic read and a must for the serious investor. My only hope is that Harry Long follows this book with others.
Disclosure: I have no positions in any stocks mentioned, and no plans to initiate any positions within the next 72 hours. I wrote this article myself, and it expresses my own opinions. I am not receiving compensation for it. I have no business relationship with any company whose stock is mentioned in this article.