On Wednesday, August 14th, Plains All American Pipeline (NYSE:PAA) announced the discontinuation of the relationship between its wholly-owned subsidiary, Plains Midstream Canada ULC and Keyera (OTC:KEYUF) with regard the construction and operation of the proposed Western Reach Pipeline system in Alberta's Deep Basin.
Although the move suspends the relationship between Plains Midstream Canada and Keyera, it doesn't rule out the possibility of Plains All America one day seeking an opportunity within Alberta's Deep Basin. According to the press release associated with Wednesday's announcement, the company actually hints at the fact that PMC is pro-active in seeking a potential relationship.
The release notes that, "PMC continues to evaluate opportunities to participate in the expected growth in natural gas liquids volumes in Alberta's liquids-rich Deep Basin region, whether through the construction of an NGL and condensate pipeline system similar to the proposed Western Reach pipeline, other newly constructed facilities, expansion of existing pipelines or facilities, or a combination thereof". In this article I not only want to examine an overview of Alberta's Deep Basin region, but highlight why I think Plains All-American should seek a partnership within the region over the course of the next 6-12 months.
Alberta's Deep Basin: An Overview
The largest natural gas field in North America was discovered in 1976 in the "Deep Basin" of Alberta. John Masters of Canadian Hunter in 1978 calculated that the Deep Basin could potentially contain at least 440 trillion cubic feet of recoverable natural gas, almost seven times the amount that was then recognized as the total recoverable amount in both Alberta and British Columbia back in the mid-1970's.
According to G.E. McMaster, "the "Deep Basin" straddles the Alberta - British Columbia border in front of the over thrust belt in the western edge of the Alberta Sedimentary Basin, by covering some 26,000 square miles (67,000 km2)"and consists of two very basic reservoir types. The reservoirs the "Deep Basin" consists of are what are known as conventional and tight. Mr. McMaster goes on to note that, "Conventional reservoirs consist of medium-grained sandstones to conglomerates with porosities of 8% to 12% and permeability's in the millidarcy to darcy range that exhibit unstimulated flows in the range of 1 million to 28 million cubic feet per day. Tight reservoirs or low-permeability fine-grained sandstones (generally less than 100 microdarcies), have porosities in the 4% to 7% range with natural flows of 100 to 750 thousand cubic feet per day (2,800 to 21,000 m3/d)".
By fast forwarding to the present day we can see that not only were both Mr. Masters and Mr. McMasters correct in their estimates, but the fact that nearly 39 trillion cubic feet remains undiscovered (within the Deep Basin) and an additional 500 trillion cubic feet may still exist within the coal bed methane resources of Alberta only demonstrates how resourceful the region actually is. With that said, I strongly believe that either forming a relationship or establishing a partnership will be a key step in the right direction for both Plains Midstream Canada and Plains All American.
Plains All American: Fundamentals and Trend Status
Plains All American Pipeline currently trades at a trailing 12-month P/E ratio of 19.05, which makes that stock quite affordable at present levels and even cheaper when we take into consideration the fact that shares also carry a forward P/E ratio of 18.50. Next year's estimated earnings are $2.85/share and I'd consider the stock cheap until at least $62.50/share. Plains All American's margins have demonstrated some strength over the past several months as the company carries a gross margin of 6.40% and an operating margin of 4.70%. It should be noted that Plains All-American has roughly $19.44 billion in assets and nearly $6.31 billion in total debt.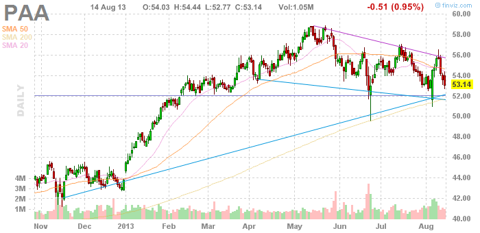 Based on Wednesday's closing price of 53.14/share, shares of PAA are trading 2.63% below their 20-day simple moving average, 2.94% below their 50-day simple moving average, and 2.78% above their 200-day simple moving average. These numbers indicate a short-term and mid-term downtrend for the stock and a long-term uptrend for the stock, which translates into a near-term selling mode and a long-term buying mode for most traders.
Conclusion
For those of you who may be interested in establishing a position in Plains All American Pipeline, I'd keep an eye on not only what the company does within the Deep Basin but the number of potential partnerships it seeks out over the next 12-24 months. Given the fact that the Canadian province of Alberta possesses an estimated 539 trillion cubic feet of natural gas, it only seems natural that PAA would begin seeking out potential partners for its wholly-owned subsidiary, Plains Midstream Canada.
If such a partnership were to occur in the next 6-12 months and a reasonable timetable with regard to construction and operations were established, I see no reason why the stock shouldn't be trading 4%-8% higher. If, on the other hand, a partnership fails to come to fruition, then shares of PAA could see a partial sell-off due in part to the fact management may not have been as willing to seek out potential partners as was once the case.
Disclosure: I am long PAA. I wrote this article myself, and it expresses my own opinions. I am not receiving compensation for it (other than from Seeking Alpha). I have no business relationship with any company whose stock is mentioned in this article.