ClearOne (NASDAQ:CLRO) is a provider of audio and video equipment. The company produces teleconferencing equipment for commercial and institutional use, but some of the company's products have additional applications in healthcare and education. Although the stock is up 99% since January, it still has the potential to move higher. The 1 year target estimate for ClearOne is $10.80, which represents a 25% gain from current levels. Earnings growth has been very strong over the past few years and it appears that this growth will continue into 2014. In addition, several new products are set to launch this year.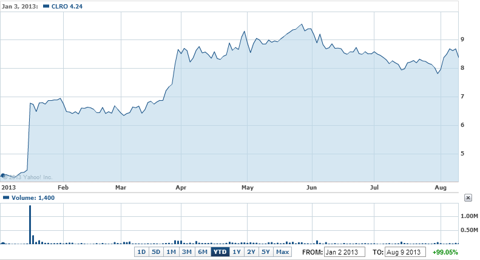 Click to enlarge
Key Statistics
| | |
| --- | --- |
| Market Capitalization | $76 million |
| Float | 6.07 million |
| TTM P/E | 2.89 |
| Return on Equity | 50.34% |
| EPS | 2.92 |
| Debt to Equity | 0 |
| Price to Book | 1.12 |
| Profit Margin | 57.34% |
Current Products
ClearOne currently has a diversified product portfolio. ClearOne's products fall into three groups: professional audio, unified communication audio end points, and visual communication products. Professional audio contributed to 70% and 73% of the company's total revenue in 2012 and 2011, respectively. The professional audio conferencing product lines are Converge Pro and Converge SR. Professional audio products feature HDConference and Distributed Echo Cancellation, which can enhance a conference call by eliminating echo and background noise. ClearOne currently occupies the number one spot in the global professional audio market with a 50% share. ClearOne's unified communications segment product lineup includes traditional tabletop phones and affordable personal conferencing products. Unified communications is a much smaller segment than professional audio. Products that are apart of the visual communications segment are grouped into three categories: digital signage, streaming, and video conferencing. The company's COLLABORATE videoconferencing solutions are unique because they include embedded multipoint video conferencing, built in recording and streaming, and built-in interactive multicast.
Future Products
In addition to the impressive products that the company currently has, new products are set to launch in the near future. The company laid out the details for these exciting new products in its second quarter earnings conference call. At InfoComm 2013 the company showcased a number of its new products. VIEW, the company's multimedia streaming solution, and COLLABORATE, the company's software-based video conferencing solution, were both shown. The powerful new media engine was derived from technology integrating VCON and StreamNet technology. The company believes that several of its customers actually delayed purchase decisions in the second quarter in anticipation of the launch of these products and the new products were well received at InfoComm. These new products will be shipped at the end of the third quarter. If what was said in the earnings call is true then the company could have a strong end of the year. Although the news from ClearOne's earnings was positive, its possible that the results could have been even stronger if it were not for the new products.
Recent Distribution Agreements
On the sales channel front, ClearOne has recently signed major distribution partners in Europe and the U.S. These new distribution partners will help to expand the reach of ClearOne's audio video products. ClearOne singed three major distribution agreements with multibillion dollar IT companies in Europe during the second quarter. On July 24, An agreement was signed with Almo Professional A/V, which gives Almo access to ClearOne's software solutions. Almo Pro A/V is the fastest growing A/V distributor in the U.S. Since the company has a healthy cash position, they will continue to evaluate modest acquisitions.
Earnings and Revenue Growth
ClearOne CEO Zeynep Hakimoglum announced in the company's second quarter earnings conference call that the company managed to achieve its fourth consecutive quarter of year over year revenue growth. However, the revenue was weak at under 1%, but the company did manage to grow revenues despite a weak macroeconomic environment. While quarterly revenues increased by a very small percent on a year over year basis. Quarterly earnings grew by incredible 81.70% on a year over year basis. According to Fidelity, ClearOne's EPS has grown by 42% while the average communications equipment company has only grown its EPS by 4.53%. ClearOne has a projected EPS growth rate of 18.87% for 2014.
Balance Sheet
The company's balance sheet looks very healthy. The company's total assets and liabilities each nearly doubled from 2011 to 2012. Most importantly, the company has a debt to equity ratio of zero and the company has been debt free for the past 5 years. The current ratio is at 6.25, which is a good indicator that the company is healthy. Cash per share is $3.60 and the company has $32.7 million in cash.
Competitors
Two of ClearOne's competitors are Polycom (NASDAQ:PLCM) and Citrix (NASDAQ:CTXS). Polycom is in bad shape compared to ClearOne. The company's quarterly revenues have dropped by 4% and its EPS is currently negative. Citrix, the owner of GoToMeeting, has been much more successful than Polycom. Citrix is considerably larger than ClearOne with a market capitalization that is in the billions and revenue that is in the billions. However, ClearOne has higher margins and the company is higher growth than Citrix.
Conclusion
ClearOne is the leader in the communication equipment industry and has both a strong balance sheet and a strong EPS growth history. Today ClearOne's products are primarily used for commercial and institutional use, but they have the potential to be used in other areas like healthcare and education. In addition, the company is the global leader in professional audio, which accounts for 70% of the company's sales. The company has a healthy cash position and they have just begun a $10 million share buyback program. The big news from the company lately has been its partnerships and the launch of new products. Both of these two things will continue to drive growth. If the company is correct then the end of year results should be strong due to these products and the company's belief that customers are holding back new orders until launch. Also, the stock is a better buy than its competitors. Now may be the time to buy ClearOne because of recent strong quarters and because of the potential for that growth to continue into next year. However, it is important to remember that the stock is thinly traded and it has a small market capitalization.
source: data from Yahoo! Finance
Disclosure: I have no positions in any stocks mentioned, and no plans to initiate any positions within the next 72 hours. I wrote this article myself, and it expresses my own opinions. I am not receiving compensation for it (other than from Seeking Alpha). I have no business relationship with any company whose stock is mentioned in this article.