Bonds have become increasingly risky in recent months with all of the "taper" chatter from the Fed, but even more risky have been the high dividend paying stocks that are also experiencing extreme share price devaluations. Of particular note recently is Annaly Capital Management (NYSE:NLY), which has seen its share price tumble from a 52-week high of $17.75 down to its current $12.00 price. That's a 32% drop from its high - ouch! All the while, dividend investors have only received $1.80 in dividends from this historically high dividend paying stock. With the Fed's tapering expected to begin in the next few months, what's a fixed income or dividend investor to do with their capital? This article doesn't focus on NLY's management's abilities to lead the company going forward or on the broader mortgage REIT industry as there are many other articles on SA that debate those topics. Instead, the below is an outline for a potentially lucrative and relatively safe investment through January 2015 in NLY.
Fixed Income Investments:
Fixed income investors started to really feel the pain in May when the Fed's hint at tapering was communicated. The 10-year treasury yield has risen around 100 basis points from a low of 1.60% to its current 2.60% in only a few short weeks. The inverse relationship between bond yields and prices has decimated returns on bonds in that time. The below chart of the iShares Barclays 20+ Year Treasury Bond fund (NYSEARCA:TLT) shows that the return in this ETF has been -15% since the beginning of May. Market sentiment seems to be that the trend of rising rates will continue as the Fed pulls back on its quantitative easing, so owning bonds for the near future seems like an unwise investment in this interest rate environment.

Click to enlarge
(Click to enlarge)
A Dividend Play Alternative:
The above chart also shows that owning high dividend paying stocks hasn't paid off either since the beginning of May. However, using puts and calls along with owning NLY, an investor can make a much less risky dividend investment play. The investment I'm proposing is going long stock in NLY at $12.00 (300 shares in my example), selling an equal number of calls on the stock with a $13.00 strike in January 2015 (3 call options), and buying slightly fewer puts on the stock with a $13.00 strike in January 2015 (2 put options). The investment removes most of the upside potential for the stock, it also removes a substantial amount of the downside risk in the stock, and it leaves what is hopefully a hefty dividend for you to collect. The ideal outcome is for a slight recovery in the stock and steady or rising dividends, but as you can see in the chart below, you will be relatively better off than owning bonds if recent returns on TLT are any indication.
The potential returns in the chart show that even if NLY holds steady with both its current stock price and its dividend through January 2015, then the Holding Period Return would be a healthy 11.40%. In the more bullish case, the stock price rises to $13.00 or above (where it would be called away at $13.00 in January 2015) and the dividend also rises back to $0.50 per quarter, in which case the Holding Period Return would be 18.30%. In the most extreme downside case, the stock price collapses another 25% to $8.00 and the dividend also falls 25% to $0.30 per quarter, in which case the Holding Period Return would be -3.00%. (If the stock price and dividend were to completely fall apart then your exposure would only be on the 100 shares not covered by the 2 puts purchased, so be mindful of a complete collapse in NLY.)

Click to enlarge
(Click to enlarge)
The above chart shows the Holding Period Return from today through January 2015 and does not account for dividend reinvestment risk.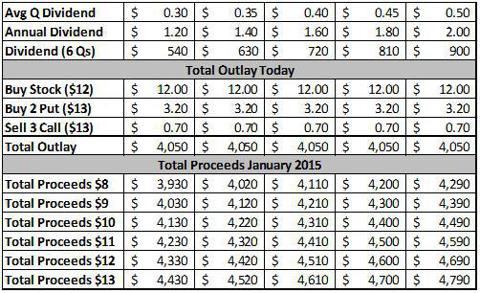 Click to enlarge
(Click to enlarge)
The above chart assumes $20 fee to put the trade on and $10 fee for the unwind in January 2015. "Total Proceeds January 2015" includes the 6 dividends expected to be received between today and January 2015.
Conclusion:
As the above chart shows, the downside risk in this investment is minimal and can be further managed fairly easily as well. If you are looking for alternatives to fixed income investments or safer ways to invest in high dividend paying stocks, then this investment may be right for you. A lot could happen with interest rates leading up to 2015, so it could be wise to use an alternative investment structure to generate solid returns.
Note that this is not an investment for share price appreciation and is not meant to be viewed as such.
Disclosure: I am long NLY. I wrote this article myself, and it expresses my own opinions. I am not receiving compensation for it (other than from Seeking Alpha). I have no business relationship with any company whose stock is mentioned in this article.