I've seen and heard many retail investors (people like you and I) contemplating buying stocks in recent weeks. What they are interested in particular is the banking sector. The thought of buying Citi (C) or Bank of America (BAC) has come to me several times. What kept me away? My inability to value anything on their balance sheets. Even if I could value them, I do not believe them to be of true value (because the mark-to-model accounting method). Fundamental analysis aside, I can present you some analysis using my technical skills. The last thing I want to see is a friend or family going out to buy bank stocks and seeing their money get cut in half. So let's take a look at Bank of America and Citi.
Bank of America
This survivor acquired one of the biggest names in the mortgage industry as well as a brokerage firm during the crisis. The chart tells an amazing story. The stock hit a low of $2.52 then rallied to $18.24. If you were able to catch the low and high, you would have gained 623.8%. What if you missed it but are now looking at BAC and saw that it was once at $48? At $16, it could still gain 190% if the stock goes to the high. As a student of the market, I can tell you that it will probably take a long time for this stock to test its high.
If you are looking to buy, I recommend watching the $15 and $12 range. I expect the stock to break below $15 rather quickly and $12 will become a strong support. If you want to get into BAC, wait until the stock trades down close to $12. If you buy it at $12 and you sell at $15, that's still a 25% move. Don't be afraid to sell.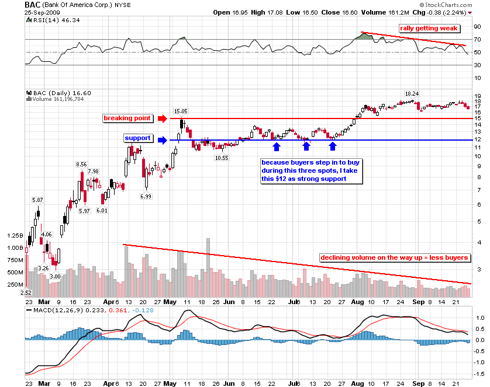 Citibank
The one stock everyone wished they bought at $1. I wonder if the same people have the same wish for Bear Stearns, Lehman, Wachovia, Washington Mutual, Freddie Mac (FRE), Fannie Mae (FNM), and A.I.G.? In hindsight, we see 20/20. I didn't have the courage to buy it then and I still don't have the courage to buy it now. The chart tells me this is a trading stadium full of gladiators. The trading range of $4.25 and $2 is amazing because that is a 112.5% upside OR -53% downside. The green box tells me there was a strong accumulation during August and those investors will be able to protect their profits well. At $4.25, a good support is there but if the stock fails to hold that level, I can see it fall to $2.
If you want to invest in Citi, I would buy half of the position around $4.25 and buy the other half around $2.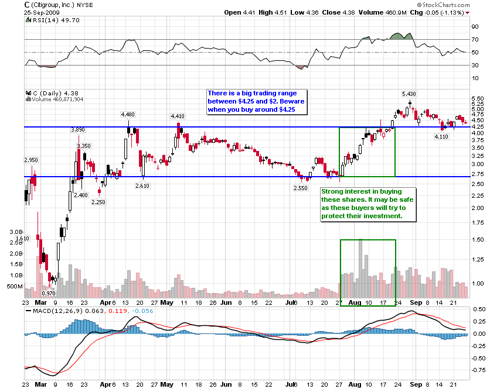 Psychology drives short-term price but value determines long-term price.
Before you invest, understand that if your investment declines 50%, your investment need to double (100% gain) for you to break even. Know your risk and don't be afraid to take profit or cut your loss.