With the industrial metals having risen on the good European news and hopes that the world economy is turning around we feel we did a good job pointing out that opportunity when it was present. Silver has of course done better than palladium, but we continue to see the chart trend higher and as soon as the $750/ounce resistance level can be broken we think that $25/ounce upside could be achieved in short order. The 'Chart of the Day' shows a 24 hour live chart for the past 3 days and today's price action (the green line) shows a hit at $750/ounce and a subsequent 'backdown'.
Chart of the Day: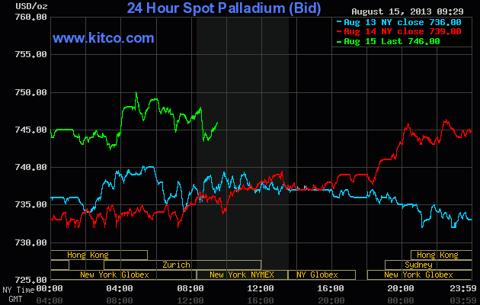 Source: Kitco
Commodity prices this morning are as follows:
Gold: $1325.60/ounce, down by $7.80/ounce
Silver: $21.80/ounce, up by $0.013/ounce
Oil: $107.03/barrel, up by $0.18/barrel
RBOB Gas: $2.9787/gallon, down by $0.0043/gallon
Natural Gas: $3.32/MMbtu, down by $0.022/MMbtu
Copper: $3.3035/pound, down by $0.0365/pound
Platinum: $1503.80/ounce, down by $1.40/ounce
Precious Metals
For readers who purchased Silver Wheaton (NYSE:SLW) to play a bounce in silver prices we think that now is the time to book profits there and move on as the stock closed at $25.14/share yesterday after rising over 4%. The recent rise has been rather dramatic and quick and with the recent gains we think that there is little upside left on the table without physical silver prices catching up first. If one still wants to keep the silver exposure then a rotation from Silver Wheaton to silver would work as there is less downside risk but the bottom line is that we believe in the short-term that Silver Wheaton has now reached or is quickly approaching overbought territory.
Oil & Natural Gas
We have noticed Talisman Energy (NYSE:TLM) trading near 52-week lows recently and received a few questions regarding the name after yesterday's price action. Right now we would not be buyers of the shares. If we owned the shares we would not be sellers here as we think that there is probably a better exit point which will present itself in the next quarter or two but in reality this has become a value trap. The latest strategy by the company to somehow grow the company without growing the company makes little sense, especially when you think of comparing their growth plans to peers. It is hard to match up with the competition in EPS, revenue and production growth when you refuse to take on further debt or increase capital expenditures by any meaningful number. What was once a great Canadian E&P play is no longer...and sadly has not been for some time. We really hope management figures this out before it is too late because the latest quarterly results gave us little confidence they were on the right path.
This is not a pretty chart, but the good news is that it does appear that the stock is near some support and should bounce higher so long as the management team gets its act together.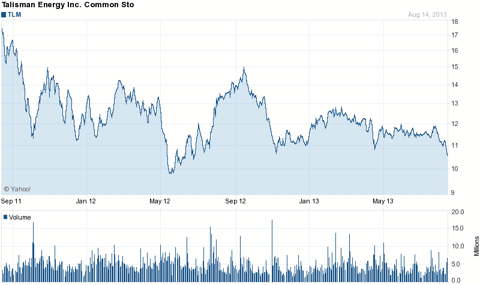 Source: Yahoo Finance
Whereas Talisman is at lows, Goodrich Petroleum (GDP) has been stringing together some solid sessions and although the shares finished down yesterday they were green during the day and managed to hit a new all-time high. Yesterday the company priced $120 million in nonconvertible perpetual preferred stock which we think will turn out to be a good move going forward. Common holders are not diluted, interest rates are low and the company raises capital which really does not impede its traditional financing methods moving forward. This will go a long way in allowing Goodrich to further develop the Tuscaloosa Marine Shale, or TMS, and get top dollar for any future joint venture or acreage sale.
There has been a big run-up here, but if the results from the TMS continue to impress, then the chart shall continue from the lower left to the upper right.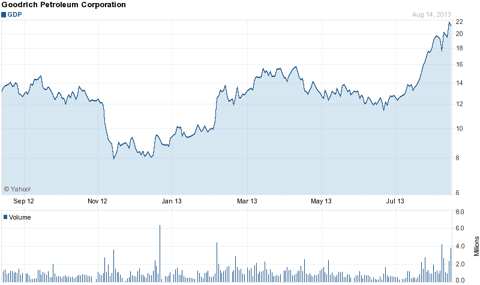 Source: Yahoo Finance
Coal
The beaten down coal names continue to rally and yesterday saw Alpha Natural Resources (ANR) come out of what we describe as 'Category 4' and into the more normalized 'Category 3' where we feel investors can be more neutral on the shares. Yesterday's 5% move higher took the shares over $6/share and put a little bit of room between the area where we would once again have to become worried. The downward trend had not yet approached what Cliffs Natural Resources (NYSE:CLF) went through this past year where we dedicated a recurring section of our morning updates to 'Cliff Watching' which generally dealt with 'Cliff Diving' and 'Cliff Falling' but it was raising red flags, especially as the entire industry was being pulled lower. Both Cliffs and Alpha have made big moves higher but we are not yet ready to go bullish here. We need to confirm that the underlying business has improved and that remains unseen at this point, especially after the past quarter for the industry.
The big move is after breaking out past the most recent peak and if the economy continues to improve it could take shares towards $7/share but the coal business is still bad and at the end of the day that speaks more to us than momentum from day traders.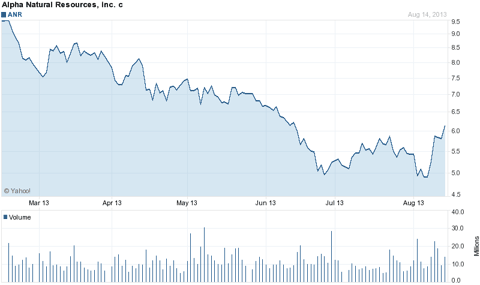 Source: Yahoo Finance
Disclosure: I have no positions in any stocks mentioned, and no plans to initiate any positions within the next 72 hours. I wrote this article myself, and it expresses my own opinions. I am not receiving compensation for it (other than from Seeking Alpha). I have no business relationship with any company whose stock is mentioned in this article.
Additional disclosure: I do own physical silver.