TRI Pointe Homes (NYSE:TPH) reported very strong earnings for the second quarter of 2013. I listened to the webcast to get some color beyond the prepared release and remarks, especially since the initially strong response in the stock faded almost completely by the close. This reversal of fortune is very similar to what happened after TPH reported earnings for the first quarter in mid-May.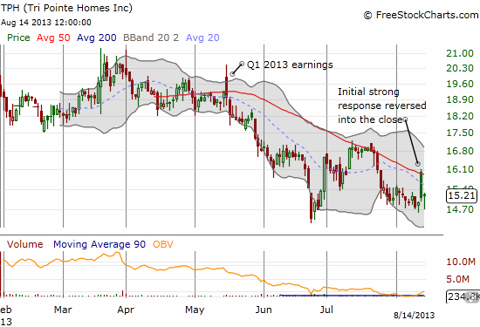 TPH fades again post-earnings. Struggling to hold all-time lows.
Year-over-year results were strong, and TPH raised guidance for the year. Net income per diluted share jumped from $0.09 to $0.07. Home sales revenue jumped from $7.7M to $47.5M. New home orders hit a company best of 131, up from 38. Cancellation rates are at a company low of 6.3%. Homebuilding gross margin surged from 12.0% to 19.3%; adjusted homebuilding gross margin increased from 12.9% to 20.3%. Average sales price of delivered homes increased 28% to $522,000 mainly thanks to deliveries of homes in Northern California. Orange County and the Bay Area (Northern California) saw prices increase between 7 to 16% year-to-date.
Based on strong demand, growth in the backlog, and high absorption rates, TPH upped its revenue and margin guidance and provided EPS guidance for the first time. TPH will open two new selling communities in Southern California and one in Northern California, bringing the total to 9 for the year. TPH now expects to deliver 370-380 homes, up from previous guidance of 350-360. Expectations for $215-220M in home sales revenue, up from $205-210M, are based on an approximate average sales price of $585K (there could be some upside in this price based on pricing power). TPH expects margins to continue increasing over the course of the year even as costs increase 10-15%. The company expects mix and pricing power to drive average sales prices higher through 2014. TPH's initial guidance for diluted earnings per share is between $0.40 to $0.42 cents. The vast majority of earnings will be recorded in the fourth quarter.
At TPH's current stock price, this gives an approximate P/E for 2013 of 37.1. This valuation is actually quite reasonable given the earnings increase from a very small base.
TPH's bullishness is matched by its land acquisition strategy. The company purchased 591 lots with a value of $61.3M and maintains enough inventory for three years of sales (2,650 lots owned or controlled).
The company insisted that interest rates are not the most important drivers of housing demand. TPH pointed to consumer confidence, household formation, and employment as the key ingredients. Consumer confidence is relatively high nationwide, but employment and household formation remain lackluster. TPH has of course strategically built its communities where job growth is strong (and presumably household formation relative to available inventory is above the national average).
TPH says it has not seen a slowing in demand in any of its communities across Northern and Southern California or Colorado. Traffic and buying demand remains strong in all segments and markets. However, the absorption rates were abnormally high in July, and TPH will be increasing price to slow things down (bring demand in line with supply). TPH acknowledges that interest rates do impact pricing power. It went unsaid, but I assume the impact is to reduce pricing power, yet TPH noted its pricing power is, and will remain, strong.
So with these bullish results, why the sour response? Clearly, the market refuses to believe these results are sustainable - even increased guidance is getting ignored. This is both an opportunity and a warning. It is a fantastic opportunity to get in on a strong homebuilder at very attractive prices. TPH is well-positioned in strong markets and will benefit greatly from an improving economy. The poor market response is also a warning that the disconnect could be in management's expectations. We will know in due time who is correct, but on balance, it seems that investors need not rush any accumulation of homebuilder stocks. TPH remains the only stock I have accumulated in this second phase of trading these stocks: I like TPH for its high concentration in California's resurgent housing market.
I did not expect to be in August, 2013 without purchasing any of my targeted stocks for 2013, but I think the continued caution is warranted. Almost all the homebuilder stocks in my watchlist have completely reversed gains for the year and in many cases are trading in negative territory: KB Home (NYSE:KBH), Hovnanian Enterprises (NYSE:HOV), M.D.C. Holdings (NYSE:MDC), Beazer Homes (NYSE:BZH), Toll Brothers (NYSE:TOL), Lennar (NYSE:LEN), Pulte Home (NYSE:PHM), D.R. Horton (NYSE:DHI), and Ryland Group (NYSE:RYL). Only Meritage Homes (NYSE:MTH) has managed to remain in positive territory.
I find it interesting to contrast the poor response to homebuilders with the generally positive response that Whirlpool (NYSE:WHR) received for its very bullish guidance on July 19th in hiking expectations for demand in North America.
From the Seeking Alpha transcript of the earnings call (emphasis mine):
These results mark the sixth consecutive quarter of the year-over-year ongoing business operations margin expansion…the seventh quarter of year-over-year ongoing business operations margin improvement…

Given the strong underlying trends that we see in our business, we are raising our full year ongoing business operation EPS outlook to $9.50 to $10 per share, up $0.25 from our previous guidance; and our free cash flow to between $650 million and $700 million, up $50 million from our previous guidance…

In North America, we're increasing our industry demand assumption to be up 6% to 8% for the year as we continue to see very positive trends in U.S. housing, as well as pickup in really all segments of the market from a demand perspective…Positive trends in U.S. housing continue, including both new construction and existing home sales. In addition, we see demand for replacement purchases, as well as improving consumer confidence…

…The other side of this is with a little volume growth in North America, you start to see the power of all the productivity and the lowering of our fixed cost that were taking place over the last 2 years and so on. So the productivity lever is delivering very strong.
Adding to the bullish momentum, WHR increased its dividend by 25% back in April and relaunched its buyback program in the second quarter with $320M left to spend under its current authorization.
Continuing with the bullish assessment of North American demand, particularly in the U.S.:
…we are seeing, we think, sustainable, profound demand recovery in the U.S. marketplace. Over the last 1.5 years, we've talked about being down 28% from the peak, that we were much lower, under the curve, 30-year growth curve, and never above it. And that someday, this market would recover, particularly housing becoming solid, on a solid foundation and growing, and that we might see double-digit demand growth sometime in the next 3 years. Well, it started sooner than we thought. It is recovering. We think it's sustainable, and we think it's a multiyear recovery…

…we're very bullish on the structural demand drivers in North America that is housing, that is replacement, that is consumer confidence.
So, even with continued weakness in demand in Europe, a hiccup in Brazil due to social and political unrest, and a flat year-over-year forecast in revenues for Asia, WHR's stock jumped 8.0% after earnings. The stock is currently up 11.0% post-earnings and just below an all-time high.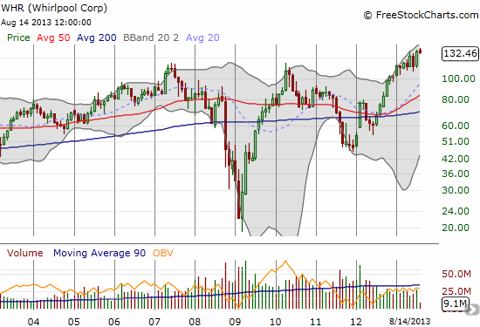 Whirlpool just under its all-time highs
Source: FreeStockCharts.com
I think a major disconnect exists in the way homebuilder companies are being treated versus other companies highly dependent on a strong housing market. Most are declaring messages from the same themes. Whirlpool is still able to ride a story of improved margins and strong leverage. The margin story is no longer working for homebuilders (and granted a few homebuilders threw up stinkers this past earnings season: DHI and PHM). This disconnect should get resolved in due time. In the meantime, I am still getting ready to accumulate more homebuilders on lower prices.
Be careful out there!
Disclosure: I am long TPH. I wrote this article myself, and it expresses my own opinions. I am not receiving compensation for it (other than from Seeking Alpha). I have no business relationship with any company whose stock is mentioned in this article.