A few oil sector companies recently posted earnings that disappointed some investors. This has led to a solid buying opportunity for those who take a longer-term view on investing. Buying shares in companies with solid long-term prospects makes sense, especially when stocks can be bought cheap, after a short-term disappointment.
The U.S. economy is seeing solid growth in the auto and housing sector and this has led to strength in other areas. Recent economic data from China has been better than some analysts expected and European stocks have been showing strength due to better than expected GDP data in key countries like France and Germany. If the economy in the U.S., China, and Europe continues to improve, we could be looking at much stronger demand for oil and gasoline in the coming months and years. That's one big reason why buying the pullbacks in oil stocks is likely to pay off nicely for investors. With this in mind, here are 3 oil sector stocks that have recently declined, and are now cheap and likely to rebound shortly:
TravelCenters of America (NYSEMKT:TA) operates about 247 locations across the United States, where it provides food, fuel, truck and auto repairs and convenience stores to individuals and truckers. It has about 171 sites that operate under the "TravelCenters of America" or "TA" brand names and other locations are operated under the "Petro Stopping Centers" or "Petro" brand name. Since its restaurants, fueling stations, repair services and stores receive a steady stream of revenues each day, it has a relatively stable business model. Plus, the high volume fueling stations draw in clients for the restaurants, convenience stores and repair services it offers, which all generate solid profit margins.
The company reported profits of $16 million or 54 cents per share for the second quarter of 2013. This was below analyst estimates of $1 per share, which seemed excessively high, considering competitive pressures in this industry and the price of the stock. For example, profit margins on gasoline are small (due to the high volumes) and since this is a relatively low-priced stock, expecting it to earn $1 in a single quarter seems excessive. Gross margins appear to be the main reason why the company did not earn more and margins fell by two cents this quarter, to an average profit of 17 cents per gallon. This shows that even a penny or two per gallon in profit margins can create a meaningful increase or decrease in company earnings. However, investors appear to have overreacted to financial results because a single quarter is not enough to make such a huge difference in the valuation of this company and also because the company still earned 54 cents per share, which is extremely solid for a stock that trades for about $8.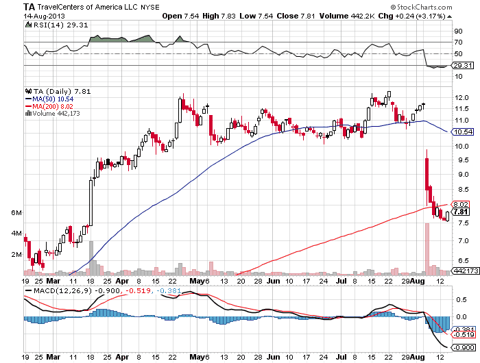 As the chart above shows, this stock was trading at $11.50 per share (and even higher) before earnings, however, it has since declined well below the 50-day moving average of $10.54 and the 200-day moving average, which is $8.02 per share. This stock is clearly oversold now with the relative strength index at just 26. Plus, it is also significantly undervalued based on earnings estimates, the price-to-earnings ratio, and book value, which is $12.12 per share.
It's worth noting that this company has about $135 million in cash on the balance sheet and this is equivalent to $4.56 per share in cash. This is yet another reason why this stock appears very cheap now. Earlier this year, another Seeking Alpha contributor predicted that this stock could triple in value and stated: "We think TravelCenters of America is one of the most undervalued stocks in the market. TravelCenters of America is a best of breed player in an oligopoly type of market." It's worth noting that in one of its best years, this company earned $4.09 per share. That was in 2006 and the stock traded for nearly $50 per share in 2007. This shows the type of upside potential that is possible when business conditions are ideal.
In the coming days and weeks I believe investors will shift their focus from an earnings miss in a single quarter, and instead consider the very cheap valuation, rebound potential and long term upside. In the near-term, the stock should be poised to rebound back over $8 level (which is near the 200-day moving average), and then continue the uptrend it has been on for most of 2013 for several reasons.
The third quarter is usually a strong one for this company. For example, in the third quarter of 2011, it earned 74 cents per share and 66 cents per share in the same period for 2012. This is another reason why the stock could rebound since investors are likely to turn their focus on what has been historically strong results in the near future.
Two potential downside risks are management execution and also the economy. For example, if management does not carefully control expenses and profit margins, results could be weak. Revenues for this company are heavily dependent on fuel sales and as we all know, trucks and cars get driven and need more fuel when the economy is good. If the economy continues to improve, this company will be poised to benefit. But, if there is another major recession, people will drive less and that will impact profits for this company. However, another recession seems unlikely at this time.
TravelCenters is well-positioned to participate in what might be a natural gas boom for trucks in the future and it announced a deal with Shell Oil Company to sell liquefied natural gas or "LNG" to heavy-duty road transport customers in the U.S. Furthermore, I think this company would be a very attractive buyout target for a private equity firm or a major oil company because of the billions in annual revenues it generates, which could be controlled, if this company with a market capitalization of just over $200 million was purchased. For example, a major oil company could easily afford that price and then re-brand all of the fueling stations and create billions of dollars worth of demand for fuel for itself.
According to data from S&P Capital IQ, the average opinion on TravelCenters of America is outperform, and the average price target is $11.83. That implies upside of about 50% from current levels. The earnings miss appears to be a big overreaction and with the shares trading at just about $8, this is one of the best buying opportunities in months for this undervalued stock.
Here are some key points for TA:
Current share price: $7.83
The 52-week range is $4.18 to $12.50
Earnings estimates for 2014: $1.06 per share
Earnings estimates for 2015: $1.30 per share
Annual dividend: none
Exxon Mobil Corporation (NYSE:XOM) is the world's largest oil company and this stock is popular for investors seeking income and dividend growth potential. Exxon shares were trading for nearly $95, just weeks ago; however, the stock gave back a lot of ground after the company reported earnings and it now trades for just $89 per share.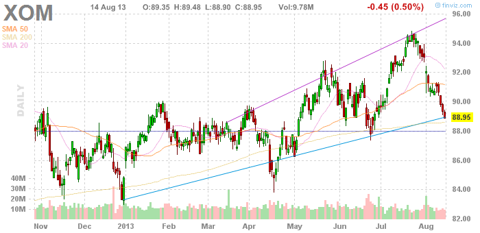 As the chart above shows, Exxon shares have been in a general uptrend since the start of 2013. The recent pullback from nearly $95 to just around $89, represents a decline of roughly 7%. This appears to be a solid buying opportunity when looking at the chart because the shares are now trading near the lower end of the recent range, which is indicated by the light blue trendline. The stock is also trading near the 200-day moving average (roughly $89), which is a key (and typically strong) support level. Investors who bought Exxon on pullbacks at or near the 200-day average, which has closely followed the light blue uptrend line, have often been rewarded with a rebound in relatively short order throughout this year.
It's also worth noting that the relative strength index or "RSI" for Exxon shares is at around 31. The RSI is an indicator that judges the strength of a stock. Many investors consider that once a stock gets to about 35 or below on the relative strength index, it is at oversold levels and could therefore be due for a rebound shortly.
For the second quarter of 2013, Exxon reported profits of $6.9 billion, or $1.55 per share. This was below consensus estimates of $1.90 per share and also down 57% from profits of $15.9 billion, or $3.41 per share in the same period a year earlier, (which were boosted significantly by a one-time $5.3 billion restructuring gain). Earnings in the second quarter of 2013, were impacted by a variety of issues including refining margins, and production volumes also fell by about 1.9%. However, many companies in the refining industry have also experienced weak results, so this appears to be a sector-wide issue and not specific to Exxon. In addition, Exxon is likely to see oil and gas production growth over the long-term, as new projects come into play. Because of this, investors should view the recent drop in production as a short-term issue and as a buying opportunity.
Investors should also consider potential downside risks such as the possibility of a major oil spill or a significant decline in the price of oil. These appear to be two of the biggest risk factors. However, the global economy is showing signs of growth, so oil prices are not likely to drop significantly at this time. Furthermore, many oil companies have added redundancies and additional safety measures after the oil spill in the Gulf of Mexico. This helps to reduce the risk of future oil spills and limit the potential size and impact as well.
Analysts expect Exxon to earn about $7.57 in 2013, and $8.03 for 2014. This implies a price to earnings ratio of just about 11 times earnings next year. That appears cheap when considering that the S&P 500 Index (NYSEARCA:SPY) trades for about 16 times earnings. This stock also looks attractive because it yields nearly 3%, and the dividend has been increased in recent years. For example, in 2008, the quarterly dividend was 35 cents, but regular increases have brought the payout to 63 cents on a quarterly basis. Exxon Mobil's dividend payments to shareholders have grown at an average annual rate of 6% over the last 30 years. This is just one more reason to consider the pullback in this stock as a buying opportunity.
Here are some key points for XOM:
Current share price: $89
The 52-week range is $84.70 to $95.49
Earnings estimates for 2013: $7.67 per share
Earnings estimates for 2014: $8.03 per share
Annual dividend: $2.52 per share, which yields 2.8%
BP plc (NYSE:BP) has come a long way since the oil spill in the Gulf of Mexico. However, the stock is still trading at a discount to many other integrated oil companies and a recent pullback makes these shares even more attractive. BP reported adjusted earnings of 86 cents per share for the second quarter of 2013, and this was below analyst estimates of $1.09 per share. However, this short-term disappointment appears to be a buying opportunity for investors with a longer-term horizon:
As the chart above shows, BP shares have been in an uptrend for most of this year. The stock was recently trading at about $43, but a recent pullback has brought the share price to just over $41. This puts the stock at the low end of the recent trading range and yet it is still in an uptrend as shown by the light blue trendline. This stock is now also close to the 200-day moving average at $41.17, which is generally a strong support level. This could mean that additional downside is limited at this time, and that is another reason why this appears to be an ideal buying opportunity.
BP shares look undervalued when considering the fundamentals. Analysts expect BP to earn $4.71 per share in 2013 and $5.46 in 2014. This puts the price to earnings ratio at just over 8 times earnings and this is a substantial discount of nearly 30% when compared to the PE ratio of industry peers, like Exxon or Chevron (NYSE:CVX). It's also worth noting that a PE multiple of 8 is about half of what the S&P 500 Index trades at, which is right around a PE multiple of 16. Furthermore, with a yield of about 5.22%, BP also offers investors more when it comes to the dividend. The average yield for the S&P 500 Index is just over 2%, and for Chevron it is around 3.28%. With BP paying a dividend of just over $2, and with earnings estimates over $5 per share, the dividend appears safe and even poised to rise over time.
BP has the typical downside risks that could potentially impact any major oil company and that includes another oil spill, or a global recession or other event that could create a major decline in the price of oil. BP also still faces some litigation and "headline" risks from the oil spill but the company has made substantial progress on this front in the past year and it is also working to limit any future abuses or excessive payouts to claimants. The stigma caused by the spill is likely to fade over time just as it has for Exxon over the Valdez oil spill many years ago. When it does, BP shares are likely to see PE multiple expansion. In the meanwhile, BP appears to be one of the best values in the oil sector.
Here are some key points for BP:
Current share price: $41.30
The 52-week range is $39.58 to $45.45
Earnings estimates for 2013: $4.71 per share
Earnings estimates for 2014: $5.46 per share
Annual dividend: $2.16 per share, which yields over 5%
Data sourced from Yahoo Finance. No guarantees or representations are made.
Disclosure: I am long TA, XOM, BP. I wrote this article myself, and it expresses my own opinions. I am not receiving compensation for it (other than from Seeking Alpha). I have no business relationship with any company whose stock is mentioned in this article.
Disclaimer: Hawkinvest is not a registered investment advisor and does not provide specific investment advice. The information is for informational purposes only. You should always consult a financial advisor.