Perspective: This article utilizes intelligent behavioral analysis to examine how investors anticipate upcoming securities prices and has little to do with the operations of the underlying companies. Those fundamentals and debates over them are an embedded part of the investor perceptions and are not the focus of this article, which is more interested in the potential investment outcomes.
How long can it last?
Since the Fed destroyed many investment yield possibilities related to the yield curve of US Government securities, investors have reached further up the risk ladder to seek income.
Recent SA articles (example: here) have focused on mReits (mortgage-based Real Estate Investment Trusts) that in most cases pay double-digit annual rate dividends.
Some of that high rate is due to the favorable tax treatment of REITs. But an important part is that the REIT shares themselves are depressed in price for fear of their further loss of value as interest rates must ultimately rise. A rate rise should further depress the book value of mortgages issued at recent low interest rates, the principal assets of the mREITs.
An ETF of the mREITs exists, the iShares Mortgage Real Estate Capped (NYSEARCA:REM). For comparison, its past two-year price history is contrasted with the general market (NYSEARCA:SPY) and another income alternative the iShares US Preferred Stock ETF (NYSEARCA:PFF).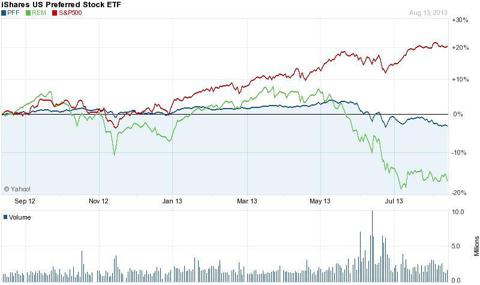 Click to enlarge
(yahoo.com)
Clearly, the risks present in mReits have been reflected already over the past two years as at times REM has variously outrun SPY on the upside initially and then seriously underperformed it in late 2012 and early 2013. In contrast to REM's volatility, investor perceptions of PFF's dividend reliability have held it to a much steadier path.
But even PFF has shown susceptibility to the threat of the Fed "tapering back" its financial asset purchases in the present QE program. The general market recovered well from that trial balloon, but PFF simply steadied before easing further.
Of course, REM continued its plunge, being gang tackled by the prospects of maybe higher interest rates undermining the longer term value of its ultimate assets values, while the immediate market strength imparted by Fed purchases of mortgages might be significantly removed (instead of old-practice actions of only taking open-market trades in US govvies).
No one knows when, or even if, rates will rise, and the mREIT game becomes a bet on how long these big yields will continue. To protect themselves, some more sophisticated investors in mREITS are mimicking the market-makers [MMs] in stocks and ETFs by using listed options as price insurance.
Hedgers look for parallel markets where paired bets can be made that will have offsetting value changes to the risks creating concerns. The listed options markets provide exactly this kind of opportunity. The author of the earlier noted article indicated several mREITs with active options trading, undoubtedly reflecting this activity.
Every insurance has a cost, and what hedgers will pay to avoid their risks, and the way those mitigation programs are structured, will tell just how much price protection they think is required. The sellers of this insurance are typically the proprietary trading desks of the major investment "banking" houses, who because of other volume institutional clients already have developed insights into the mREIT community and its trends and sensitivities. This article explains in detail what is shown from the analysis of such intelligent behaviors.
So their actions, probably paralleled by MMs, indicate the current expectations for future prices of the mREIT shares. The reward~risk tradeoff diagram below, and the table of current price range forecasts provide a set of comparisons between a number of mREITS.
We claim no particular knowledge of the industry or its participants. But we do understand the self-protecting actions of sophisticated investors as they hedge at-risk capital commitments. So here is the data and the comparisons for your appraisal. Feel free to raise questions via comments as to the data implications.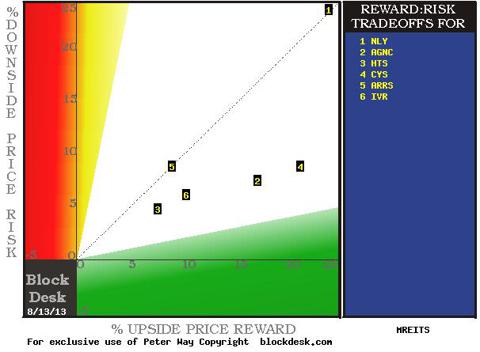 Click to enlarge (Used with permission)
This picture maps the balance between risk and reward expressed by the range of possible prices for each of several mREITs derived from the intelligent behavioral analysis. The upside prospect for each is the prospective price change seen possible between its current market quote and the upper end of its forecast range.
The vertical drawdown exposure is the remainder of the forecast price range between market and the lower end of the range.
Here both ARRS and NLY have an equal upside-to-downside balance in prospect. But in the case of NLY both exposures are much larger. All the other mREITs have larger upside forecasts than prospective drawdown exposures.

Click to enlarge
This table makes the forecast price ranges explicit and adds some further indication of the nature of each stock, gleaned by their prior histories of actual price moves in the 3 months following every time the risk reward balance was at least as attractive (to a buyer) as is seen at present.
The risk exposures outlined in the column to the right of the upside prospect (sell target potentials) is not just the other negative part of the forecast range, but is an average of the greatest price stress moments in all of the experiences following prior forecasts like today's.
The table has been ranked by how well market-makers have forecast each issue at its present-day balance of upside to downside expectations. That is shown by the column headed "Win ODDS /100" which gives the percentage of hypothetical buy commitments that would have either reached their sell targets, or been at a forced closeout profit 3 months after the date of forecast. The reasoning for such ranking is explained in this recent SA Article.
The fact that only one of these mREITs has any present substantial profit history is a pretty clear warning that this is not a favorable time for such speculative adventures.
Disclosure: I have no positions in any stocks mentioned, and no plans to initiate any positions within the next 72 hours. I wrote this article myself, and it expresses my own opinions. I am not receiving compensation for it (other than from Seeking Alpha). I have no business relationship with any company whose stock is mentioned in this article.
Additional Disclosure: The author has an investment interest in the website blockdesk.com which, while not yet open to the public, is in conversion from being a delivery medium of information to institutional investors to a new life of providing similar help to do-it-yourself investors. Both brief and extended-time subscriptions for single or multiple issue inquiries should be at quite reasonable and manageable costs for individuals. Announcement of its opening is hoped for in the 4th quarter of this year.