The tug-of-war in the stock price of Arena Pharmaceuticals (ARNA) continues this week. The price movement shows the appearance of a run getting ready to start, but the bears then seem to step in and bring the equity back down. The biggest difference in the past week or so is that Arena is now seeing the battleground take place in the $7s rather than the $6s. The next catalyst for Arena happens tomorrow when the prescription numbers from IMS Health are released in the morning, followed by the Symphony Health numbers later in the afternoon. Savvy investors will be placing their proverbial bets today. Make no mistake, this is an active equity with near-term action playing on the volatility that Arena offers.
Meanwhile, long-term investors are betting on the potential of not only the weight loss drug Belviq, but the other indications that Belviq could treat, as well as the Arena pipeline. The chart below illustrates both IMS (orange) and Symphony (green) numbers vs. a model tracking to $150 in gross sales (blue) and analyst expectations that would deliver $10 million in "royalty" revenue (percentage of the net sales) to Arena. At $10 million in royalty revenue some analysts carry a $12 price target on Arena.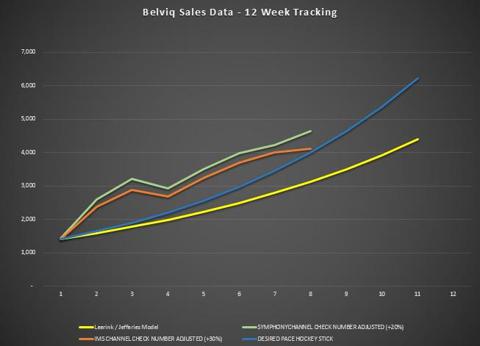 Click to enlarge
While there has been much debate about IMS numbers vs. Symphony numbers, the two are tracking in the exact same area. In fact, the difference between the two numbers, when adjusted, equates to about 5 days of scripts. Thus far, sales of Belviq have been good but not great. They have shown traction, but are not rocketing upward. Simply stated, this is a process that will not happen overnight. This is especially true given the dynamics at play when we look at the weight-loss space:
Prescription weight-loss drugs still contend with the fen-phen fiasco because the drug was promptly removed from the market due to heart issues
Insurance companies are still hesitant to cover anti-obesity drugs. This dynamic is changing, but will take time
The cost of treatment, especially for uninsured can be daunting, at least in perception, to many people
It takes time to get doctors on board and educate them about the benefits of the drug.
As yet there is no direct to consumer advertising
It takes time to get enough people with good results to begin a more organic word-of-mouth movement.
The chart depicted above shows results through last week. Whether you prefer IMS numbers or Symphony matters little. As stated, they are in the same vicinity in terms of sales traction and trending. What moves the needle on Arena when it comes to sales figures is IMS Health numbers. They come out first and the market reacts. Symphony numbers can track about 6 hours later, after the moves have already played out. This past week Symphony numbers did not come out until Monday, three days after IMS.
As stated, neither the IMS or Symphony numbers are illustrating a blistering pace. They are however tracking above the level of sales that would, in theory, give Arena a $12 price target. For long-term holders that represents a more than 50% increase from current equity prices. That is not a bad return, even for the more active near-term trader.
The interesting dynamic here is that we are only 4 to 6 weeks away from being able to extrapolate sales to a point where the potential exists that near term and long-term investors' goals may align. If that happens, equity appreciation may not be far behind. If the trend line demonstrates that the sales will get to levels deserving of a higher price target, the tug-of-war may fade away.
Specific to tomorrow's numbers, we want to see the sales come in high enough to remain above the yellow analysts line, at a minimum, and preferably remaining above the blue $150 million dollar line (gross sales). For comparison, the analyst line tracks to about $70 million in gross sales.
If IMS numbers come in at about 3,500 it will represent growth, but not offer anything very compelling to shift the stock price upward in reaction. To see a swing upward in reaction it would take an IMS number of 4,000 or more. In my opinion, we will not see that happen yet. Essentially we are now approaching the time where patients will begin to arrive at the 12-week decision point of whether or not Belviq works for them. Those that respond to the drug would, in theory, remain on it. Those that do not respond will come off. What we want to see is enough growth in new patients to not only offset the churn of non-responders, but also demonstrate positive growth overall.
Competitor Vivus (VVUS), with its drug Qsymia, has shown a choppy path in sales. This is attributable to many factors, one of which is patient churn. It creates flat spots in the growth curve of Qsymia sales. What near-term traders are looking for is whether flat spots develop in Belviq sales. If sales appear to flatten out, the active traders will rule the day once again. If the sales show continued growth, the philosophy of the buy-and-holders will gain strength.
IMS numbers should be out by mid-morning on Friday. Be ready, because it is getting interesting. Stay Tuned.
Disclosure: I am long ARNA. I wrote this article myself, and it expresses my own opinions. I am not receiving compensation for it (other than from Seeking Alpha). I have no business relationship with any company whose stock is mentioned in this article.
Additional disclosure: I have no position in Vivus