In part 1 we introduced a batch of REIT preferreds with particularly high yields but did not broach the subject of risk. That is the topic of this article, in which we will demonstrate these preferreds to be relatively less risky than most REIT preferreds. This subject is of particular relevance at the moment, with the REIT world being witness to multiple instances of abuse of preferred shareholders.
During the financial crisis, MPG Office Trust (NYSE:MPG-OLD) ran into trouble and has been on the verge of bankruptcy since. Given its economic troubles, it stopped paying the preferred dividend which has now accrued for many years. It is getting bought out by BrookField Office Properties (NYSE:BPO) and the MPG preferred is getting strong-armed in the process. BPO is attempting to tender for the preferred shares at par without paying any of the accrued dividend and preferred shareholders may be forced to take the deal in fear of otherwise never getting paid. For further details see this previous article.
In the recent merger between CapLease (NYSE:LSE) and American Realty Capital Properties (ARCP), CapLease's preferreds are set to be redeemed for par + accrued upon completion of the buyout. As these preferreds had strong yields and far off callable dates, they were trading materially above par with the expectation that the yield would remain for years to come. However, through a legal loophole (discussed further here), ARCP can redeem them immediately, thus creating a loss of the premium over par for the preferred shareholders.
In a 2007 acquisition of Equity Inns by a Goldman Sachs fund, the acquirer used the fine print of the preferred prospectus to remove some of its rights. Having suspended the dividend and making it clear that it would not be paid, the share price fell off a cliff. Using the low market price that it engineered

, Goldman purchased 2 million shares at around 16% of par. This sort of starving to force a reduced market price is known as a cram-down.
Given the above events, it seems that a change in control is particularly risky for preferreds. Let us examine how our set of high yielding preferreds would fare in the event of a takeover. For reference, I have reproduced the table here.
| | | | | | |
| --- | --- | --- | --- | --- | --- |
| Company | Issue | Adjusted Market Price | Coupon | Adjusted Current Yield | Cost relative to par |
| NorthStar Realty Finance (NRF) | NRF-A | $24.74 | 8.75% | 8.84% | 98.9608% |
| | NRF-B | $24.19 | 8.25% | 8.53% | 96.7701% |
| | NRF-C | $24.80 | 8.875% | 8.95% | 99.1988% |
| | NRF-D | $24.44 | 8.5% | 8.69% | 97.7656% |
| RAIT Financial Trust (NYSE:RAS) | RAS-A | $23.11 | 7.75% | 8.38% | 92.4490% |
| | RAS-B | $24.27 | 8.375% | 8.63% | 97.0830% |
| | RAS-C | $24.82 | 8.875% | 8.94% | 99.2971% |
| Resource Capital Management (NYSE:RSO) | RSO-A | $24.49 | 8.5% | 8.68% | 97.9692% |
| | RSO-B | $23.56 | 8.25% | 8.75% | 94.2379% |
| Arbor Realty Trust (NYSE:ABR) | ABR-A | $24.71 | 8.25% | 8.35% | 98.8400% |
| | ABR-B | $23.90 | 7.75% | 8.11% | 95.6000% |
In looking at the aforementioned preferred turmoil, there is a clear theme of misalignment between common and preferred shareholders. It is in the best interest of common shareholders to exploit preferreds and since the preferreds have no voting rights, the common will usually win. In the case of the preferreds presented in the table above, however, management must keep the preferreds happy in order to please the common shareholders. Allow me to elaborate.
As preferreds rank senior to common in the capital stack, the preferred dividend must be paid in full before common shareholders can receive distributions. Looking back at MPG, this did not come into play as the struggling company had no desire or capability to pay dividends of any kind. Thus, it seemed the preferred dividends would accrue perpetually.
The 4 underlying companies of these strong preferreds are very different. Each is putting up exceptional performance and their shareholders demand large dividends. Therefore, keeping common shareholders happy requires staying current on the preferreds. This situation appears as though it will continue for the foreseeable future.
| | | | | |
| --- | --- | --- | --- | --- |
| Underlying Company | 2013 FFO/share* | 2014 FFO/share* | Common dividend | 2013 Common dividend change |
| NRF | $1.10 | $1.35 | 8.8% | Increased |
| RAS | $0.71 | $1.01 | 7.4% | Increased |
| RSO | $0.64 | $0.80 | 13.2% | Maintained |
| ABR | $0.57 | $0.64 | 7.0% | Increased |
*FactSet consensus estimates provided by SNL Financial
From the table above we can see that each underlying company is growing its cash flows and increasing or maintaining sizable dividends on the junior stock.
The CapLease preferreds teach us another valuable lesson. Upon acquiring the parent company, ARCP is retiring the preferreds at par + accrued dividends. This, in my opinion, is going to be fairly standard treatment of preferreds in takeover situations on a going forward basis. It is not inherently bad for preferred shareholders and only hurts them in this case because these issues were trading so far above par.
I believe that the NRF, RAS, RSO and ABR preferreds are protected from such an event as each trades at a discount to par. Thus, a similar liquidation event would actually produce immediate profit for the preferred shareholders.
While this batch of preferreds is well-protected from the sources of risk that hit MPG and LSE preferred owners, they are not immune to the sort of cram-down inflicted upon the Equity Inns preferred owners. I would even argue that no preferred is safe from the egregious use of cram-down tactics. Assessing this sort of risk will invariably come down to a judgment call on the intent and integrity of management.
I'm very comfortable with the NRF and RAS preferreds in terms of this sort of risk and of neutral disposition on the RSO and ABR preferreds. Allow me to elaborate as to why.
NRF
NorthStar has an impressive history of honoring preferred dividends. Even in the midst of the financial crisis when its business was hurting, it paid every dividend on time and in full.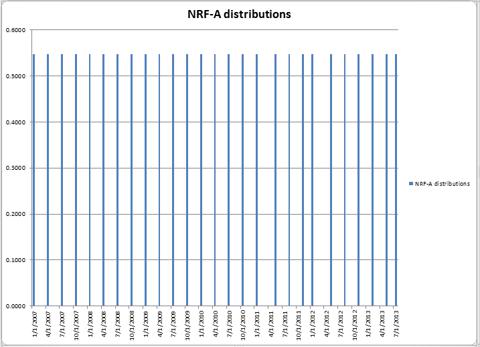 Furthermore, NRF has a highly unique business that few other companies could run. Thus, the chance of a takeover or other change of control is substantially reduced.
RAS
RAIT Financial has a similar history of honoring dividends.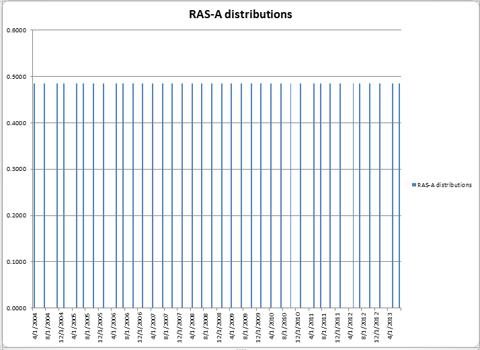 RAS is also unlikely to experience a change of control as it is one of very few players in the bridge lending business. The paucity of large competitors who could viably buy out RAS materially reduces preferred cram-down risk.
RSO and ABR
As previously mentioned, I do not think the RSO and ABR preferreds are as well protected from cram-down risk as those of NRF or RAS. While these too have paid every preferred dividend in full, these issues are too recent to form a strong track record. Thus, it remains unknown as to how management would treat the preferreds in times of crisis. That being said, neither of these management teams have given any reason for worry beyond that which is warranted for the average issue.
Investment Implications
As market prices fluctuate, each of the "best of the best" preferreds will likely have its day in the sun as the best risk adjusted reward. Capturing these moments of opportunity requires extensive knowledge of the payouts and risks of each issue. This article series was merely a starter kit to establish the baseline information. The reward side of the equation was detailed in part 1 with the risks addressed in this article and summarized below.
Risk Summary
When it comes to the basic risks facing preferreds, each of the suggested issues is very well positioned.
Thriving underlying companies ensure dividend coverage
Discounts to par entail profit in the event of redemption or traditional buyout.
Managerial intent, integrity and track record suggest a somewhat reduced risk of cram-down or other preferred shareholder abuse. (NRF and RAS in particular)
The Bottom Line
It seems as though the preferreds of NRF, RAS, RSO and ABR have superior yields and reduced risk compared to other REIT preferreds making them superior risk adjusted investments.
Disclosure: 2nd Market Capital and its affiliated accounts are long ARCP, NRF, NRF-B, NRF-C, RAS, RAS-A and RSO-B. I am personally long ARCP, NRF, NRF-B, RAS, RAS-A and RAS-B. This article is for informational purposes only. It is not a recommendation to buy or sell any security and is strictly the opinion of the writer.
Disclosure: I am long ARCP, NRF, RAS. I wrote this article myself, and it expresses my own opinions. I am not receiving compensation for it (other than from Seeking Alpha). I have no business relationship with any company whose stock is mentioned in this article.