Company: Zillow, Inc. (NASDAQ:Z)

Thesis: Zillow is a company which has demonstrated a way to build a rapidly growing business in a large market. I think because of this investors are valuing it based on what it will do in the next 3-5 years and not the short-term. As a result of Zillow's lofty valuation relative even to its fast growing internet peers, I feel this is a good short opportunity which I describe in more detail below.
Recommendation: Short Equity
Investment Horizon: 6-12 months
Price Target: $70
Strategy: Value; GARP
Company Description: Zillow is the leading real estate information marketplace. Company provides vital information about homes, real estate listings and mortgages through their website and mobile applications, enabling homeowners, buyers, sellers and renters to connect with real estate and mortgage professionals best suited to meet their needs.
Consensus Opinion On Zillow (Mixed): Analysts have a mean price target of $82. The range of price targets is very dispersed with a range of $43-$105. Analysts are projecting an average of $188 million in revenue for FY 2013 and an average of $260 million in revenue for FY 2014. Earnings are estimated at an average of -$.05 for FY 2013 and $.59 for FY 2014.
My View: I am in line with the analysts on this company and feel it is currently overpriced. I did not construct a standalone operating model for this company but rather looked at some of the major elements of this company's financials and what will ultimately drive the stock price. Let me say, I like this business and obviously they are taking on a large market with a demonstrated willingness of its users to pay-I just feel the valuation is too rich at this level given you can buy comparable companies in huge markets with similar growth for cheaper. Note this is not a pure valuation call, I think valuation calls can be extremely dangerous which is why I did not short LinkedIn (NYSE:LNKD) even though it looked ridiculously priced at $200. I am assuming the market will continue to value these companies at very high P/E ratios, but I see Zillow comparatively overvalued even by applying those high valuations. I test out some of the assumptions of why zillow would command a higher forward P/E than its peers in my thesis.
How Does Zillow Make Money? Company generates revenues from local real estate professionals, primarily on an individual subscription basis, and from mortgage professionals and brand advertisers. Their Premier Agent program allows local real estate agents to establish a persistent online and mobile presence on Zillow in the zip codes they serve. They present contact information for each Premier Agent alongside home profiles and home listings within the agent's zip code, assisting consumers in evaluating and selecting the real estate agent best suited for them. Pricing for their Premier Agent subscriptions varies by zip code. The company also does display advertising, no shocker there.
Catalysts (How we get paid):
-Company will increasingly have to spend more in SG&A as a percent of sales resulting in a multiple compression to bring valuation more in line with peer group.
-Slowdown in revenue growth
-Missing analyst expectations
-Increased competition: Obviously competition is already occurring in the form of Trulia (TRLA) and Move (NASDAQ:MOVE) but some of the larger mortgage companies are entering the space.
Scenario Analysis:
Good Risk/Reward Balance
Upside Case: The company comes in line with high end of analyst expectations and comes in at $.80 EPS. With a P/E ratio of 80 (round up from 78 median of peer group conservatively) you get a price of $64 (30% upside). Note conservatively, my price target is $70 and I would look to exit once I see the stock dip below that.
Downside Case (Actually the upside scenario): Company beats analysts expectations and stronger growth commands a significantly higher P/E than peer group. Using 2014 EPS of $.80 and a P/E of 120(Significantly above peer group) you get a price of $96 (4.4% downside)
Valuation:
Comparable Company Analysis:
(click to enlarge)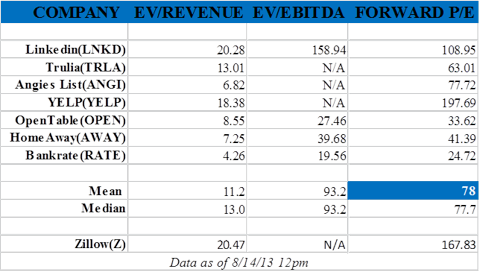 Click to enlarge
Valuation looks extremely expensive compared to other similarly sized fast growing internet companies operating in large markets
The question then becomes why is this company at a significant valuation premium to its peer group?
Is the company projected to grow revenue at a much quicker pace?

Click to enlarge
Based on analyst estimates company appears to be growing its revenue in line with peers
Does the company have significantly better margins (TTM), i.e. their revenue means more to an investor?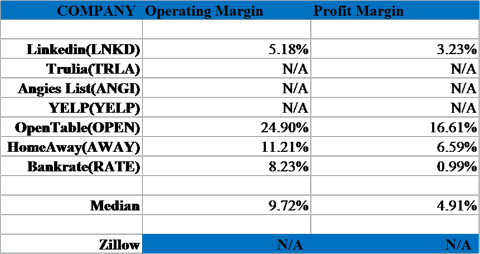 Click to enlarge
No, Company has negative(N/A) margins and still has not built a sustainable business with positive margins yet like Opentable (NASDAQ:OPEN) has.
Is Zillow Priced correctly from a valuation perspective and the other companies in its peer groups are actually the undervalued companies? Internet valuations are already very high, this one does not halt my thesis. Public markets have been very kind with valuing companies such as Linkedin & Yelp does not seem likely peer group is dramatically undervalued
Are Analysts off on their projections? Possibly this is one of the core risks, but analysts for this company are projecting strong revenue growth already
Risk Factors (How Shorts Get Burned):
-Company beats analyst expectations on Revenue or EPS through expanding into new niches of the housing segment, improving margins significantly or capturing more than predicted market share
-Valuation stays extremely rich on high future growth prospects of the business
Disclosure: I have no positions in any stocks mentioned, and no plans to initiate any positions within the next 72 hours. I wrote this article myself, and it expresses my own opinions. I am not receiving compensation for it. I have no business relationship with any company whose stock is mentioned in this article.