Trade idea:
Buy palladium , sell platinum.
Buy a basket of palladium and platinum, sell South African Rand.
Duration:
Medium to long term (3 months onwards)
Background
Gold has been in the spotlight lately for its recent surge and the break above $1000/ troy ounce (driven by a weakening dollar and increased investor interest in the shiny currency). Its first cousin, silver (a.k.a. poor man's gold), has been equally interesting lately, surging to its almost 13 month high lately (of circa USD 17.5 per troy ounce). So it's natural that some of the spotlight rubs off on its second cousins – platinum and palladium, but what's interesting is that not too many people are aware of the fundamentals of these metals, usually labeled PGM (platinum group metals), especially palladium. Yesterday's WSJ writeup included one of the recent spotlights on these metals.
In this article I attempt to provide more fundamental insight into these PGMs and also highlight the latest developments. Platinum and palladium have been outperforming gold and should continue to do so in the medium to long term as the gradual recovery of the global markets would lead to increase auto catalytic demand (which is the primary demand source for PGMs). I also strongly believe that palladium (the lesser known of the two) should continue to outperform platinum along the same time frame, and it is important to understand why we should analyze the fundamental picture more closely. Most of the data is sourced from Johnson Matthey, an independent specialty chemicals company focused on its core skills in catalysis, precious metals, fine chemicals and process technology.
Trade opportunity
Overall, it makes sense to go long the two metals (especially priced in South African Rand), with a medium to long term view betting on the recovery in the auto sector (fundamental argument later in the article). However, since the recent correction in the metal shows that it's tough to play them directionally, I prefer to look at the relative value trade of going long palladium and shorting platinum for the following reasons:
Most of the new auto catalysts' demand comes from strong emerging economies (China, India etc.) which are predominantly gasoline (petrol) markets and hence favor palladium more.
Gasoline engines primarily use palladium (since it's cheaper). However, diesel engines can't use palladium due to the high sulphur content of diesel, and hence are platinum heavy.
Chinese auto cats have been historically platinum heavy and are now moving towards more palladium weightings.
According to South African miners (Impala etc.) the Russian palladium inventories have been running low (and these low inventories are not priced into the market and hence bullish for palladium).
If the US platinum and palladium ETFs (currently filed with SEC for approval by ETF securities) get approved, they would be bullish for both the metals but more so for palladium, since its much thinner market (than platinum)and can move more fast if investor capital gets directed to it.
Vehicles for the trade:
Investors can buy UK-based palladium ETF (PHPD) and sell the platinum ETF (PHPT).
A less favorable strategy could be buying a basket of the two metals.
Investors with access to futures markets can use the above mentioned strategies with futures.
Potential risks to the trade:
As mentioned below, 80% of platinum supply comes from South Africa where for palladium 50% comes from Russia and 30% from South Africa. Hence any disruption in the South African mining industry (which faces multiple issues like – water problem, labor negotiations, legal disputes etc.) would benefit platinum more than palladium and could go against the relative value trade in the short term. However, the strong fundamental demand should favor palladium relatively more in the medium to long term.
20% of platinum demand comes from jewelry (vs. a 10% for palladium - yes, there is a palladium jewelry market too!!). China is the largest platinum jewelry consumer, and a strong surge in Chinese platinum jewelry demand would favor platinum over palladium.
Platinum fundamentals: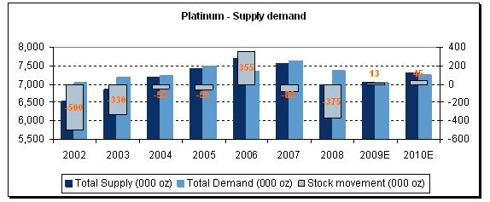 Click to enlarge
The platinum market has been fairly tight with demand almost matching supply.
The market was in a deficit in 2008 (hence drawdown in global inventories).
Click to enlarge
Close to 80% of the platinum comes from South African mines and 14% from Russia.
Palladium fundamental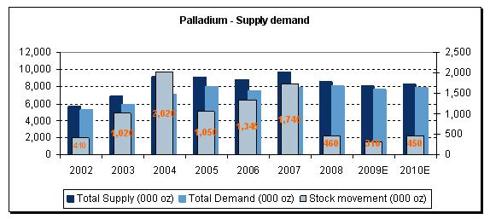 Click to enlarge
Palladium market is relatively less tight but is expected to get tighter in the coming years.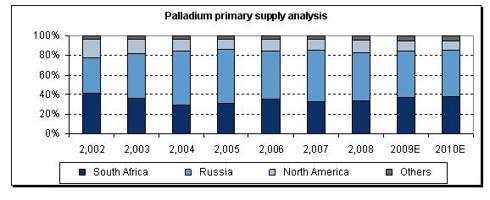 Click to enlarge
Almost 50% of palladium comes from Russia with South Africa supplying about 30%.
The only parameter difficult to analyze in case of palladium is the amount of Russian inventories sitting in the markets since the Russians stopped publishing the data sometime back.
The key difference:
The key difference between the two PGMs becomes apparent when one examines the demand picture.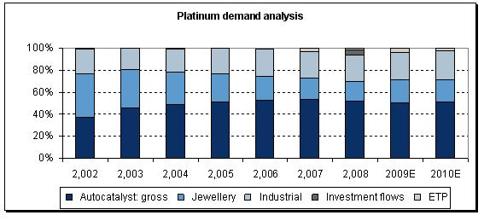 Click to enlarge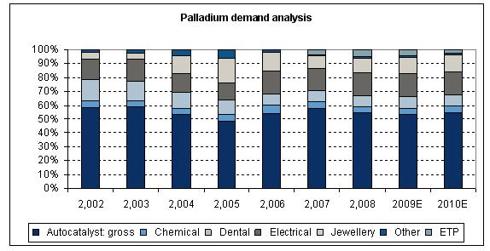 Click to enlarge
More than 50% of platinum and palladium demand comes from auto catalysts.
Diesel autocats are platinum heavy (higher sulphur content in diesel makes it difficult to use palladium).
Gasoline (petrol) autocats are palladium heavy since palladium is cheaper than platinum.
US, Chinese and Indian auto market are predominantly gasoline markets, and the European market is predominantly diesel.