Big picture, Cisco (NASDAQ:CSCO) shares move in US$5 jumps. The US$15 double-bottom lows of 2011 and 2012 was replaced by support/resistance at US$20 and recently the attainment of the US$25+ level. Many investors until yesterday's earnings update were hoping for US$30 sooner-rather-than-later.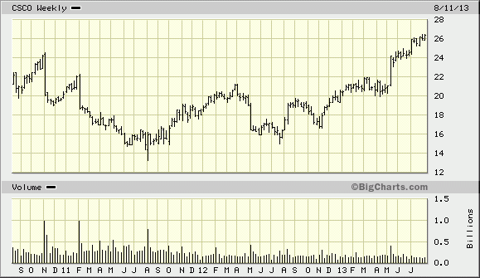 So what did Cisco say and why is the share down 7% on the day as I write?
The actual Q4 results (Cisco has a July year end) were fine. As the company put it:
we are pleased to announce another strong quarter and strong end to our fiscal year. Q4 was a record quarter on many fronts with record revenues of $12.4 billion and record non-GAAP operating income, record non-GAAP net income, and non-GAAP earnings per share of $0.52. In every case, we exceeded the midpoint of our guidance. We generated $4 billion in operating cash flow in the quarter, another record as well
Over US$6bn (equivalent to about 5% of the EV of the company) was returned to investors via dividends or buybacks and the book-to-bill ratio was over 1.
The company even confirmed the 5-7% revenue growth pa target until 2017 and 9-11% at the earnings line. But then came the guidance bombshell for Q1 of Cisco's fiscal 2014:
(we) expect revenue growth to be in the range of 3% to 5% on a year-over-year basis
And what was the reason for that? CEO Chambers carried on:
We have seen two things that have changed over the course of this year. First, the economic recovery is slower and more inconsistent with global GDP continuing to sit down for calendar year 2013 and global challenges in Southern Europe, several of the large emerging markets and Asia-Pacific. Second, the pace of change has continued to increase...even in this environment which is very mixed, very comfortable about our momentum, it's just not fast enough.
The market was also concerned about the 5% cut in the workforce although a glass-half-full approach would probably be lauding them for a de facto efficiency drive.
What do I observe? Operational performance was solid. There was some weakness in their Q4 in the gross margins but overall the margin performance was fine. Even assuming 3-5% revenue growth over the full year, earnings growth would be 5%+ in all likelihood.
The issue is uncertainty or as Cisco put it a global economic recovery that is 'slower and more inconsistent'. Some people will try to interpret some of the geographic guidance comments that Chinese peers are putting pressure on the company (especially in their home market). There is probably some truth in this. However this is not the mobile phone or tablet market, barriers to entry are higher and technological aptitude in the switching/servers/routing market along with related bundled security and services is harder to replicate.
In this environment what value do you place on 5%+ earnings growth and a cash flow yield that is approaching 10% (around half of which will come back to shareholders). x10 EV/ebit? That's where the share is today.
To me it comes back to the environment. There is uncertainty and Cisco's moving share price is reflective of this. Believe in a return to good global growth, buy Cisco today and expect US$30 within a year or so. Cautious about prospects? Wait until US$20. Just don't really know? Well US$24/25 is reflective of this.
How can Cisco break this 'geared index tracker' role? Commit some of that super strong balance sheet to even superior investor returns. Here is the other aspect of uncertainty: if a company can put on the table the certainty of shareholder returns, then investors can buy into that story. The company has talked about returning 50% of its cashflow, but what about 75-100%?
If Cisco really believes in that medium-term growth vision it should embrace this short-term uncertainty. That really would be a fitting finale for long-serving CEO Chambers' tenure. Something for the next quarterly earnings chat?
Disclosure: I am long CSCO. I wrote this article myself, and it expresses my own opinions. I am not receiving compensation for it. I have no business relationship with any company whose stock is mentioned in this article.